We continue our story of everyday people in the street food business and how the Jakarta City Government is trying to regulate them.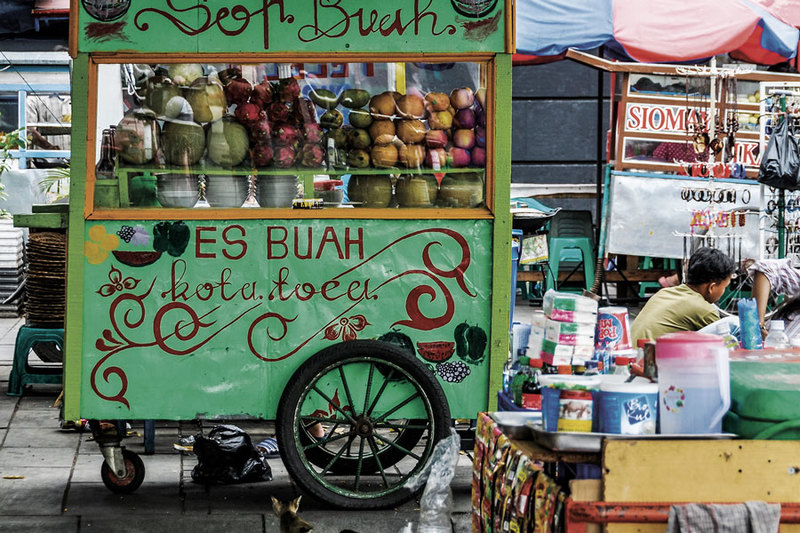 While swinging his frying pan on the stove and stirring fried rice, Pak Basuki who once won a fried rice cooking contest held by a popular Sundanese restaurant told the story of how he got into the street food business.
The year was 1982. The 52-year-old junior high school dropout had a day job working for a catering business in Tanjung Barat, South Jakarta.
"I thought, why don't I look for additional income, and so I rented a cart", said Pak Basuki, who hails from Tuwel Village, Bojong, South Tegal, Central Java.

In addition to fried rice, he also sells noodles, fried rice noodle (kwetiau), and noodle soup – each selling for IDR 12,000. The father of three can sell as many as 40 plates each night. The buyers are usually workers or employees who work late into the night.

Years ago, he had set up a stall in front of Menara Kuningan Building, during its construction phase. After the building was completed though, he was asked to leave. Now he sells in Kuningan in South Jakarta.
His daily routine begins with a trip from Pasar Karet Belakang, pushing his very own Nasi Goreng Ojo Bangor cart. It's just him and his second child who live in Jakarta. His rice farmer wife and other children remain in their village in Tegal, Central Java. Upon arriving at the location, cutleries, two buckets for cleaning dishes, a jerry can of clean water and a long bench are arranged, and so is a plastic tarp. By 5 PM, he begins taking orders.
"The Orange Troops (Public Facility Maintenance Agency workers employed by the Jakarta Provincial Government) help to clean up the street, but I do help by collecting the garbage and putting it in one place to keep things tidy," he said.
Despite their popularity, things haven't always been easy for street food vendors, many of whom are already battling perceptions of low standards of hygiene and sanitation, as well as unruly behaviour that leads to crowded pavements.
According to a study by the Jakarta Legal Aid (LBH Jakarta Institute), forced evictions are quite a common problem for street food vendors in the capital. Some didn't even go through deliberation in good faith and were thus in violation of United Nations Committee on Economic, Social and Cultural Rights (CESCR) General Comment No. 7 of 1997 regarding Forced Eviction, according to Alldo Fellix Januardy, a lawyer with LBH Jakarta Institute.
In the spirit of self-improvement, some street food vendors have taken to establish their own initiatives.
Soto vendor Pak Aghfar, for example, encourages fellow nearby street food vendors to chip in IDR 10,000 each to create a customised look for the stalls. Through collective representation, he and some other street food vendors have also been able to hold audiences with government officials at the Cooperatives and Small-Medium Enterprises Agency. As a result, they have officially been permitted to sell within the vicinity of Plaza 89 Building in Kuningan, South Jakarta.
According to Joko Kundaryo, Head of the Jakarta UMKM Agency, there are now 12,000 street vendors in Jakarta.
The Jakarta Provincial Government is adamant that the number should be much higher, at 200,000, and is looking for ways to help street food vendors. Some administrative rules and regulations, however, must follow. For one, street vendors are required to open a bank account at Bank DKI and pay a fee of IDR 3,000. By signing up with the agency, vendors are guaranteed they will not fall victim to extortion.
If properly carried out, the partnership between the government and street food vendors can lead to positive results and prove beneficial to the city. It seems, after all, street vendors may now see the light at the end of the tunnel.