I simply love the Christmas season for all the familiar reasons: getting together with family and friends to celebrate life, taking moments for reflection and looking ahead with a fresh perspective and hope. I think no one can disagree that Christmas is also the time of remembrance of loved ones who are no longer with us, along with precious memories of happy days spent with them at this special time of year.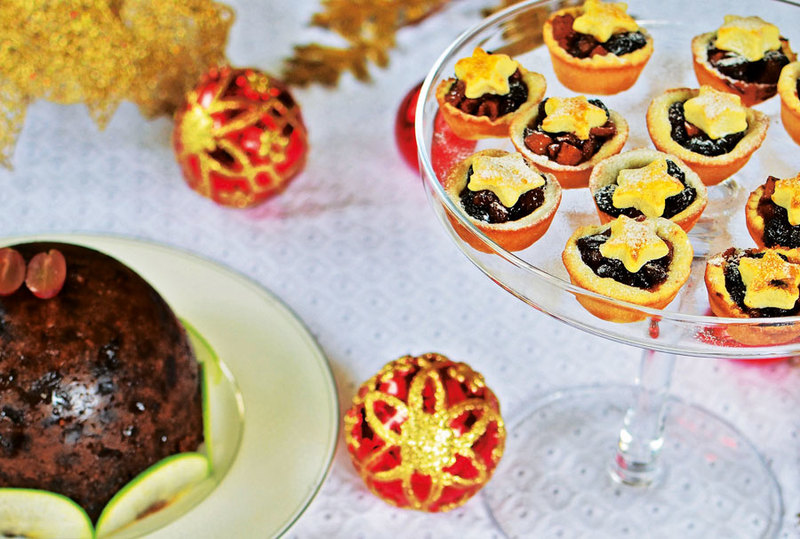 As with any other celebration, food plays an important role during Christmas and New Year. Cherished Christmas recipes are mixed with love and spiced with tradition. We are all the same in celebrating, yet we vary in our choices and tastes around the world. Nearly every country has its own specific favourite traditions for food and drinks over the Christmas holidays.
Where I was born, Manado, Christmas reminds me of speculaas, incredibly crunchy cookies made with chocolate powder, cloves, nutmeg, cinnamon and ginger. Then there are the leaf-shaped nastar cookies, soft and delicate with pineapple jam. To be different, why not try adapting English mince pies by substituting the mixture of dried fruits with pineapple jam? Kue Bolu, Victoria sponge cake with rich flavours, is a constant reminder of my grandmother's recipe made using a portable oven which filled her kitchen with wonderful aromas. Klappertaart is another perennial Christmas favourite, a mixture of young cocont, vanilla and rum custard, raisins, local almonds and cinnamon. All are local pleasures with strong European influences from the past.
In England, of course, there is the highly-anticipated Christmas pudding with brandy butter and cream, alongside Trifle and Mince Pies.
In France, chocolate buche de Noel (Yule log cake created in the 1800s), truffle, cream caramel, nougat and many more.
In Italy, the celebrations feature panettone, a sweet bread as much a symbol of Christmas as the tree and the nativity play. Panforte, a spiced fruit and nut cake, is one of the oldest of Christmas sweets. Pandoro differs from panettone in shape and is normally found in the area of Verona. Cassata, a sponge cake filled with ricotta cheese mixed with candied peels, chocolate and marzipan candied citrus fruit, is famed around Palermo in Sicily. While the differences stand out, there is much in common, often in the use of dried and glace fruits, nuts, honey and spices, regardless of country of origin.
While cinnamon, ginger, nutmeg and cloves are important in Europe, their association with this special time of the year in Indonesia is not as strong, despite them originating from Indonesia's Spice Islands. My contribution to reawaken interest in those spices this season is a recipe to make Panforte, which you'll find easy to replicate and yet so delicious.
May I wish you all a very Merry Christmas and Happy New Year 2018.
Panforte: Spicy, Fruity Christmas Cake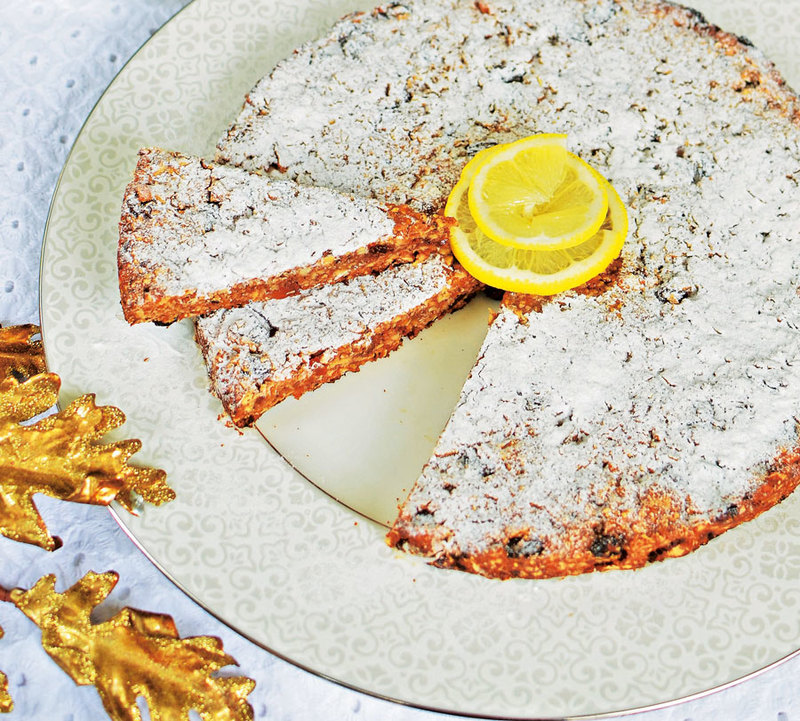 One of the oldest and best-known features of the Italian table, Panforte is a signal that Christmas is just around the corner. October to December is the traditional time of the year to bake Tuscany's favourite cake. Aside from being part of the region's history, which dated back to the middle ages, the cake was also quite a luxury with its costly exotic and often expensive ingredients – from cloves to nutmeg, ginger to cinnamon. These days, of course, such spices are easily accessible and very affordable.
Literally meaning "strong bread", Panforte has a sticky texture and a nutty flavour to accompany the delicious mixed dried fruit. There are no butter and eggs in this recipe, and because Vin Santo dessert wine is difficult to buy in Jakarta, I have used Port instead, with apologies to the purists. Serving in relatively small portions is sufficient to give your guests the full taste of spices mixed with fruit, nuts and honey and it can be served with or without cream.
Serves 14-16

Butter for greasing the cake tin; 100gr hazelnuts (you may replace them with cashew nuts); 150gr sliced almonds; 75gr dried apricots; 75gr golden raisins or regular black raisins; 150gr marmalade; zest of one orange and one lemon; 50 gr flour; 150ml honey; 3 tablespoons Port wine; 1 teaspoon each of cinnamon powder, freshly grated nutmeg, ground cloves, freshly ground black pepper; 10gr fresh ginger, peeled and finely grated; icing sugar to dust.
You need a shallow, round cake tin of 25cm diameter.
Line the cake tin with parchment paper and grease with butter.
Chop the nuts and set aside.
Chop the dried fruits, add marmalade in a large bowl.
Preheat oven to 170oC.
Add all the spices and flour into the fruit mixture and mix well.
Add the chopped nuts, honey and Port wine, mixing them well to create a sticky texture.
Spoon the mixture into the prepared tin and bake for around 25-30 minutes.
Remove from the oven and leave to cool in the tin. Then remove the cake from the tin, discard the paper and sprinkle generously with icing sugar.
Cut into thin wedges and serve immediately. ***