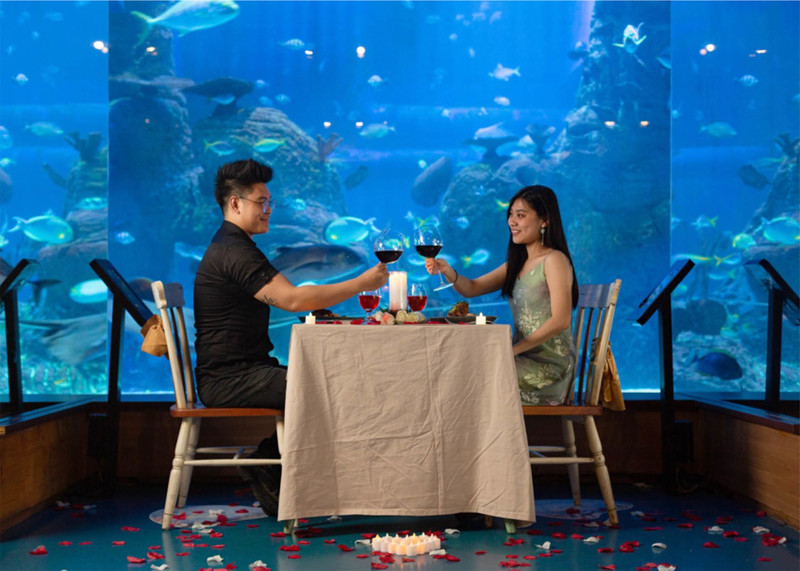 Most of us have seen and been seriously jealous of the 6-star dining experiences offered in Dubai and Bali where dinner is served under the sea or feeling just as if you are deep underwater. The reef is alive with life all around you and you are transported to another world. It's as if you are living and dining in a castle... but, underwater! Well now there is no need to be jealous, the experience is now available right here in Jakarta at the Anenome Restaurant in Jakarta. All you need to do is book–then ask your date to come!
Anenome is part of Jakarta Aquarium & Safari, the largest indoor Living Planet in Indonesia, a signature of Taman Safari Indonesia in collaboration with Aquaria KLCC, Malaysia, where you can feel the intimate interaction with the animals. Guided by the experienced animal keepers, you will get exciting information about the animals, and get to know the uniqueness of the giant groupers, the charming humboldt penguins, the mysterious sea dragons, and many more! Every animal has a story to tell and you will find it in the Living Planet! Dive deep into our magnificent underwater kingdom and fall in love with the stories you've never heard before. Then go for a wonderful dinner… !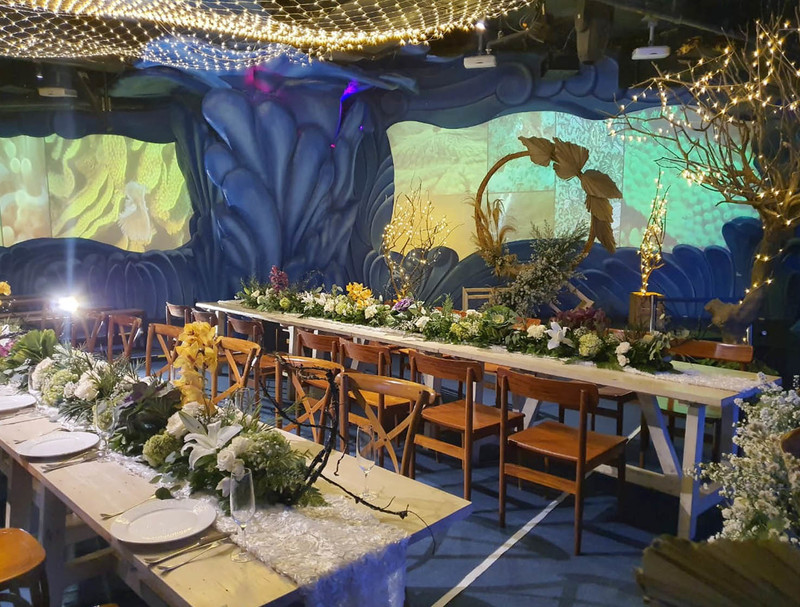 Now the anemone is a close relative of coral and perhaps surprisingly, the jellyfish, and spends most of its time attached to rocks on the sea bottom or on coral reefs. It's colourful and magical and the symbol of this underwater dining experience. Just imagine enjoying your delicious dinner accompanied by hundreds of amazing sea creatures, from stingrays, sea-turtles, to sharks–right next to your table.
Choose from a flexible - and great value-variety of menus: Pear, Diamond, or Sapphire, all fresh, and cooked carefully by our skillful world-class chef, superbly completed by mouthwatering desserts, and of course accompanied by wine. Come and be a King and Queen for the day and live your dream in a magical environment!
Set menus start from just 550K per person including free entry to the venue. The evening starts from 6pm, and includes table decoration with tablecloth, rose petals, and electric candles, all in a private area, and welcomed by your own mermaid! (By the way if you really want to impress your date, Anenome can organize an underwater banner for you and an extra act by the mermaids!)
Reserve your table NOW at +62813-8553-6565
NEO SOHO @Podomoro City Floor LG 101-LGM 101
Jalan S. Parman Kav 28, Jakarta Barat-11470