Following a highly successful first dinner series at the prestigious Mozaic Restaurant Gastronomique in Ubud, Bali on 20 November 2021, the Bocuse d'Or Dinner Series makes its way from the highlands of Ubud to the concrete jungle of Jakarta, this time the acclaimed AMUZ Gourmet Jakarta will play host to the exciting dinner series on Thursday, 9 December 2021.
Le Bocuse d'Or, the world's most prominent culinary competition, recently held this year's competition back in September 2021 in Lyon, France. Regarded as the "Olympics of the culinary industry" amongst professionals and the media, Le Bocuse d'Or was founded by Chef Paul Bocuse in 1987. The competition brings together 24 countries from around the globe to compete for the coveted title of World Champion of Culinary. At this year's finals, the Indonesian team was invited to compete following the 2018 Asian regional selections of Le Bocuse d'Or in Guangzhou, China.
The Bocuse d'Or Dinner Series is organised by the Indonesian Academy of Bocuse d'Or in celebration of the Indonesian team's participation. Chef Gilles Marx of AMUZ Gourmet Jakarta and President of Bocuse d'Or Indonesia welcomes the Indonesian team from this year's competition, which was led by Chefs Mandif Warokka and Lutfi Nugraha of Blanco par Mandif (Ubud, Bali), along with Chef Chris Salans of Mozaic Restaurant (Ubud, Bali) as head coach.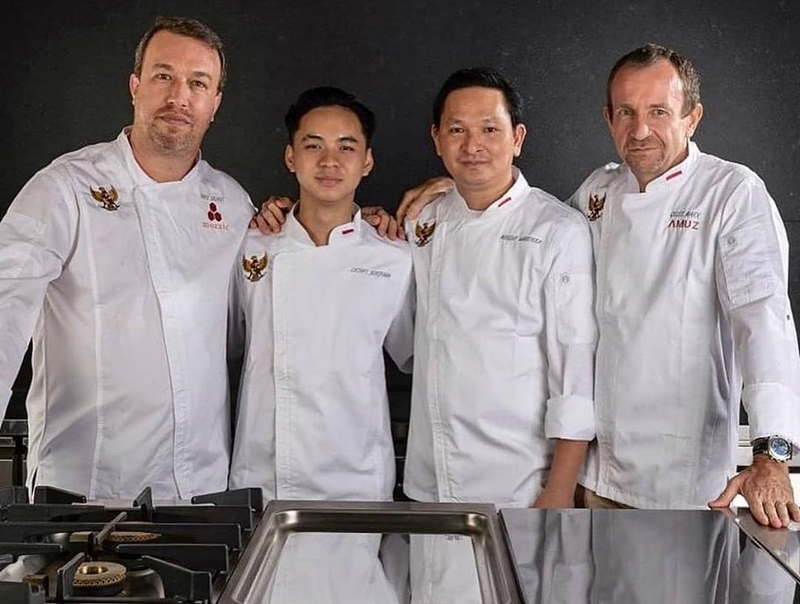 The second Bocuse d'Or Dinner Series will see the celebrated chefs come together once again to treat diners with the exquisite culinary creations they presented to the Juries during Le Bocuse d'Or 2021. Working hand-in-hand, the chefs will recreate the dishes they showcased in Lyon and treat guests with 5 wonderful dishes served as a 5-course tasting menu, along with Amuse-Bouches and Petits-Fours paired with a beautiful selection of Penfolds Finest wine.
Starting at 7pm, the dinner is priced at IDR 1,700,000++ per person (subject to 21% service charge and taxes), inclusive of the food menu and wine pairing. Due to the complexity of the menu's execution, limited seating is available. Pre-reservation is required via email to [email protected] or via WhatsApp at +62 877 8855 2006.
AMUZ Gourmet Jakarta
The Energy Building (2nd Floor, Lot 11A, SCBD)
Jl. Jend. Sudirman No. Kav. 52-53, Senayan
+62 21 250 5064| +62 877 8855 2006 (WA)
[email protected]