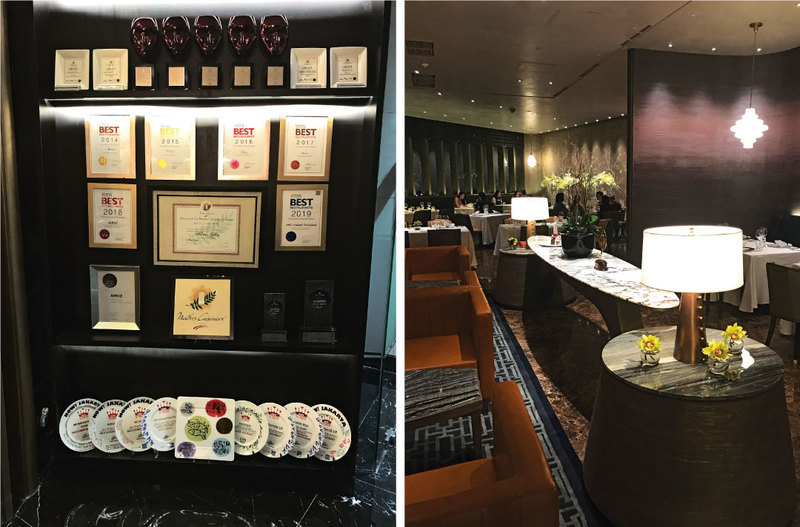 If you are looking for the crème de la crème of French fine dining in Jakarta your journey ends here.
There is a restaurant in Jakarta that does not have a street frontage with a big flashy sign, nor operates within a shopping centre and has absolutely no passing foot traffic, and yet since opening its doors in 2010 has quickly gained an enviable reputation as Jakarta's premier French Fine Dining Restaurant. I am, of course, referring to AMUZ Gourmet, located on the 2nd floor of the Energy Building in Jakarta's SCBD.
My husband and I have been regulars at AMUZ since its opening and we simply love the food. I have also always admired its tasteful interiors with its clean lines and understated stylishness. It seamlessly morphs from a business and ladies lunch venue during the day to a mood of romance and indulgent dining in the evening, with impeccable service from a team of attentive staff making any occasion at AMUZ a most pleasurable experience.
AMUZ recently underwent refurbishment and reopened its doors in September. In October, we were invited to try the new menu and take in the new interior. I was impressed. Interior designer Hans Susantio was commissioned for the project and he has created a more spacious restaurant with a very elegant facelift. My favourite addition is the hand-painted silk wallpaper depicting flora and birdlife in a French garden. The ambience of a restaurant is an important part of the total dining experience and AMUZ has got it just right, from the single orchid placed on each beautifully set table to the subtle use of mood lighting the place warmly welcomes you to sit, relax and indulge the palate.
The kitchen is open plan and buzzing with activity amidst shiny copper lights and wafts of steam rising from stovetops. Next to the kitchen is a well-stocked bar and across the way is a walk-in wine cooler with an extensive collection of mostly French as well as European and New World wines.
Upon our arrival, the staff, dressed in typical Parisian-style black-and-white uniforms, were welcoming and ready to serve. On being seated, a basket of freshly baked yummy bread was brought to the table and menus were presented. An amazingly diverse list of classic French dishes was on offer as well as 6 or 7 course Degustation menus with or without wine pairing for a truly indulgent experience. AMUZ also does its own dry and wet aging of its marbled wagyu beef.
After much deliberation I ordered the Black Truffle Risotto while my husband had the Hokkaido Scallops. Both were beautifully presented and of course, phones were whipped out to capture the art installation on our plate. My risotto was perfectly cooked and beautifully flavourful with its combination of fresh porcini mushrooms, white asparagus and generous shavings of truffle melting in the mouth. Divine! The scallops were large and lush and perfectly seared straight out of the pan. My main course was the Steam Roasted Black Cod with smoked potato and roasted garlic. The cod was moist with a delicate flavour enhanced by the light creamy sauce. The roast garlic brought a surprisingly sweet nutty taste to the dish. My husband, Raj, had Crispy Skin Roasted Barramundi. The skin was perfectly crisp and the fish combined beautifully with a lobster tortellini accompanying the dish. Dessert was again difficult to choose but we went for the Classic Valrhona Chocolate Souffle with Vanilla Ice Cream and the Mixed Fresh Berries Mille-Feuille. Both were superb and an indulgent finale to our evening.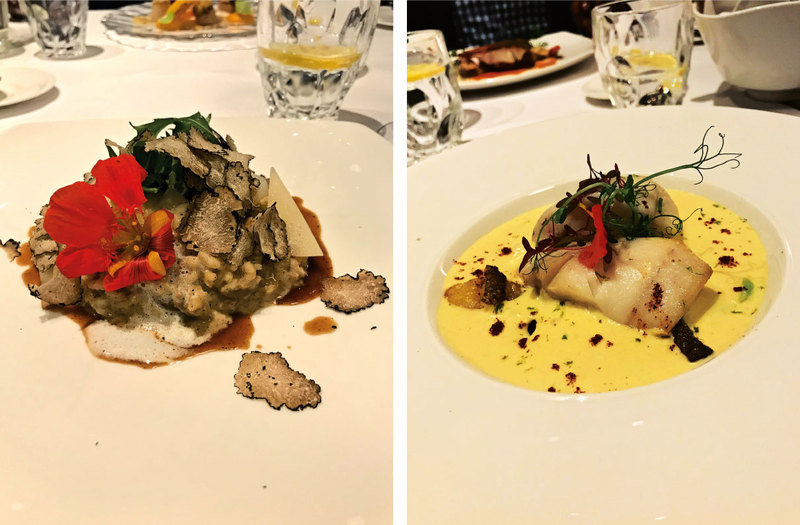 So who do we have to thank for this superb meal at AMUZ?
At its helm is Chef and Founder Gilles Marx or should I say "Sir Gilles" since he was bestowed the title of Knight in recognition of his outstanding contribution in promoting the Excellence of French Gastronomy by his home country France in 2013. A truly impressive achievement but only one of the myriad accolades Chef Gilles has received throughout his career, including recently being distinguished with the title of Maitre Cuisinier de France (Master Chef of France).
Gilles was raised in the countryside of Alsace famous for its wine growing regions and began his career in the culinary world from a young age and was soon working for top Michelin starred restaurants in Paris, Lyon and Burgundy. Lucky for us Gilles now calls Jakarta home and prior to AMUZ was the Executive Chef at the launch of Park Lane Hotel (recently rebranded as Wyndham Hotel) and was the driving force behind the acclaimed Riva Restaurant.
AMUZ is the distillation of over three decades of gastronomic passion and when you enter through its heavy wooden doors, you have no doubt that this iconic French Restaurant in the heart of Jakarta is entirely Gilles' baby.
I asked Chef Gilles about his ingredients, and he believes the origin and freshness of the ingredients he uses is of paramount importance. A lot of items are imported such as the scallops and Miyazaki beef from Japan, Dutch veal, Spanish Iberico pork and the Dover sole, truffles, caviar, foie gras and cheeses from France. He also works closely with premium local organic farmers to supply his vegetables, edible flowers and fresh herbs. Gilles commented that "fine dining is having a tough time in Indonesia because of the difficulties in sourcing premium and top quality produce. Some local producers have come a long way thanks to a handful of passionate people whom we need to support so others can see the opportunities and follow in their footsteps."
After almost 10 successful years, what is over the horizon for Sir Gilles of AMUZ?
"We now have four brands within the AMUZ group: AMUZ, ARTOZ, APREZ Catering and APREZ Cafes. We still have some expansion plans. I would still love to create a simple French Bistro, a pastry and desserts shop and other ideas. Let's see which one happens first."
My vote is with the French Bistro, but we shall have to watch this space!
AMUZ is open for lunch Monday to Friday 11.30am to 2.30pm and for dinner Monday to Sunday 6 to 11pm.
AMUZ Gourmet Restaurant
The Energy Building, Level 2
Jalan Jend. Sudirman No.Kav. 52 - 53
T: +62 21 2505 064
IG: @amuz_gourmet
FB: @AMUZresto
www.amuzgourmet.com