Derived from the Italian language which means 'appreciate', APREZ reopen the cafe with new style after it's fully renovated. Well known as Energy Cafe, APREZ will serve culinary experience which remarks the quality of food, beverages and services.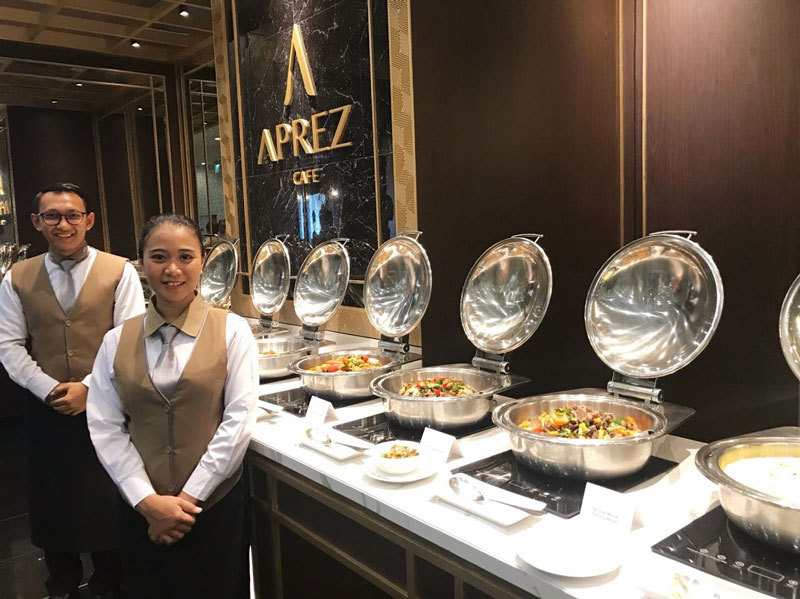 Located at The Energy Building, SCBD, the cafe has classic and exquisite design with warm atmosphere. The strategic location make easier access when people try to find a meal at Business District.. The vibe is revealing the sophisticated style of neo art deco with modernism approach, could maintain around 90 guests in seat capacity. APREZ cafe is very convenient for individual and corporate guests.
APREZ Cafe provides 5-Star hotel level services. Besides as a showcase of APREZ Catering, APREZ café also operational as café itself that provide variety of food and beverages in "all you can eat" style buffet with single pricing.
Our price includes a variety of appetizers, main courses and desserts, as well as mineral water for lunch time and you may also choose the variants of a la carte menu available for breakfast, lunch and dinner. APREZ opens from Monday to Friday for breakfast, lunch and dinner. The cafe open for buffet dinner only by reservation with a minimum of 30 guests.
APREZ Café The Energy
Energy Building MZ Floor
Jalan Jendral Sudirman Kav. 52-53, South Jakarta 12190
T: +62 21 2995 1406
IG: @aprez_catering
FB: Aprez cafe the Energy
amuzgourmet.com
This venue participated in the 2019 BRBCA. See the winners here!