Located at Senayan City's most vibrant dining area, Crystal Lagoon, BAE By Socieaty is a place for Jakartans to hang out and enjoy great food with friends and family after a hectic day.
BAE, short for Before Anyone Else, is the latest establishment of Les Amis Group. Dedicated to those who enjoy spending time with their loved ones, it's the kind of place where eating together just tastes better.
BAE's Chef and Founder Robert Veendendaal firmly believes that sharing a meal alongside friends and family is one of the most fundamental ways to connect meaningfully with one another. Every meal, he says, is an occasion to share and create memories. At the very least, no meal should be eaten alone.
In honour of the chef's Dutch-Indonesian heritage, the food served at BAE is a fusion of European and Asian cuisines, with serving sizes intended for sharing or communal dining. "By friends, for friends," so the tagline of BAE goes.
Here, eating just feels so much fun.
Take a look at its Cassava Nachos, for example. Made with Indonesian cassava, the appetizer comes with US beef, guacamole, sour cream and a bold salsa sauce. Truffled Floss Fries is defined as shoestring fries with truffle oil, beef floss, parmesan cheese and aioli.
"Some of BAE's signature dishes are uniquely served Western-style but with traditional Indonesian flavours," said Susanna Kusnowo, Managing Director of Les Amis Group.
A personal favourite of Chef Robert is Cheeky Beef, a creamy pink fettuccine with beet fettuccine, beef cheek and wild mushrooms slow-cooked à la rendang.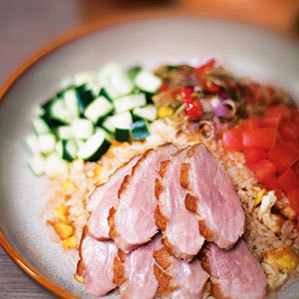 For those with a penchant for spicy food, don't miss out on Bebek Matah, a bowl of slow-cooked duck breast, garlic fried rice, kiuri, Balinese sambal matah and freshly chopped tomatoes. Over in the pizza selection there's Cabe2an, which comes with seven types of chilies.
BAE is also a convenient place to enjoy affordable wine. According to Susanna, the epitome of BEA's concept is Wine & Bites, whereby each dish on the menu can be perfectly paired with wine. Guests can choose from 60 brands of wines from the Unites States, Argentina, Australia and New Zealand. Prices start at IDR 59,000 per glass and IDR 300,000 per bottle.
Photos courtesy of BAE By Socieaty