The most populous city in India, Mumbai (formerly known as Bombay) is the capital city of the Indian state of Maharashtra. It's also the heart of the Bollywood film industry and home to a thriving financial sector. In fact, the city is ranked among the fastest growing cities in India for business expansion.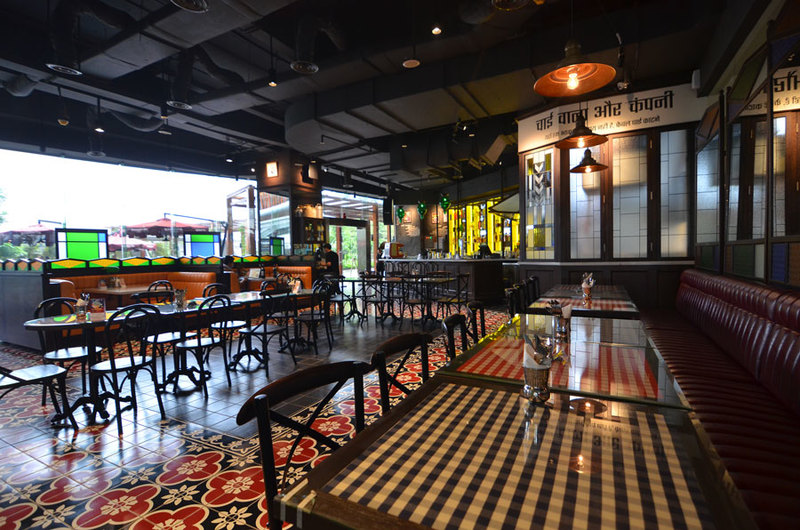 The metropolitan city is also a hub of Indian cuisine with street hawkers making up a big part of its distinctive food culture. With that in mind, and paying homage to the blending of two cultures – Iranian and Indian – comes Bambaiya, the latest Indian establishment in Jakarta that's part of the Queen's Tandoor Restaurants.
Located in the South Quarter Building in South Jakarta, the casual restaurant devotes itself to both Indian food enthusiasts and the curious kind. It's also on a mission to educate Indonesian customers about true, authentic Indian food.
"We want to attract mass customers from Indonesia. We've learned that not many Indonesian's palate can accept the taste of Indian food. What we are trying to do is to create a concept which only serves very limited menu but consists of things that Indonesians are familiar with," said Girish Shamdasani, owner of Bambaiya.
The name Bambaiya refers to Bombay. The interior design speaks of a classic coffee shop with just the right kind of sofas and chairs, decorated with coloured stained glass that surrounds the restaurant, complemented by beautiful tableware, cutleries and other ornaments.
The food is served in small portions suitable for one person and the level of spice can be customised. Aside from serving traditional Indian dishes, the restaurant also offers Western-inspired dishes. The list includes Amritsari Fish & Chips, translated as crispy, crunchy prime fish dipped in rich, silky chickpea beer batter, and Tandoori Chicken Burger, homemade juicy tandoori chicken patty sandwiched between soft, flaky burger buns and generously smeared with a secret recipe sauce. Pulled Raan Burger may not not your usual fast food sandwich, but it's definitely tantalising. Think of a succulent lamb leg (raan) is cooked over slow heat in onion and tomato gravy until it simply falls off the bone. Being a burger, it is accompanied by crispy potato chips.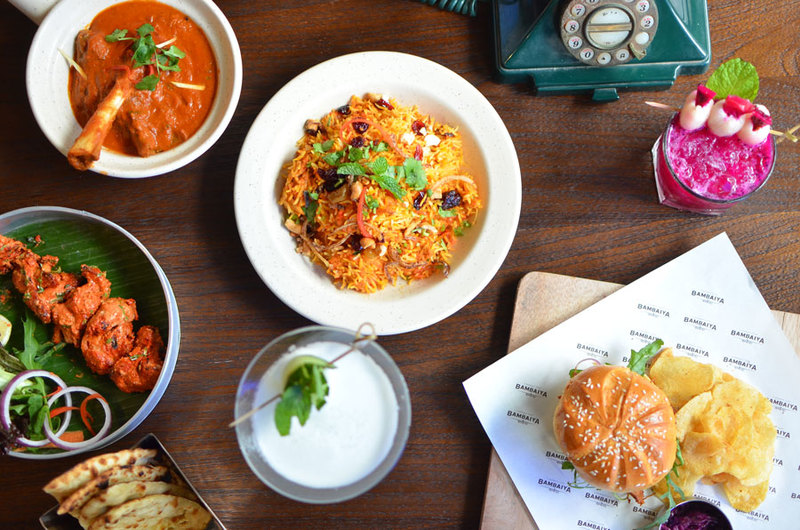 Listed among its comfort curries is Lamb Shank Rogan Josh. "Rogan" means red and "josh" means fiery – perfect description of the aromatic lamb shank braised in a rich brownish-red and spicy sauce. Pair it with Cheese Naan.
Don't miss one of Mumbai's favourite street food also known as Dhaba's Chicken Tikka that has been elevated to gourmet standards. Cubes of boneless chicken soaked in a popular concoction of blitzing Indian spices (tikka) and light yoghurt, then charred in clay oven.
No Indian feast is complete without sampling the biryani. We'd recommend Chicken Berry Biryani, a staple household rice dish with a history that dates back to Persian immigrants in the early 19th century. Soft boneless chicken cooked with generous bursts of spices and snuggled in a bed of flavoured basmati rice, drizzled with dry berries, cashews and fried onion.
When it comes to beverages, there's no better choice than Cutting Masala Chai, a sip of which is believed to give you a warm body rush, butterflies in the stomach and a satisfying head rush. Don't be fooled with the small glass it comes in. Cutting Masala Chai is a strong, hot steaming cup of milk tea simmered in the finest spices. It's as Indian as it gets.
Bambaiya Cafe by Queen's Tandoor
South Quarter, Dome. Tower A
Jalan R.A.Kartini Kav. 8 South Jakarta 12430
T: +62 21 2765 1499
IG: @bambaiyacafe
FB: Bambaiya
http://bambaiyacafe.com
This venue participated in the 2019 BRBCA. See the winners here!
_______
This article is originally from paper. Read NOW!Jakarta Magazine March 2018 issue "Design for Living". Available at selected bookstore or SUBSCRIBE here.