Discover the unique flavours of the Basque people at this hip new restaurant at Senopati area.
Tucked away in the more quiet section of Senopati area on Jalan Suryo is the newly opened Txoko, a hip tapas restaurant with chic Mediterranean vibes. Txoko offers authentic dishes from the Basque country, a unique part of Spain located on the country's northern coast and acclaimed as a great culinary destination in its own right.
True to its Mediterranean theme, Txoko's decor features arch doorways, large glass windows, white walls with artsy colorful mural paintings and a snazzy pink neon sign that reads "Don't tell mom I am in Txoko" that exude a fun and upbeat ambiance. There is a small but cosy bar at the far end of the room adjacent to a mural of ocean waves and seagulls flying in the sky that goes all the way to the second floor's wall through the open ceiling. The furniture is decorated in cool pastel colors with different shades of blue and green. On the second floor, there is another look-alike dining room & bar counter with high stools, and a wine cellar with terrific wine collections. There are a lot of natural lights which makes the place looks airy, bright and sunny.
The moment I stepped through the front door, I could almost make myself believe I am in a hip café somewhere in San Sebastian, minus the white sand, the yacht and the breeze, but with the seaside atmosphere truly sets the stage. It's like summer holiday all over again!I like the concept of tapas: the food sharing and having small plates of delicious potatoes, meat, cheese, ham or even seafood. It is a great way to bring people together, which makes it ideal for meals with friends and family. They say you can only truly experience a tapas-style meal if you drink sangria, cocktails and wines, and I couldn't agree more! In the spirit of having convivial Sunday tapas brunch, I am here with my husband and two children—my glutton buddies—ready to feast!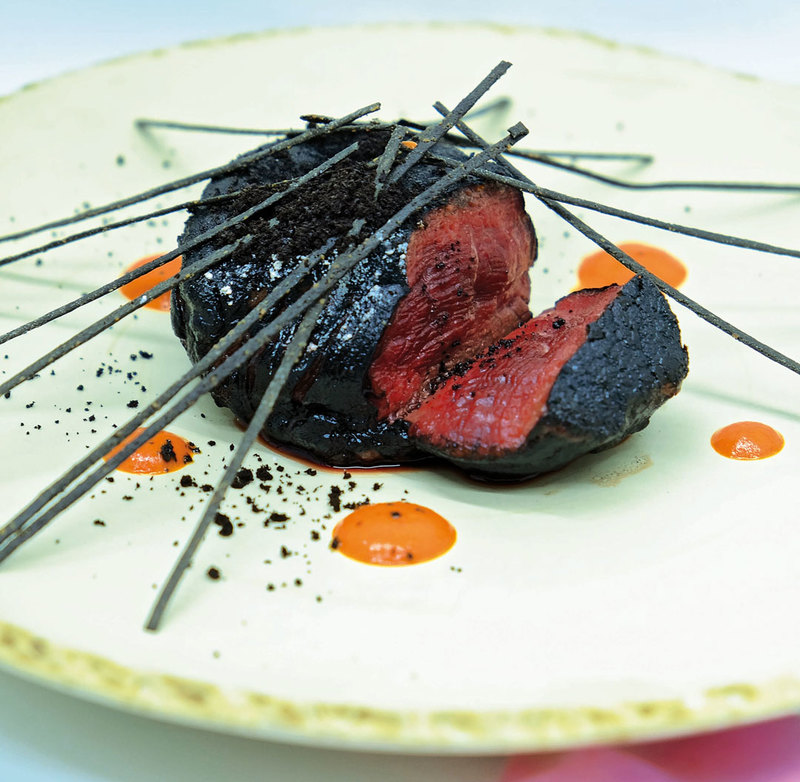 The menu is pleasantly simple and straightforward, featuring only the best dishes that the kitchen offers. The beverages selection features a collection of hand-picked wine, cocktail, liquor and sangria. From the pintxos and tapas section, we ordered Australian Wagyu Beef Tartare, Foie à la Txoko, Garlic Prawns Prêt-a-porter and Grilled Octopus with Boletus Cream. From the starters, we ordered Iberico Acorn-fed Ham served with tomato bread and lettuce hearts salad with sardine cream. For the mains, we ordered Grilled Tuna Belly with marmitako sauce & onion panna cotta and Seaweed & Squid Mellow Rice.
While waiting for the food to arrive, the waiter served a basket of bread that came with four different kinds of butter, each infused with spinach, mushrooms, tomato and beetroot. The butter came in interesting shape and bright eye-catching colors of green, beige, yellow and pink, almost too pretty to be devoured!
The Iberico Ham was unbelievably scrumptious with distinctive buttery and nutty aftertaste, the quality that sets it apart from other mundane cured meats is definitely present. The Iberico Ham has exceptional flavor because it is cured for 36 months from free-range pigs that roam oak forests and eat only acorns. The Beef Tartare with apple sorbet is a creative dish and an unlikely combination that turned out to be sensational! The raw beef is really fresh, and the apple sorbet gave it a refreshing zest. The Garlic Prawn dish in Txoko is unlike any other tapas restaurant. It is served in the form of thinly sliced raw carpaccio and flame-seared by the waiter at our table until it forms brown crust that gives out smoky flavor. The octopus was savory and amazingly tender. Lastly, we had El Gin Tonic, a quirky dessert of lemon ice cream, cucumber sorbet, tonic water gelee sprayed with juniper sauce and Hendricks gin.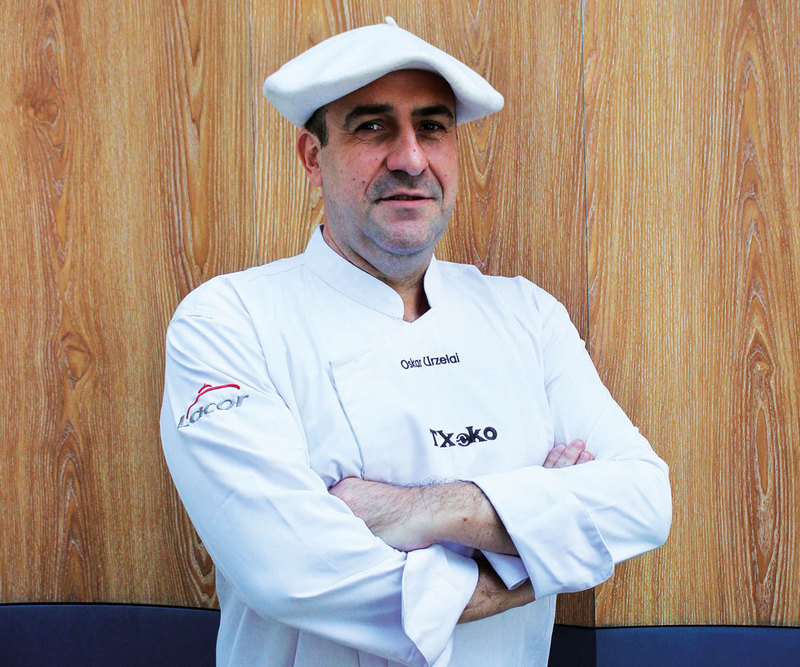 Afterwards, the man of the hour, Chef Oskar Urzelai, Executive Chef and owner of Txoko came to our table and insisted on giving us a complimentary dessert of lovely Txoko's Petit Four consisting of coffee cream puff, citrus butter cookies and almond financier. We were completely stuffed but how can you say no to such a generous gesture.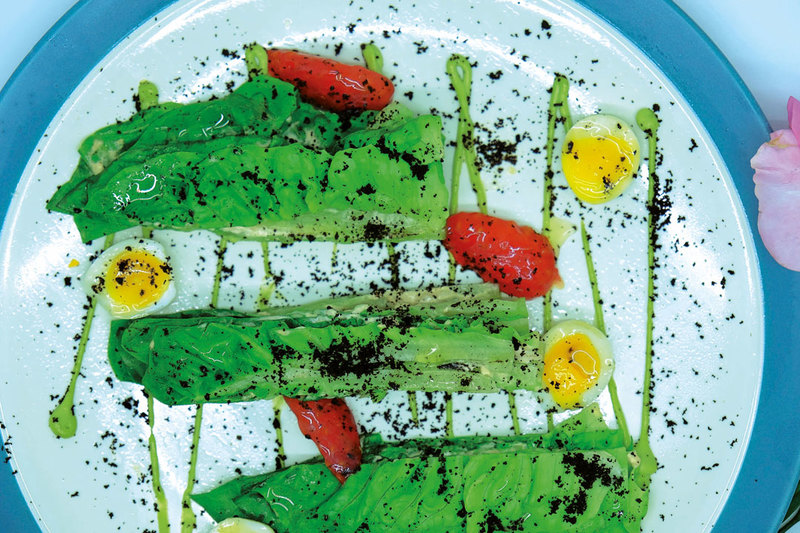 Almost everything we ordered was excellent except for the Lettuce Hearts Salad and Grilled Tuna Belly, which were not as flavorful and succulent as expected. However, the other dishes really made up for it and I'd still vote Txoko as my favorite tapas restaurant in town!
We have Chef Oskar to thank for introducing a small piece of the Basque country that offers its authentic and unique cuisine in Jakarta. Chef Oskar specializes in tradition
al Spanish cuisine and with over 20 years of vast experience in food and beverage industry, he embodies his love of culinary world in the menu created for Txoko. I have always wanted to do a culinary trip in San Sebastian, but now that we have Txoko in town, the trip can wait. Now, after such glorious meal, I am ready to take my siesta like a true Spaniard.
Txoko
Jl. Suryo No. 6
South Jakarta 12180
Phone: +62 21 2708 2215
IG: @txokojakarta
FB: Txoko Jakarta
www.txokojakarta.com