Jakarta may not have a decent beach but one can still enjoy tropical vibes at many bars and cafes in the city. Serving Mediterranean-style colourful, fresh dishes, these venues complete the dining experience along with their party vibes.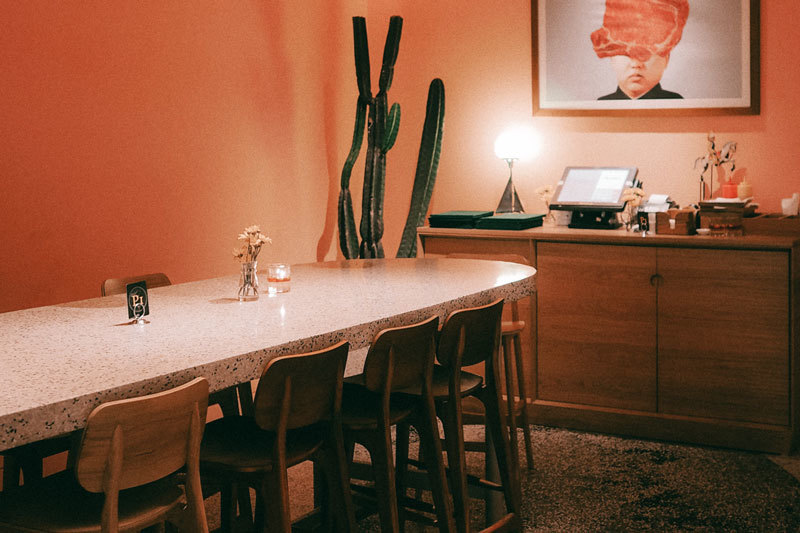 PiKNiK
PiKNiK brings Bali summer vibes all the way to Jakarta with its tropical establishment. As visitors step in to the room, a swimming pool, bright-coloured floats, coconuts, and flamingos await rather like in the "Dua Lipa" music video. Recently merged with Arif Inn, PiKNiK offers an instant getaway without the need to leave the city. Dishes on the menu are inspired by the tropics and also include vegetarian options—and worthy of being posted to your social media accounts.
Jl pertanian Raya No. 53, Lebak Bulus, South Jakarta
+62 21 7692305
https://www.instagram.com/piknikajayuk/
Lalla
Antique designs and a playful interior are part of the decor at Lalla, a bar & restaurant that has an earthy vibe, accentuated by a huge tree in the room. One can have a seat on the rattan chairs or at the plush wood table in this Ruci Artspace designed bar.The restaurant serves American fusion dishes and tropical-inspired cocktails such as Passion Fruit Mojito and Margaritas.
Capital Place, Unit GF, Retail Podium
Jl. Gatot Subroto No.6, West Kuningan
Mampang Prapatan, South Jakarta
https://www.instagram.com/lallajkt/
Mother Monster
Located in Plaza Indonesia Mall, Mother Monster is a café-resto-bar that offers an all-day dining experience. The softly-lit venue reflects a California mood with its combination of traditional mojave pink with dark teal and rollie green. The natural light reflects from circular windows, typical of desert homes along the U.S. West Coast. Mother Monster is playful with the menu by incorporating eastern and western culinary menu. At the bar, the guest could order classics and concoct cheeky cocktails, such as "Pleasure Garden".
Plaza Indonesia Level 1, Jl. M.H. Thamrin Kav. 28-30
Gondangdia, Menteng, Central Jakarta
(021) 29921939
https://www.instagram.com/listentoyourmonster/
Cafélulu
As people enter Cafelculu, muted pink wall and the tropical greenery around will invoke feelings of "Summer in California". Located at Lippo Mall in Kemang Village, Cafelulu offers a wide range of international comfort food in a stylish, instaworthy space.
Lippo Mall Kemang, Ground Floor Jakarta, Bangka,
Mampang Prapatan, South Jakarta
(021) 29056900
https://www.instagram.com/cafelulujakarta/
Ombé Kofie
Blue doors, green climbers, wooden window frames resembles a snug home decoration is invitation enough into this space that serves speciality coffee. With its botanical garden interiors, enjoy comfort food like Brioche French Toast and breakfast items.
Jl. Cikajang No.63, Petogogan,
Kebayoran Baru, South Jakarta
https://www.instagram.com/ombekofie/
FEAST BY KOKIKU
FEAST by Kokiku is located in a shaded ground floor area on Jl. Gunawarman in South Jakarta, accelerating and complementing their audiences with Asian comfort cuisine in an art deco botanical design. The restaurant welcomes food hunters looking to share a feast. FEAST by Kikoku has a series of food and beverage options, such as Feast Fritters, Banana Blossom, Crispy Sticky Squid, Cha Ca La 'FEAST, and Pop Chicken Confit.
Jl. Gunawarman No.37, Selong, Kebayoran Baru
(021) 27938880
https://www.instagram.com/feast.society/
One Fifteenth Coffee
Firstly established in the Gandaria neighbourhood, 1/15 has expanded the cafe to other location with its consistency by highlighting specialty coffee with its calming interior design. The cafe is designed in a Scandinavian manner, complete with wooden tapestry and potted plants. Creative people like artists and designers are often seen here, working and enjoying their coffee in confines surrounded by tropical greenery such as Snake Plant-Sanseveria Laurenti, Golden Pothos, and hardy plants Philodendron.
Jl. Gandaria 1 No.63, Kramat Pela
Kebayoran Baru, South Jakarta
(021) 7225678
https://www.instagram.com/115coffee/
Fedwell
Nesteld in Senopati, Fedwell is an eatery offering nourishing healthy food. Presented in canteen-style, Fedwell serves a variety of dishes featuring protein, vegetables, grains and healthy dressings. You can also try refreshing signature beverages such as the pink Beetroot Latte, yellow Turmeric Latte, and Charcoal Latte. The healthy addition of the manu matches the setting that features strawberry ice and rose quartz colours, and finished with simple tropical plants on every corner.
Jl. Senopati No.82, Selong
Kebayoran Baru, South Jakarta
https://www.instagram.com/fedwelljkt/