Burgreens is an organic plant-based eatery and caterer that shows how healthy food can be delicious. It is also a social enterprise that empowers local farmers and underprivileged women. Through its fun & educational events, Burgreens promotes healthy and sustainable living too.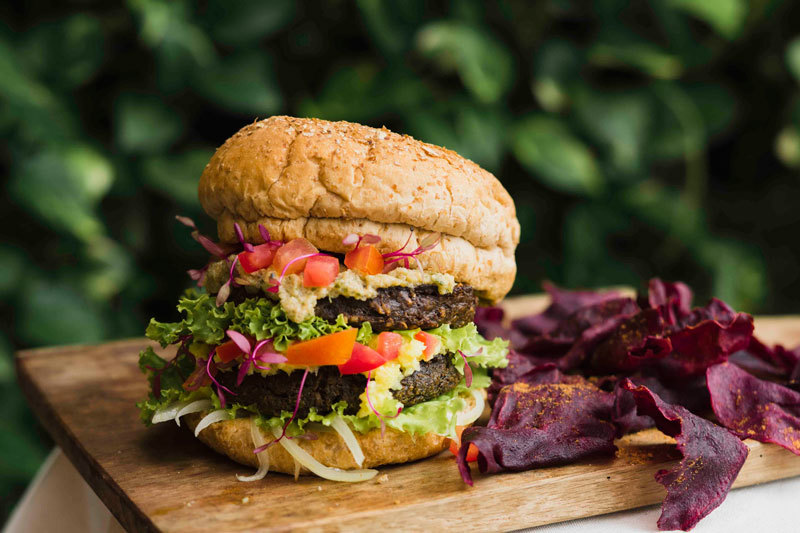 Since its inception, Burgreens has been on a mission to promote conscious eating. Max Mandias and Helga Angelina Tjahjadi are the husband and wife vegan couple behind Burgreens who want to change the image that healthy food is boring and tasteless.
The burger is synonymous with unhealthy food; Max, who is into healthy food and loves cooking, wanted to create his own delicious, yet healthy meatless patties. It took 8 months of trial-and-error processes before his first burger called Mighty Mushroom, came to fruition. (The taste testers who praised his burgers were completely unaware that what they ate were actually meatless patties).
Burgreens currently offers various plant-based burgers, including Beans & Cheese (IDR 59,000), Spinach Chickpeas (IDR 59,000), Crispy Tofu (IDR 59,000) and Mighty Mushroom (IDR 59,000). Alternatively, you can order Mini Trio (IDR 72,000) that consists of 3 small various veggie burgers.
I highly recommend Burgreens' burgers, especially Mighty Mushroom and Beans & Cheese; I also love its sausage and rendang (I bought the take-away frozen version, priced at IDR 75,000 and IDR 99,000 respectively – their portions are generous). One, indeed, does not need to be a die-hard herbivore to love Burgreens' plant-based food.
Today, Burgreens has evolved beyond offering burgers. On the menu—which is vegan and vegetarian friendly— you will find various dishes, such as hot dog, ramen, spaghetti, steak, rendang, soto, tempeh, raw/unbaked cakes, super-food smoothies and farm-to-table salads, among others. (As a note, Burgreens does not use palm oil and its products are MSG-free; moreover, gluten-free and onion-free options are available, too).
For those who love snacking, check out Burgreens healthy snacks such as raw kale crackers, kale chips, raw granola, sweet potato chips, as well as vacuum fried veggie chips, fried fruit chips and nastar.
Just like many Indonesians, I love nastar, our heritage pineapple tart that is usually made by using egg yolks. Out of curiosity, I bought Burgreens dairy-and-egg-free nastar (IDR 69,000); this brand also tweaked nastar's traditional recipe by using virgin coconut oil which turned out to compliments the taste of the pineapple tart while gives this delicacy a pungent, sweet-smelling coconut fragrance. Burgreens' nastar is surely worth a try, especially for nastar lovers who look for a healthier version of that little treat.
As for the ingredients of its products -except for items that cannot grow locally- Burgreens proudly uses fresh, local and organic items wherever possible which are sourced from about 200 farmers. The goods are purchased at a fair-trade price, thus farmers can make a decent living and are not tempted to abandon their lands.
Moreover, as a company that values environmental and social responsibility, Burgreens also commits to have a positive impact on the livelihood of underprivileged women by providing career progression opportunities for them.
The idea for Burgreens was born in 2012 when Max and Helga lived in the Netherlands; both of them are graduates of Hogeschool van Arnhem en Nijmegen (HAN University of Applied Sciences) in the Netherlands, where Max majored in International Finance & Control and Helga majored in Integrated Marketing & Communications.
In 2013, they decided to resign from their jobs, return to Indonesia and put their savings into business. Burgreens started as a bootstrap business in 2013; its first eatery, which was located at Rempoa in Tangerang (on the outskirts of South Jakarta), was literally run by Max and Helga only.
From its humble beginnings, Burgreens has grown steadily over the years, mainly thanks to word-of-mouth from their satisfied customers – today it employs about 80 people and Burgreens' eateries nowadays can be found at upscale malls in Jakarta, such as Plaza Indonesia and Pacific Place. (Its eatery at Rempoa has been closed permanently).
Helga and Max themselves are vegans. Watching Cowspiracy: The Sustainability Secret, a documentary which explores animal cruelty and the impact of animal agriculture on the environment, was the catalyst for their commitment to became vegans in 2014. (They were vegetarians before becoming vegans).
Helga became vegetarian when she was 15 years old due to health reasons. Ever since she was a kid, Helga suffered various chronic diseases—including asthma, sinusitis and eczema-—which were triggered by her allergies to food, cold and dust. Eventually the pharmaceutical medicine that she took, from antibiotics to corticosteroids, caused her to be hospitalised; the results revealed her liver was not functioning normally and there were crystals in her urine.
To cut a long story short, after conducting in-depth research on eating healthily, she decided to become a vegetarian; later, she felt much healthier and ditched her pharmaceutical medicine, as her asthma and sinusitis were completely healed and her eczema became a lot milder, only triggered by heavy stress.
Max learned, first-hand, the benefits of plant-based meals when he was in the Netherlands. While experiencing stressful circumstances, which led to various problems, such as insomnia, constipation, and sinusitis, he decided to follow a raw vegan diet for three months in 2012; then he noticed an increase in energy, weight loss (he was obese), and his health-problems were cured.
Later, during his stint as a volunteer at Alchemist Garden, a raw food café and shop in Amsterdam, he met countless people who told him how plant-based nutrition cured their illnesses. To cut a long story short, today, this certified plant-based chef is a firm believer in the power of plant-based nutrition.
"I want to heal people through nutrition," Max says. To deepen his knowledge, since February 2018, Max has been taking plant-based nutrition education at eCornell, the online learning platform of Cornell University.
In line with Max and Helga's desire to heal people through nutrition, opening Rumah Sehat that integrates nutrition, mindfulness and holistic healing under one roof is in the pipeline.
"I want to heal people through nutrition."

- Max Mandias, Burgreens
Rumah Sehat (which means healthy house), is scheduled to open its doors in November 2018 and will be part of the global "Zero Waste Movement". Rumah Sehat will partner up with a startup company that works in waste management to recycle its waste, as it aims to be a zero-waste facility which won't send any waste to landfills.
For Max and Helga, running a social enterprise and promoting conscious living is their life's calling – and just like Oliver Wendell Holmes Jr's quote Every calling is great when greatly pursued, they pursue their calling passionately.
At the end of the day, seeing how their company positively impacts the lives of farmers, underprivileged women and Burgreens' customers, keeps up this couple's motivation and make all the hard work worthwhile.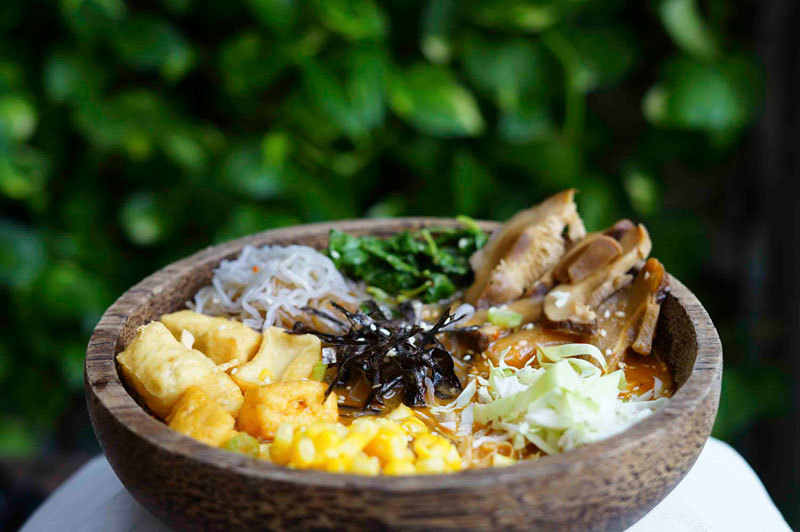 Burgreens' Health-related Programmes:
Burgreens offers Burgreens Goes to Office as well as Burgreens Goes to School programmes, which involve talk-show about healthy eating and cooking demo by Max. For more information, visit www.burgreens.net, where you can also find information about its healthy meal programmes: "Clean Eating", "Weight Loss & Healing" and "Sports Nutrition".
Note: Burgreens organises Pasar Semesta, a festival which celebrates a healthy & sustainable lifestyle; eco-friendly goods are also available at its bazaar. For more information, visit Instagram: @pasarsemesta.
Burgreens
Pacific Place (LG #18), Plaza Indonesia (5th floor)
Pondok Indah Mall (Street Galery, 1st floor) and Jl. Wijaya 2 # 73,
Darmawangsa
www.burgreens.net
ig: @burgreens