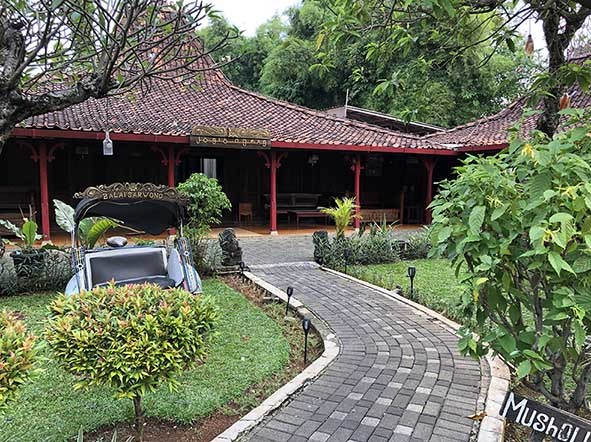 "Warungs have not got an upmarket image"says publisher Alistair Speirs after a recent visit to his favorite warung, "they are perceived as lower market, cheaper and well, let's just say, based on value for money rather than style!". But deep in South Kemang on Jl. Madrasah, there's a charming little eatery ready to prove you wrong!
Warung Solo is set back a little from the road and has plenty of space to park (actually in Kemang this is as good a reason to eat there as any!) and is a genuine Javanese Joglo (or traditional house).In fact it is several joglos over three terraces with the lowest dedicated to food, the middle one to coffee and the top one to …. beer! What a great combination.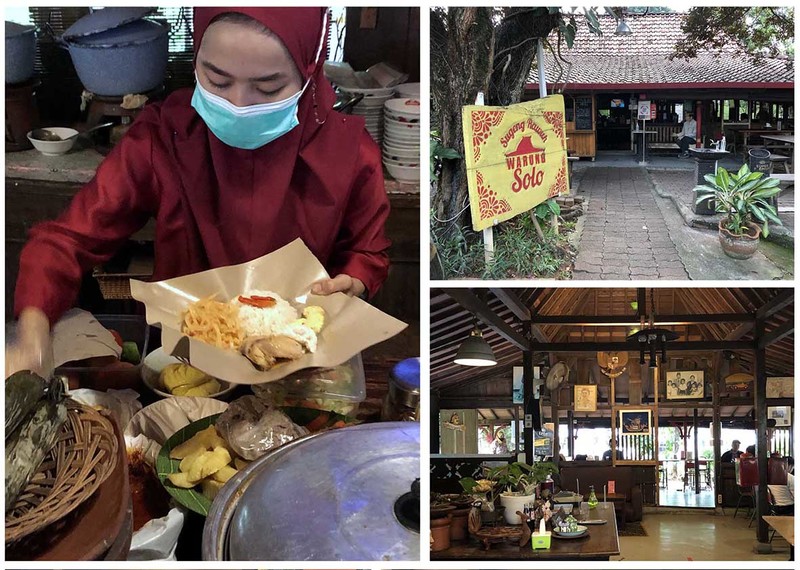 The restaurant section as they all are, is open to the elements which appeals to Covid sensitive souls and smokers alike with open terraces on two sides, but the central area is open to the prevailing breezes as well. Seating and fables are rudimentary retro "with sewing machine tables are called into use as well as other repurposed furnishings. The place is adorned with sixties radios and old posters alongside Javanese 'mom & pop' statues. The whole effect is charming.
The food of course is traditional Javanese village fare and is well cooked and well presented in good sized portions. The menu is a bit limited at the moment due to Covid restrictions, but includes such perennial favorites as Nasi Liwet, Selat Solo, Serabi Solo, and Nasi Goreng.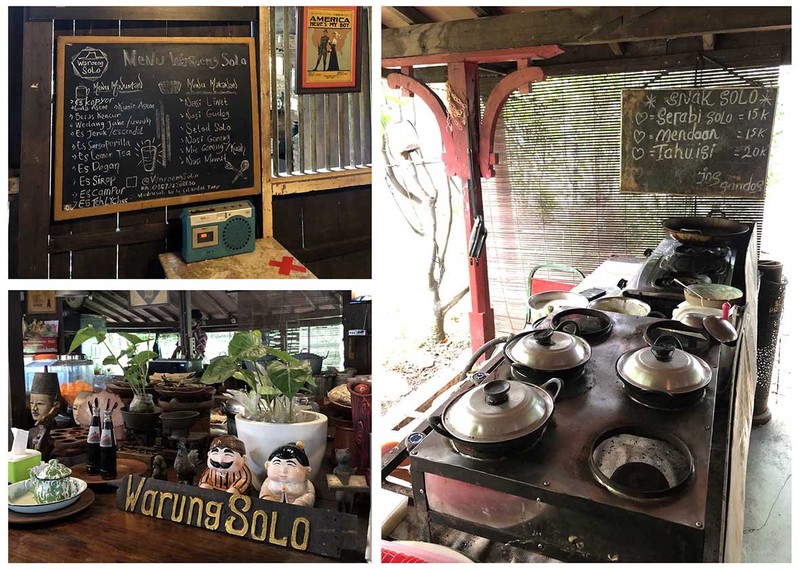 The drinks are sanitary presented with the old favourites of Es Jeruk, Es Teh Lemon, Wedang Jahe, Es Kopyor, Es Degan, Gula Jawa leading by the way. For your entertainment almost every day there is a 'keroncong' trio playing and singing which gives a great atmosphere.
Service by sarang clad ladies is swift and charming and prices are very reasonable, not at regular warung levels but very good value.
Also on the complex is a meeting and seminar space and a guest house, both decorated in very traditional Javanese wood furniture. It really is a little oasis in the heart of every commercialising Kemang. Give it a try!
Warung Solo
Address at Jl.Madrasah
No. 14 Cilandak. Telp. 021 78849898