Novotel Jakarta Mangga Dua Square, located in North Jakarta with an easy access to the airport and close to recreational area Ancol, has long been a popular choice among business and leisure travellers to the city.
The hotel is gradually upgrading its facilities to provide the best possible service to its guests. After renovating the lobby last year, the hotel recently unveiled its new and refreshed Gourmet Bar, formerly known as the Lounge Bar.
Located on the 5th floor, the Gourmet Bar is literally the center point of the hotel, overlooking the swimming pool on one side and a fish pond on the other. Large floor-to-ceiling windows allow the sunlight to brighten up the space during the day. The elegant yet cozy design - predominantly in grey and blue colours with splashes of yellow, white and red - is a tempting invitation to linger.
General Manager Fabrice Mini explained that the concept behind Gourmet Bar is to offer guests a place where they can feel at ease, almost as if they were at home.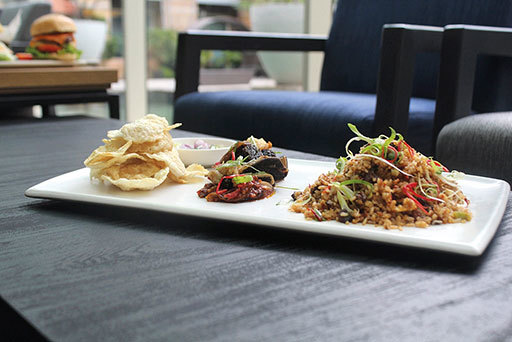 "Regardless of whether our guests come here to eat or simply to spend quality time with their loved ones or colleagues, we are ready to greet you with our culinary delights that are unique to the Novotel brand," he said. "The dishes we offer are your classic comfort food, both Indonesian and Western. They are simple, authentic but come with a twist."
Kwe Tiauw Siram, Penang Curry Rice Noodle and Mie Bihun Medan are among the choices for Peranakan cuisine, but of course the menu also features Indonesian favourites, including a variety of nasi goreng dishes, from vegetarian to kampung.
Gourmet Bar also serves a variety of dishes called "Classic Bites", that make a perfect complement to a relaxing afternoon. Try the Potato Farci, a delightful snack made of potatoes with smoked beef and melted cheese on top, or pick something from the more classic sandwich and burger selection, such as the Novo Club Sandwiches, Gourmet Sandwich or the popular Tuna Melt Sandwiches, which are all served with crispy french fries on the side.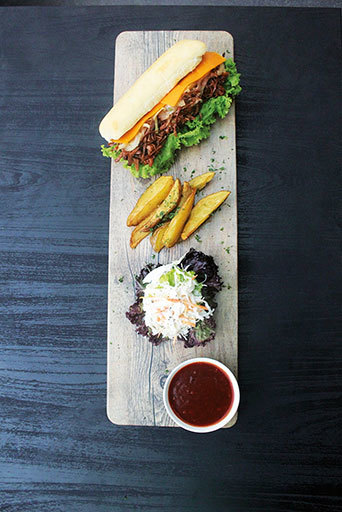 Pastry Chef Maurenty Srie Rizky - of Hell's Kitchen Indonesia fame - takes care of the guests' cravings for sweet treats: her collection of cakes and pastries is as colourful as it is delicious.
Gourmet Bar opens daily from 7 a.m. to 1 a.m. and currently offers a 30% discount on its a-la-carte menu.
The newly opened Gourmet Bar is only one among many upgrades at Novotel Jakarta Mangga Dua Square, aimed at transforming the hotel into a more modern and artistic venue: besides the restaurant, Novotel also boasts renovated guest rooms, state-of-the-art meeting rooms, a colourful kids club and new spa facilities.
Novotel Jakarta Mangga Dua Square
Jl. Gunung Sahari Raya No. 1
Jakarta 14420
T: +62-21 6231 2800
novoteljakartamanggaduasquare.com