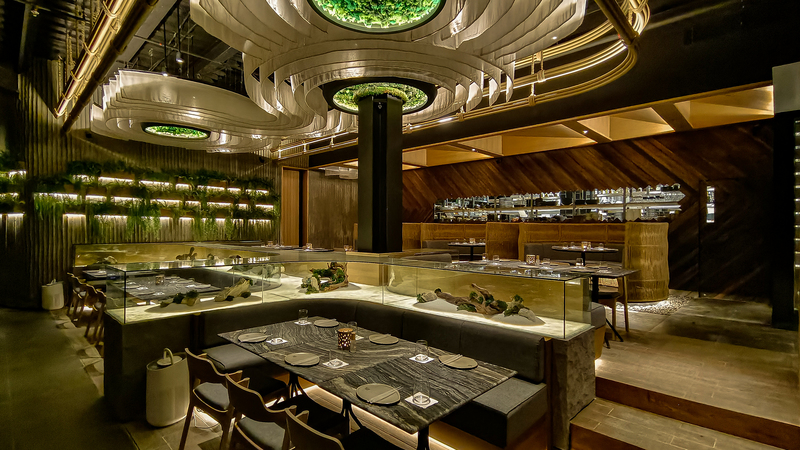 This modern Japanese restaurant by MDA Restaurants, Wabi-Sabi opened its doors in December 2021 with adrenaline-fueled creativity applied to its sophisticated Japanese cuisine prepared in a contemporary approach. Located in MD Place on the 12th floor, in the heart of Jakarta, Wabi-Sabi is helmed by Chef Andri, MDA's Chef Patron. Chef Andri has built a team dedicated to presenting a modern Japanese-inspired culinary experience for Jakarta's diners.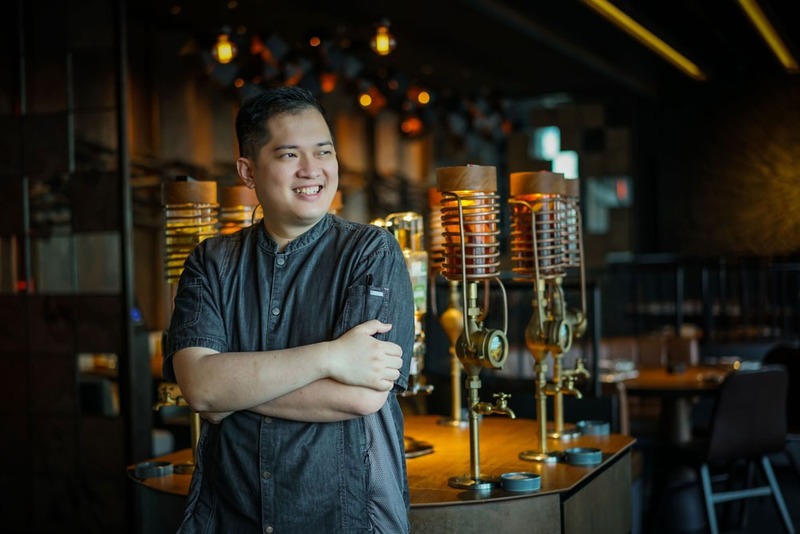 Wabi-Sabi delivers a distinctive Japanese experience built around pristine seafood sourced from Toyosu market and various corners of the globe. Dishes and presentations are designed to highlight both the freshness and the quality of the ingredients that are used in the preparation. The experience at Wabi-Sabi is further elevated through indulgence in the curated collection of fine wines, sake, Japanese beer, and aged Japanese whiskey. The unique beverage pairings are sure to delight and awe Jakarta's savvy beverage connoisseurs.
In Wabi-Sabi we specially crafted our sushi with Sake lees vinegar, also known as red vinegar or Akazu, made from the solid residue left behind from the sake-making process, that has been aged for at least 2 years to increase the amount of amino acids which are the source of umami.
Wabi-Sabi introduces an array of modern Japanese menu items unlike no other, including a seven colorful ball-shaped "Temari Zushi" made from crispy potato, wasabi mayo, and assorted neta, followed by "Duck Duck Foie", the three duck eggs filled with foie chawanmushi, duck breast, seared foie gras, and truffle-an sauce. Entering the fish section, we present an homage of a classic Japanese Misozuke dish, with Halibut sourced from Greenland, sesame saikyo miso marinade paired with a smoky bincho soubise.
Excitement then elevates with our Kakubin Karubi flambé, a slow-cooked wagyu short rib of Karubi flank and mixed Japanese mushrooms flaming in Kakubin Suntory Whisky, topped with wasabi pepper sauce with a hint of truffle.
Finish up your journey with our happy ending dessert selections such as "SO Alaska", a mountain of cotton candy enclosing a perfectly composed cheesecake, toffee ice cream & burnt peach, doused with flaming peach bourbon, and Southern Comfort.
Wabi-Sabi, as the name suggests, is a curation of ideas showcasing the beauty of imperfection, age, and natural textures as the main underlying concept. Our intention is for the guests to feel like they are entering an otherworldly zen garden. Our ambiance is designed to play with people's perception, poetically showcasing upside down zen garden and a feature wall made out of bamboo stamped concrete, thoughtfully placed to create an atmosphere resembling a peaceful bamboo forest whilst also evoking masculinity and balance.
The restaurant is divided into three sections: the bar in which visitors can enjoy lovely potations by the restaurant's mixologists; the open dining space which overlooks the stunning Setiabudi cityscape, and our five private dining rooms perfect for hosting your various gatherings and occasions.
Opening Hours (Subject To Change)
Dinner 17.00 - 22.00
Address MD Place 12th Floor Jl. Setiabudi Selatan no 7 , Kuningan 12910
Reservations
0877WABISABI / 0877-9224-7424
Social Media Handles
Instagram @wabisabijakarta
www.facebook.com/wabisabijakarta