One venue housing two different restaurants - this concept may sound overwhelming, even excessive to some, but Up In Smoke and One Eyed Jack complement each other perfectly.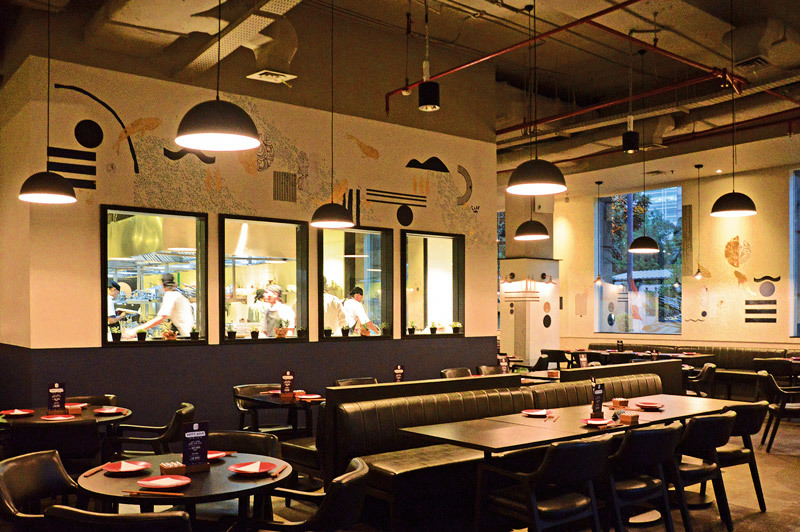 Up In Smoke and One Eyed Jack, two newly opened restaurants sharing one single space on the ground floor of RDTX Tower in Mega Kuningan, aim to encourage guests to be more generous with their time to appreciate the philosophy behind their culinary concepts and exceptional dishes instead of treating them as "just another Instagram moment".
Zachary Nice and Justin Sumarta Mu, the dynamic duo behind Up In Smoke, made their first foray into Jakarta's F&B industry in 2014, focusing mainly on catering and the pop-up restaurant scene, and quickly establishing themselves as the go-to source for artisan smoked and grilled meats. Opening a restaurant was the next sensible step.
"Zach and I brought in our knowledge about barbecue and smoked meats, while Chef Rapha, who is also the chef of One Eyed Jack, filled out the menu with other items such as grilled vegetables," Justin said.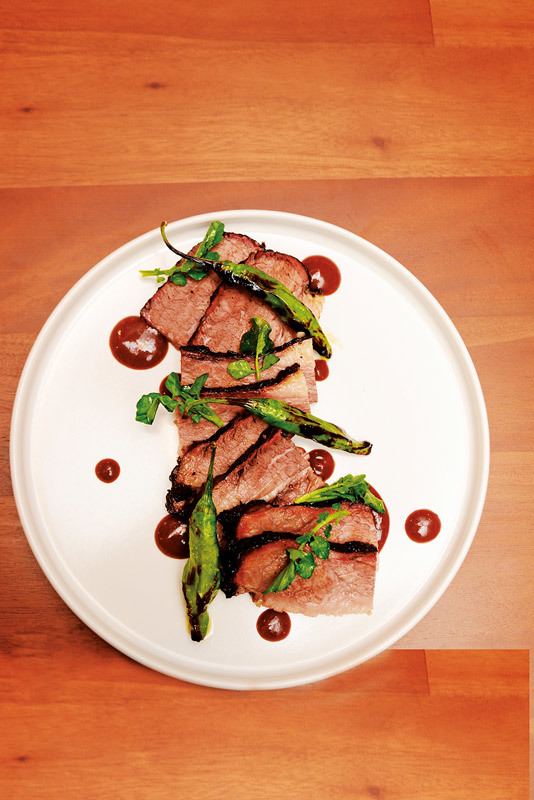 Chef Rapha is a Nobu veteran hailing from California and the magician behind the scenes for both restaurants.
"We are not a traditional Texas-style barbecue, although we use the same techniques and methods, but we also want to balance out a heavy meat menu with vegetables and with the ingredients that are available here to create something unique," he explained.
Among the highlights of Up In Smoke's menu are the exceptional 16-hour Smoked Brisket in BBQ sauce and the Smoked Chicken, which is served with rich and tangy Alabama White Sauce – a recipe Justin and Zach have adjusted and perfected for more than two years. The Grilled Broccoli with pickled gold raisins and spiced cashews in a creamy Romasco sauce makes for a worthy companion besides all the meat.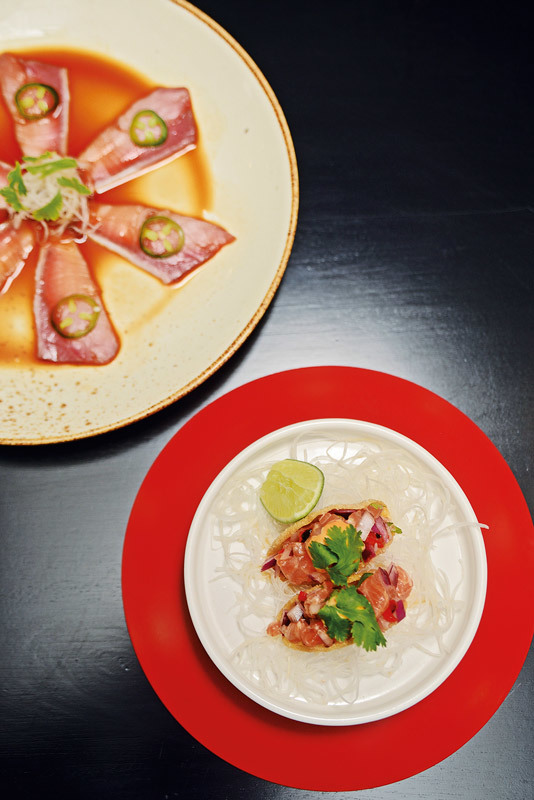 The Papuan Wild Boar Sausage comes with apple, cabbage, watercress and pickled onion – an unexpected, yet attractive pairing – and a unique story.
"One of our partners is working with people in Papua to save the leatherback turtles, and they also collaborate with the locals in trapping wild boar, teaching them how to humanely slaughter them and break them down before sending the meat to us," said Chef Rapha. "We are also getting fish from there, like snappers and smaller yellowfin tuna. In a sense, we are channeling the Californian Bay Area Slow Food Movement and try to apply it here in Jakarta the best we can."
One vegetarian dish that must not be missed is the sensational Slow Grilled Beets, served with gold kiwi, ricotta, watercress, candied hazelnut and in homemade basil oil – savour the earthy sweetness of the beets with an added hint of smoky flavor.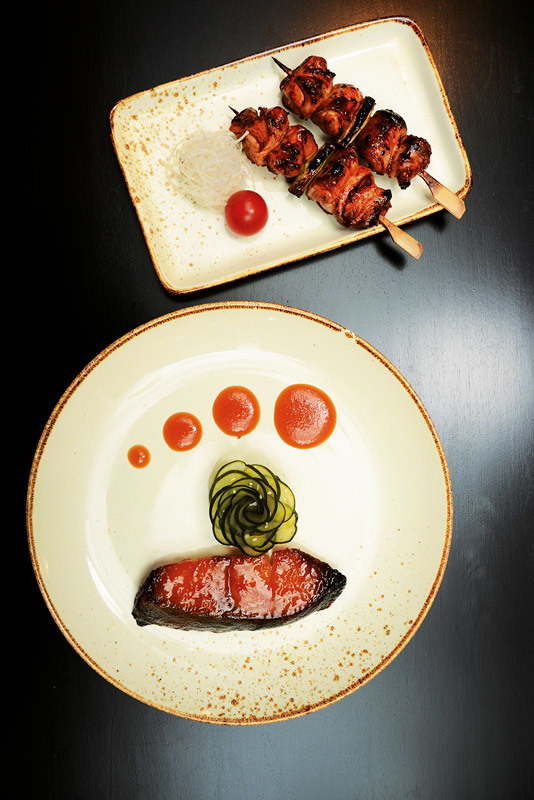 Leaving room for dessert may be hard, but is essential if only to take a bite out of the Banana Cream Pie - which may sound like an overbearing way to end a meal, but the pie with salted caramel and brown butter graham is actually as light as a feather and tastes best when shared.
Indeed, Up In Smoke implements a social dining concept with a focus on shared plates. One Eyed Jack shares this social aspect and takes inspiration from Japanese Izakayas, which are very popular places to hang out with friends or colleagues for a drink or two and light bites after office hours and on the weekends.
"We elevated this concept quite a bit," said Chef Rapha. "We serve very fresh ingredients, we are bringing in fish from Japan quite frequently as well as Wagyu beef, which is probably some of the best beef in the world."
One Eyed Jack came about in Bali last year, when Chef Rapha together with his partner Thomas Mack developed the modern Izakaya concept with an innovative twist on Japanese cuisine. Due to the restaurant's success on the Island of the Gods, they were looking to expand. Partnering with Justin and Zach turned out to be the perfect choice.
The extensive menu offers something for everyone's taste.
"If you have been to One Eyed Jack in Bali, you will see things on the menu that are familiar, as we wanted to keep the core value," Chef Rapha explained. "At the same time, we wanted to give both places their own identity, so we have items here that you won't find in Bali and vice versa."
Chef Rapha recommends the Tataki-style sashimi, where the sashimi slices are seared with hot sesame oil and are then served with Yuzu soy sauce, as well as the Yakitori.
"Our Yakitori is quite special, as we are using a custom-made grill from Kamaasa in Japan," he said. "They have been making these grills for over 100 years and put so much soul in them that it really reflects in the food as well."
Other favorites include the Salmon, Tuna or Shrimp Tacos, the Tuna Tartar and the Chicken and Pork Tsukune Sliders. But if One Eyed Jack has a signature dish, it is Black Cod Miso. According to Chef Rapha, the fish is marinated in miso for 48 hours before being boiled. The fish, served with cucumber and sesame, is incredibly tender and literally melts on the tongue.
The space also includes a bar area, where tasty yet affordable cocktails are served.
"They are not the kind of cocktails you'd usually find in Indonesia, and they always come with a twist," Justin said of the concoctions crafted by Chef Rapha's friend Josh. "Often I find cocktails in Indonesia overly sweet, but here they are very well balanced."
While Up In Smoke and One Eyed Jack have their own distinctive style, it is possible for diners to order off both menus. This opens the door to an extensive culinary experience that will likely end in over-indulgence - in the best possible way.
Up in Smoke & One Eyed Jack
RDTX Tower
Jl. Prof. Dr. Satrio Kav E-4 No. 6
Mega Kuningan, South Jakarta
T: +62-21 5799 2371
www.upinsmokeindo.com
www.oneyedjackindo.com