Cilandak is home to a variety of restaurants. Paying homage to a diverse array of global cuisines, the area is a repository of some of the city's delicious eats.
Newly opened Kalture is one such gem. Located in a residential tower, but easily accessed on the public road, the restaurant is mostly Indian but with several Asian twists. The warm colours of the well-appointed main dining area welcome guests into a space that features seating for couples, families and large groups.
Saddle up here and order a drink as you peruse a menu rife with both Indian and Asian favourites - and be assured anything you order here is bound to be delicious.
Geetika Sainani, who is credited with cooking for India's Prime Minister Narendra Modi during his visit to Jakarta earlier this year, has put together a menu that combines both North Indian and Asian riches. The recipes are her own and the dishes featured during my visit were executed with aplomb.
To start there's the Caesar salad. The humble chicken and lettuce combination are taken to another level with tandoori chicken and quail eggs, which give it a different flavour while still retaining authenticity.
For mains, it's best to order a few dishes. There's the pizza, essentially well-cooked naan with just the right amount of butter, topped with cheese and a chicken tikka sauce. For something more traditional there's chicken biryani. Sainani's recipe is excellent and the dish is rendered perfectly. There is an unofficial rule that says that an Indian restaurant is judged by the quality of its biryani. In this case, Kalture is a clear winner.
In keeping with its name - a play on the word culture, to represent the area's vibrant, multi-cultural set, do order the bibim bap. This Korean dish here is a vegetarian version - the meat is replaced with soy granules. Served with a variety of sauces, kimchi and vegetables, the dish is a perfect rendition of the classic - and you won't miss the meat!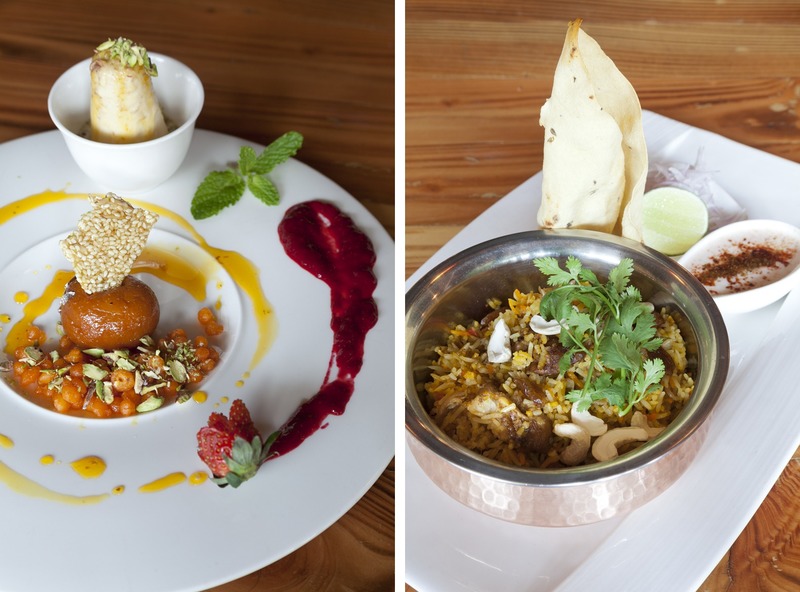 Indian desserts are often rich, milky and syrupy. Not necessarily negatives but they can often be intense. At Kalture, however, the dessert platter - which includes a generous serve of Kulfi, an Indian, pistachio crusted ice cream, and Gulab Jamun (sweet milk balls in syrup) are not overwhelming and provide the requisite sweet finish. Creatively adorned with a saffron sauce and a splash of raspberry coulis the dish is as delicious as it is pretty.
There are plenty of wonderful dishes to try here, and as you sip your masala chai to finish off this delicious repast, I'm pretty sure you'll be planning your next visit!
Kalture
Paradiso
West Cilandak, Jakarta
T: +62-21 22706042