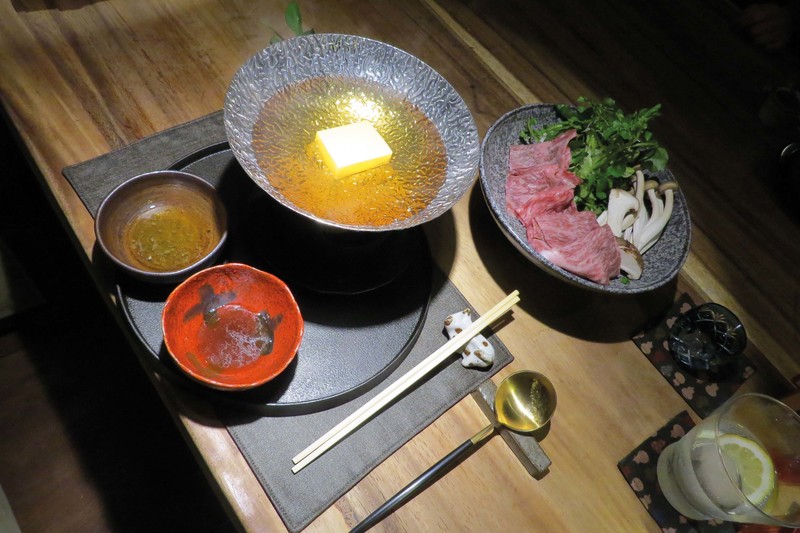 As restaurants reopen, albeit, with social distancing and protocols, publisher Alistair Speirs takes us to a new arrival on the Jakarta dining scene - a Japanese restaurant he describes as a 'hidden gem'.
Tucked away up a back stair in Face Bar (during Covid transition period at least) is a unique, friendly and honestly delightful dining experience called KO-KUU. It is small, seating only 19 diners at an L–shaped bar counter: elegant, featuring works of art and ceramics made by the owner and the management; comfortable, with everything served across the counter with no need to move at all; but most of all, delicious food served with style.
Run by bright, friendly, passionate, charismatic Jenny, with cuisine by experienced dedicated, detailed Chef, Tsutomu Abe, wielding 32 years experience of cooking expertise. He was trained in Italian, French and Japanese kitchens back in Tokyo.
As Jenny explains, "KO-KUU means 'welcome to an empty space' while having all kinds of possibilities to fill it. By taking water away, a more vibrant sense of 'water' can be felt with the 'dry landscape' garden, and with a single living flower as the backdrop, an image of the fields lingers with the single-flower vase. An empty space is filled with imagination at KO-KUU, we strive to provide not surface limitations of classic culture but modern Japanese Cuisine with classical methods".
The best way to explain this dining delight is to run through the menu I experienced with pictures to illustrate most of the dishes. This is an Omakase menu, so no need to choose, just sit back and relax, and let each course arrive in its own good time. This is a personal dining experience to savour, so give yourself at least two hours.
Aperitif
• Strawberry & Peach
Appetizer
• Edamame surinagashi, short bean, goji berry
• Crabmeat, yuba, eggplant noodle, walnut dressing
• Ox tongue, mustard miso, pink & green pepper
Sashimi
• Seasonal fresh fishes
Tempura
• Prawn, beef ham
• Persimmon ginger,
• Mackerel, shiso leaf
Yakimono
• Halibut Saikyou yaki, potato, yolk cream
• Cherry tomato, white sesame sauce, burdock, burdock puree
• Sweet potato, lotus root, green chili miso
• Broccoli, black sesame sauce
Okuchi-naoshi
• Kumquat sorbet sala
Shabu-shabu
• Kagoshima Wagyu, tofu, mushroom, green onion, watercress,
• Ume ponzu, negi shio-dare
Unagi Gohan
• Eel, foie-gras, burdock, lotus root, bamboo shoot rice
Dessert
• Pineapple yoghurt sorbet, tea jelly, kiwi shiratama, fruits,
• Berry sauce, matcha sable
KO-KUU is a real find. Book now for a special occasion. It is not cheap but it's well worth it.
KO-KUU Japanese Restaurant
T: +62 812 9262 6256
Jalan Tulodong Bawah no D-1,
Kebayoran Baru
IG: @kokuujapanese
FB: Kokuu Japanese