It was the jolly season of Christmas and I had been overeating since Thanksgiving! At the rate I was going, I figured I would probably continue the sin of gluttony all the way to Chinese New Year in February!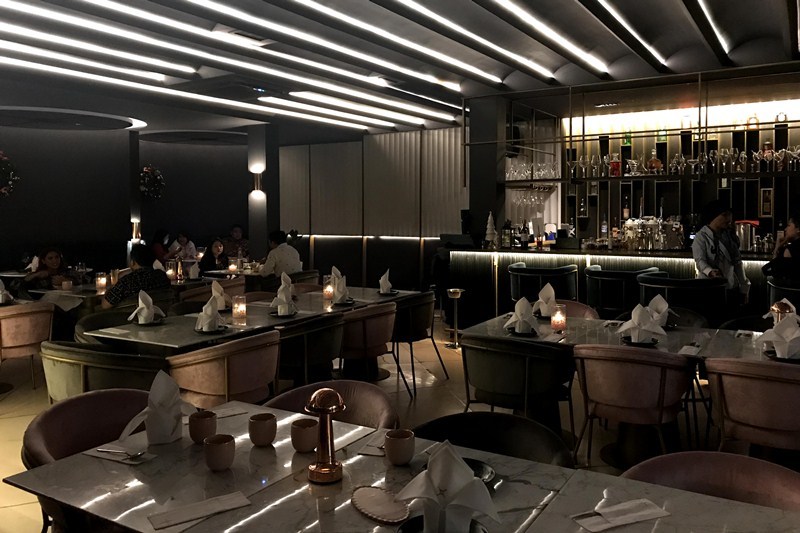 My girlfriend, Tammy and I were looking for a new spot in town to catch up, have a big hearty meal and a few drinks after. We were in a festive mood and no one was counting calories! Clearly, selecting a new venue wasn't exactly easy peasy, a new restaurant seemed to be popping up every other week all over J-town—so many choices and new venues to try! It took a while to make up our mind and finally we decided to try Lume Restaurant & Lounge, a brand new spot on Jl. Suryo, a busy stretch of road, bustling with trendy restaurants and bars.
Lume boasts a modern and sleek European bistro-style interior which is both chic and airy. The elegant architecture and interior design are the brainchild of award-winning architect Andika Japa Wibisana of A & Partners. The second floor features its cocktail lounge & bar for guests to enjoy drinks and dance the night away with a tunes picked by a DJ every night and a live band on Wednesdays and on weekends. Don't miss out on their signature cocktails: God Father and French Martini.
Lume has been the talk of the town since they opened in October last year. It is the latest venture of its founder & Executive Chef Nicola Mondelli, after his previous stints in Komunal 88 in Jakarta, resorts in Bali and Nusa Lembongan. Before moving to Asia, he had built an impressive portfolio in Osteria Anfiteatro in Terni, Italy and in restaurants in Germany. Born to an Italian father and a French mother, and raised in Naples, Mondelli has the best of both worlds in his culinary genes, and with that, he is ready to take the town by storm with his new spin on Italian & French food combined with Japanese techniques.
As we were shown to our table, Daniele Mangiola, the sommelier, true to his Italian roots, greeted us with a warm welcome. Daniele introduced himself and presented us the menu which features an extensive compilation of delectable courses. So extensive that it will take me several visits to try out everything on the menu, but yes I will definitely come back soon because everything looked so irresistibly delicious. I was very impressed with the eclectic menu and the way every dish on the menu was described in mouthwatering detail. The Chef and the menu writer deserve a standing ovation!
As expected, Tammy and I were very excited reading through the menu, selecting a dish then getting distracted by the next dish. It was hard to make up our minds as everything looked so yummy. After intense brainstorming, we finally settled on the Rossini roll and crispy tuna for our appetisers, Kurobuta pork chop and black lobster ravioli for our main, and coffee semifreddo dome for our dessert.
As I looked through the wine list, I noticed the restaurant offered a great selection from non mainstream producers from different regions of the world, and they were reasonably priced. We were in the mood for red wine so Daniele recommended a 2015 Tormaresca, Neprica of Antinori from Puglia, Italy. It was a lovely full bodied wine with hints of wild berries, dark chocolate, silky tannins and a beautiful length with a pleasantly spicy finish.
Chef Mondelli, the man of the hour, came by our table as we were enjoying our appetisers, as he made the rounds, introducing himself to diners personally. This was particularly impressive considering he was running a hectic kitchen for a packed restaurant. In between each course, either the Chef or Daniele would came over to our table to explain each course, to check if everything was alright and ask if we had any feedback to share. You can tell that apart from Chef Mondelli's love for creating good food, he is a genuine people person who loves connecting with his guests and strives to create memorable dining experiences for them. The Chef said that he learned to observe his diners' reactions when they took the first bite, because reactions don't lie. A grimace, a frown, a smile, a grin, they're worth a thousand words. Some chefs create dishes to showcase their skills but chef Mondelli aims to please.
The dishes came in generous portions and everything we ordered was delightful. My favourite was the Rossini roll, sushi rolled in parma ham, filled with porcini mushrooms, and topped with foie gras & black truffle. Imagine all that savoury, sweet and rich velvety texture melting in your mouth, it was heavenly! The Korobuta pork chop—their Christmas special—was beautifully grilled and it came with a side of handmade gnocchi grilled under the pork so that the fat dripped directly on it and the dish was flavoured with sea salt. I smiled ear to ear right after the very first bite.
I am very eager to come back here and I even got a sneak peek of what I plan to order on my next visit, courtesy of Daniele. Here are their best sellers for appetisers: Lume Steak Tartare, beef tataki, Marie Rose prawn, and you bet I am going to order the Rossini roll again!
For mains: Boeuf royal & Lobster au gratin or if you prefer pasta, the burrata and saffron risotto comes highly recommended. The signature desserts are Kaffir cheese cake and coffee semifreddo dome. If I were to pile on the holiday pounds, this was absolutely the way to go about it!
Lume
Jl. Suryo 30, Senopati, Jakarta
T: +62-21 727 88750
www.lumeatsuryo.com