The Westin Jakarta recently introduced a new culinary destination to the city that dazzles its guests with delicious Nikkei cuisine and sweeping, panoramic views.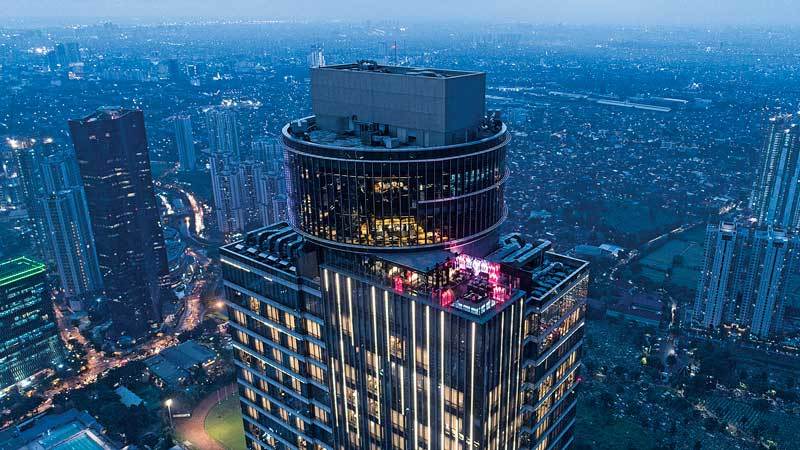 In the late 19th century, thousands of Japanese workers immigrated to Peru to work on the railroads. Some of them later on decided to stay in the country, bringing with them their love for Japanese dishes. But in order to recreate the food that reminded them of home, they had to replace some of the Japanese products with Peruvian ingredients - thus creating a unique Japanese and Peruvian culinary fusion, also known as Nikkei cuisine.
The word "Nikkei", which translates as "a Japanese outside Japan", refers to Japanese immigrants and their descendants who reside outside of Japan. As more and more Japanese corporations and immigrates settled down in Peru, Nikkei cuisine became more refined and increasingly popular on a global stage - and has now finally arrived in Jakarta.
Henshin at The Westin Jakarta, which opened its doors in late July, is taking Nikkei Cuisine to new heights: located on the three highest floors of the hotel, it is a dining, lounge and music experience all in one.
The bar and lounge on the 67th floor, decorated with lovely colourful tiles and natural stones, can accommodate up to 90 people who will be entertained by the tunes of Henshin's house DJ. Here, guests can enjoy a wide range of cocktails, crafted by gifted mixologists, as well as fresh sushi, sashimi, Ceviches and Taraditos - either inside or alfresco.
On the 68th floor, Henshin offers an open kitchen concept that encourages direct interaction between the chefs and his guests. Watch Chef Hajime Kasuga, a third-generation Nikkei residing in Peru and long-time promoter of Nikkei cuisine, as he and his team prepare your dishes - from Ceviche Clasico (marinated fish in lemon and Peruvian chili) to the signature Henshin Roll (foie gras, fried shrimp and spicy crab meat roll with unagi and avocado served with sweet and indonikkei sambal).
Those who prefer a more exclusive dining experience can book one of the two private rooms on the 69th floor that can accommodate either 20 or 12 guests.
The fast-paced and highly competitive culinary scene in Jakarta makes it hard for diners to still be surprised, enchanted and mesmerized. Too often when stepping into a new restaurant, one has the irrevocable feeling of familiarity - been there, done that, have tasted it before. Henshin, however, has literally taken the dining experience to a new level: introducing a relatively unknown cuisine to the city in an extraordinary setting is a rare feat.
Henshin
The Westin Jakarta, Floor 67-69, Jl. HR. Rasuna Said Kav C-22
South Jakarta 12940
T: +62 8780 0028 008
IG: @henshinjakarta
FB: Henshin
E: [email protected]
www.henshinjakarta.com
This venue participated in the 2019 BRBCA. See the winners here!