Look up a dictionary and you may find "Piquant" defined as "engagingly provocative" which is as good a way to describe the subject of our review, says Alistair Speirs who found this charming little restaurant tucked away behind a redbrick façade on a quiet street in Menteng. Owned and operated by Chef Craig Panizza and his wife, Piquant is a true gem in the myriad of commercial restaurants that spring up around the city. Lets find out why.
Chef Craig tells his own story:
"Born in Australia to Italian Parents, I started cooking from a young age, as I grew up around my parents and grandparents who prepared and cooked everything they grew in their own vegetable garden; so the passion and interest in cookery and food started at an early age.
I started a 4-year apprenticeship in cookery at the age of 15 and also started working in a small boutique Hotel that had a 35-seater restaurant serving Modern European Haute Cuisine under a Scottish chef, this is where I started learning the basic fundamentals of cookery and developing into a young chef.
My next position was working in a fine dining room under Certified German Master Chefs, this is where I grew my experience and knowledge from Garde manger to saucier.
After a stint of 3 years under German Chefs and at the age of 21 years, I decided to pack my bags and head for Europe and the United Kingdom, this is where I honed my skills in Restaurants that held 2-star Michelin for many years, and worked with many top British and European Chefs.
Returning to Australia, I helped open a restaurant which happened to receive numerous awards, while working in this particular restaurant I met my future wife, who happens to be a pastry chef."
Perfect segway to Chef C:
"Born and raised in Indonesia, I moved to Perth, Australia in the year 2000 as a 16 year old. After I completed my university degree in Photography, I decided to join a local culinary school in Perth, immediately I fell in love with kitchen life.
Upon completing the Diploma in Culinary Arts, I applied for a job at an award winning restaurant-The Gala, known for their German–Modern European Cuisine. I worked under two Certified Master Chefs from Germany, Hans Lang and Marianne Kempf, whom I credit for setting my foundation in creating strong and rooted flavours.
After just under 4 years at The Gala, I decided to learn more about pastry, there was a tiny Euro- pean style Patisserie near where I used to live. I have always loved their selection of tarts, pastries and petits fours, I was determined to get a job there, and so in 2009 I did.
Here I worked with Will Muelner, owner and pastry chef of Room for Dessert, most definitely not the easiest person to work with, but here I learned simplicity and discipline."
So with this background why did this talented couple decide to create piquant?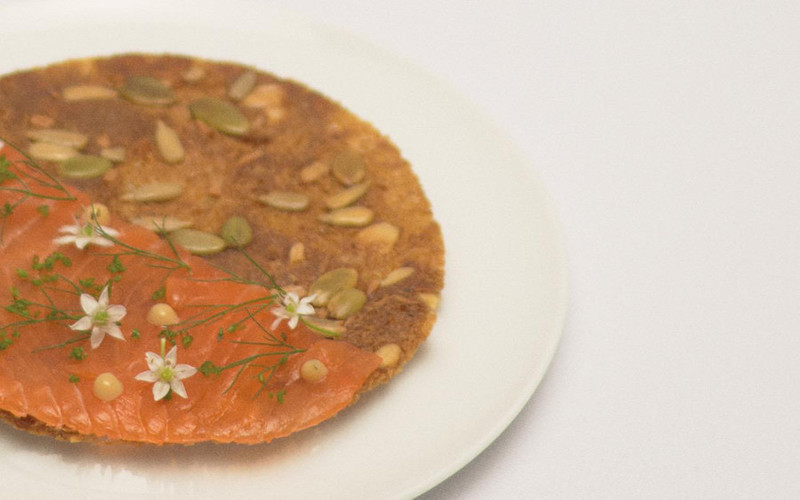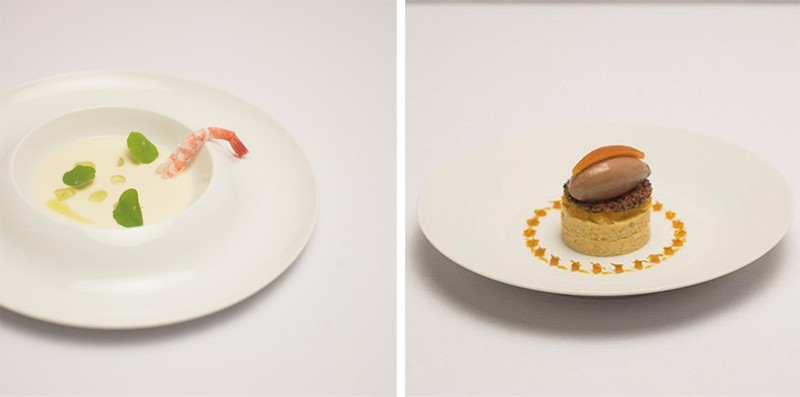 "As a Chef owner couple, we opened Piquant to offer food that represents ourselves and our inspirations, to create honest food that places great importance on the products used. As
we were both trained classically, we believe one must respect the past when it comes to cookery, the fundamentals of cooking must be respected and it is the foundation to achieve depth of flavours. Our food is always evolving, focusing on cooking simple–clean and produce driven cuisine.
To get the best out of each ingredient, respecting the produce itself, by refining and not over complicating food, allowing each individual ingredients to speak for itself. At Piquant we strive to give a great experience and to make it a memorable one, attention to detail is a great importance to us.
Piquant offers an elegant and intimate place to dine and truly enjoy modern European cuisine."
Some menu items will give you an idea of what they are all about.
Cold entrees: Poached Salmon Ballantine, Potato Salad, Blue Swimmer Crab; Chicken Liver parfait, Spiced Armangnac Prunes,Pear Chutney, And GingerBread Brioche.
Mains: Wagyu Beef Sirloin Grade 6/7,Roasted Baby Potato,Panceta and Snake Beans. Panfried Barramundi, Artichokes, Red Quinoa, Basil, kalamatta Olives with Red Paprika and Pine Nut Emulsion.
Reservations are essential
Jl. Sumenep No.9, Menteng
T. 021 3192 5799
[email protected]