Recently re-branded Wyndham Casablanca Jakarta sees a few changes to some of its outlets including the much loved Riva Grill Bar & Terrace. Re-opened on 1 March, the restaurant now offers fresh takes on lunchtime.
While one may order its delicious, signature dishes, those looking for a different take on lunch menus are sure to enjoy a special lunch menu that focuses on new flavours and a different style of cooking.
To start there's a jamu shot. Indonesia's traditional elixir with its many positive properties, believed to be beneficial to one's health.
Once refreshed, order from a range of dishes that are light, freshly prepared, yet utterly satisfying. There's the Japanese scallop served with avocado and tomato, a delicious combination of both seafood and the creaminess of avocado. Alternatively, choose the salmon tare-tare which is combined with small cubes of soured potato. The dish arrives at the table plated up delicately but the flavours and textures are bold - and whet the appetite sufficiently.
One combination that is quite delicious - and not often played out in the city's restaurants is the combination of seafood and lentils. These protein powerhouses pack quite the punch but tend to be served separately for the most part. Riva does things a bit differently and combines the two, which yields stunning results that will keep you both full - and very impressed, too!
Barramundi is well-loved for its flavour and also its meaty texture. Best prepared seared, this fish is done justice with a light addition of flavour. But where it excels, really, is when it is served with an Indian-influenced dal (or lentils) and a raita salad. The dhal is perfectly cooked with a hint of spices, all of which compliment both the proteins on the plate and the creaminess of the yoghurt in the raita ticks the right boxes - giving diners the feel of a creamy finish but with none of the guilt. This dish is certainly a winner. There's also the pan-seared salmon - another meaty variant - that is combined with puy lentils and vegetables. The French green lentils are more delicate and go well with the vegetables, providing a softer side to a robust slice of fish.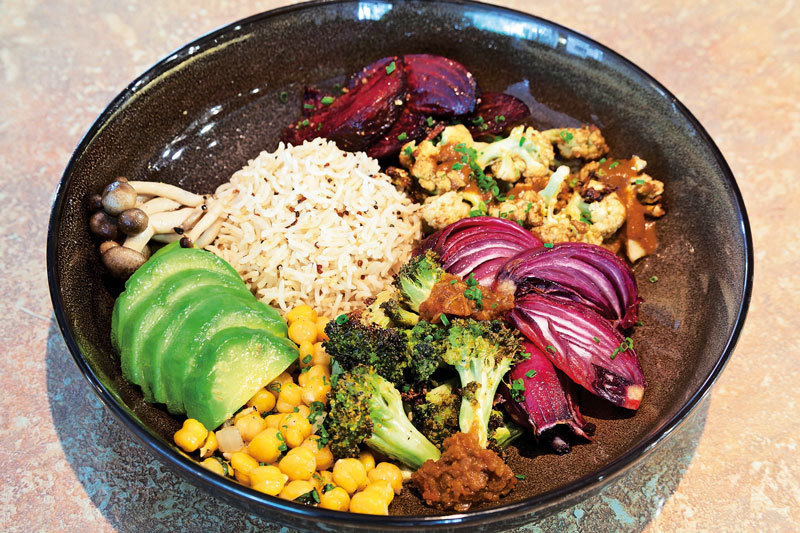 For vegans or for those looking for alternatives to seafood, there is the Basmati super bowl. The large bowl features a generous serving of fragrant basmati, the protein-rich grain from Peru, Quinoa, roast vegetables and mushrooms. Providing the perfect combination of protein and starch, the dish is sure to keep one full through the afternoon without feeling particularly overwhelmed.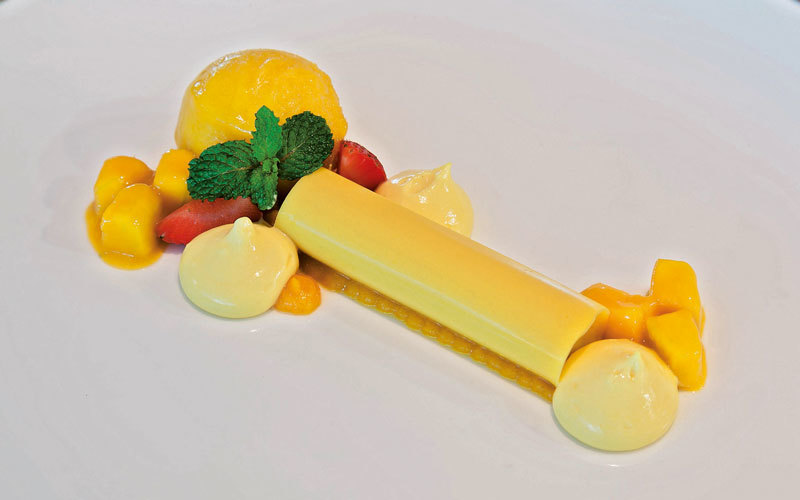 For a sweet finish, there are two excellent options, too. There's mango, Asia's manna from heaven - served with mango mousse, salsa and sorbet for that absolutely delicious homage to the humble tropical fruit. Avocado is another fruit that is versatile adding heft and creaminess and ability to straddle both savoury and sweet flavour profiles. At Riva, one of the dessert options on its revamped lunch menu involves this delicious fruit presented with almond milk jelly and blue berry coulis. With a slice of chocolate on top of this dish that is presented in a slice, it is the perfect - and deliciously creamy- finish to a resolutely delectable meal.
Plans for the refresh will also include special presentations at lunch with experts in the fields of health and fitness.
For its new take on classic flavours and interpretations of delicious staples, Riva's new menu wins high marks and is well worth multiple visits for that all important noon meal!
Riva Grill Bar & Terrace
Wyndham Casablanca Jakarta
Jalan Casablanca No.Kav.18 South Jakarta 12870
T: +62 21 828 2000
IG: @rivagrillnbar
www.wyndhamcasablancajakarta.com/riva
This venue participated in the 2019 BRBCA. See the winners here!