Cordela Norwood Hotel, this month, launched Sixth on Rooftop,a new lifestyle dining establishment featuring views of the Jakarta cityscape. Situated on the sixth floor of the hotel, Sixth on Rooftop is a great place to relax and cool off in the city.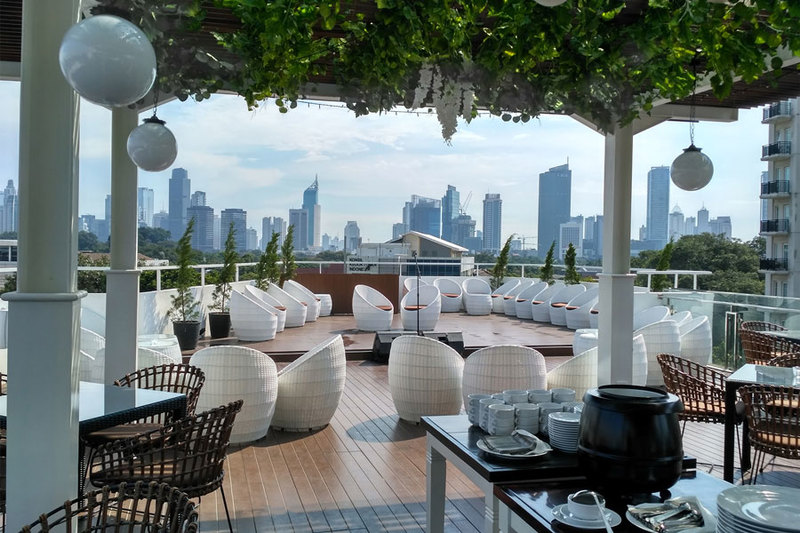 Strategically located in Menteng, Central Jakarta, Sixth on Rooftop allows visitors to enjoy being in the middle of the city yet away from the bustle of its major thoroughfares Sudirman-Thamrin. With the luxury of a perfect city view, it's a spot to gather with friends, colleagues or even alone.
As one enters the the establishment, warm, elegant and minimalist interiors help one feel relaxed right away as one takes in the view of the setting sun.
Sixth on Rooftop serves healthy and good quality food - at an affordable price. The founder, Ivan Sini—who is also a doctor— promotes a healthy lifestyle here. Alcohol is not served and there is no alcohol used in the preparation of the food.
Open for breakfast, lunch and dinner, Sixth on Rooftop offers dishes like dishes like ribs, pea soup and a wide range of pasta dishes such as agliolio, bolognese and carbonara. There's also mac 'n cheese.
For those who prefer Indonesian food, the there's also nasi goreng and sop buntut. Lemongrass tea and a range of coffee drinks from illy are available. A range of snacks such as french fries, sweet soya chicken wings, and beef rolled enoki cheese are also available if one would like short eats with their non-alcoholic beverages.
With a capacity of up to 120 people, Sixth On Roof Top is also a great location for casual gatherings, birthday parties, small weddings as well as other exclusive—and romantic—events.
Sixth On Rooftop at Cordela Norwood Hotel
Jl Teuku Cik Ditiro II No.2,
Gondangdia, Menteng, Central Jakarta10350
Phone: (021) 22393737