Taking inspiration from the coastal regions in Northern Spain, Chef Oskar Urzelai brings his dream restaurant to life by unveiling Txoko, a culinary destination in Senopati where culinary enthusiasts can enjoy unique Basque cuisine while spending quality time with loved ones in a cosy atmosphere.
With more than 20 years of experience in the culinary industry, Chef Urzelai starts his new journey with Txoko in Jakarta by adapting gastronomic tradition in Basque country riddled with Spanish and French influence to his own establishment.
Opened since March, Txoko, which means a cosy corner in Basque language, adds new colours the bustling Senopati area. Since June, the restaurant has been in full operating capacity to serve Jakarta patrons. Indeed, Chef Urzelai's mission is to deliver Basque culinary traditions at its most authentic state to your table.
Walking into the main dining room, you can immediately see the kitchen situation on the left side of the entrance, where Chef Urzelai and his culinary team prepare the food live for the guests. The atmosphere is vibrant and fresh, decorated with contemporary interior and mural works on the wall. The shade of white, turquoise, and blue helps to accentuate its Mediterranean architecture. Your attention will be drained by the hand painted wall behind the bar illustrating the famous sculpture in San Sebastian "The Comb of the Wind", created by Basque artist Eduardo Chillida.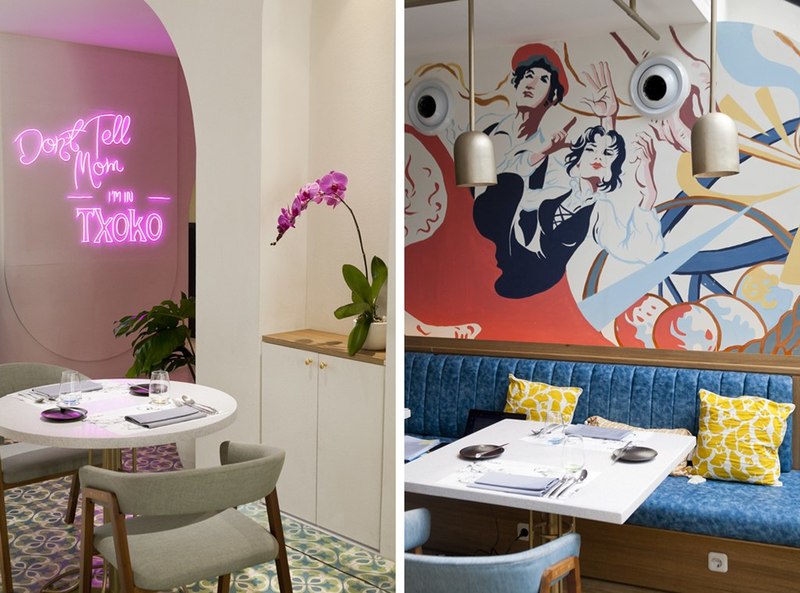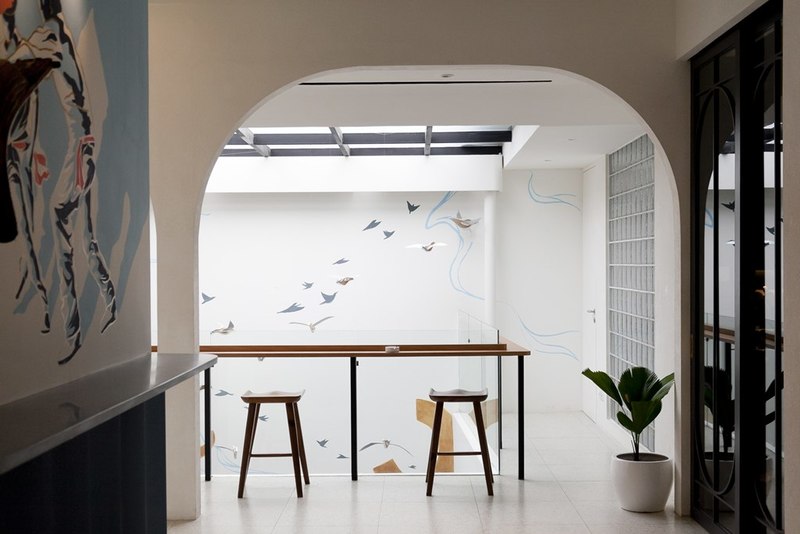 The second floor is accessible through a spiral stairway exposed by atomic pink neon light—a favourite instagenic spot for guests. Upstairs, the guest could dine in a more intimate set up that is perfect for a comfortable dinner while sipping an exquisite concoction of liquor and spirits at the second floor bar.
The spacious restaurant accommodates up to 110 guests plus 18 guests in the private room. Nested in strategic location close to the business district, the Spanish restaurant also caters to events, parties, workshops and meetings.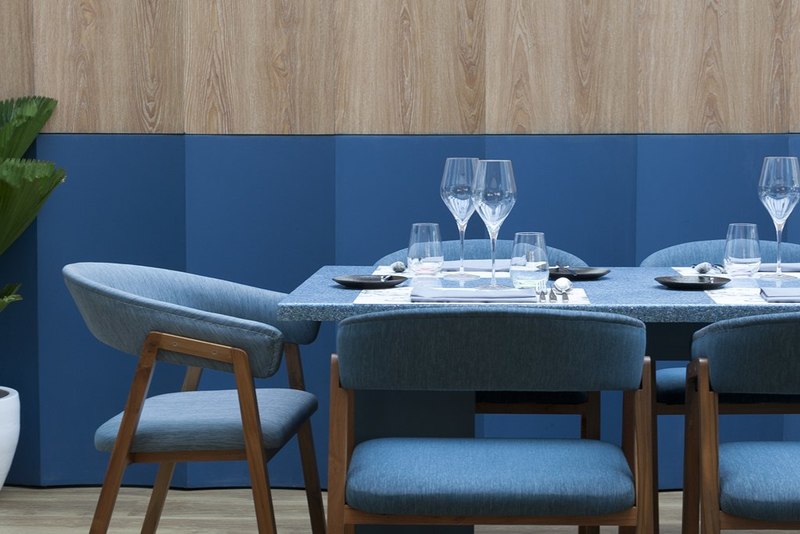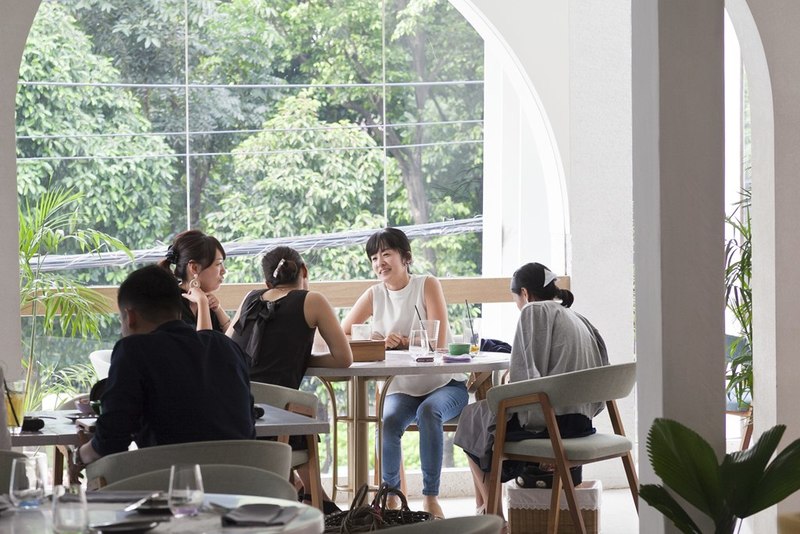 Under Chef Oskar Urzelai's direction, Txoko aims to keep Basque culinary tradition and amplify its flair through modern cooking techniques and presentation. The restaurant uses high-quality local and imported ingredients to dish out scrumptious flavours.
"Basque cuisine is constantly evolving; always adding new ingredients, flavours and techniques that enhance the recipes that have been passed from generation to generation since many centuries ago. At Txoko, we want to bring a small piece of the Basque Country and offer an authentic and unique Spanish food in Jakarta," Chef Urzelai explained.
Here, diners could explore Basque cuisine, tapas, and pintxos (light bites), available starting from breakfast to dinner. Chef Urzelai highlights a variety of pintxos as well featuring ingredients typically produced in Basque country every four season.
For starters, you may tempt your palate with Burrata salad with red pesto dressing or Marinated salmon with mustard ice cream. The Basque original, Gilda "King of Pintxo" — made by olives, guindillas (Spanish pickled green chillies) and salted anchovy fillets — delivers a nice punch, and would be perfect accompanied by one of the restaurant's 50 handpicked wines.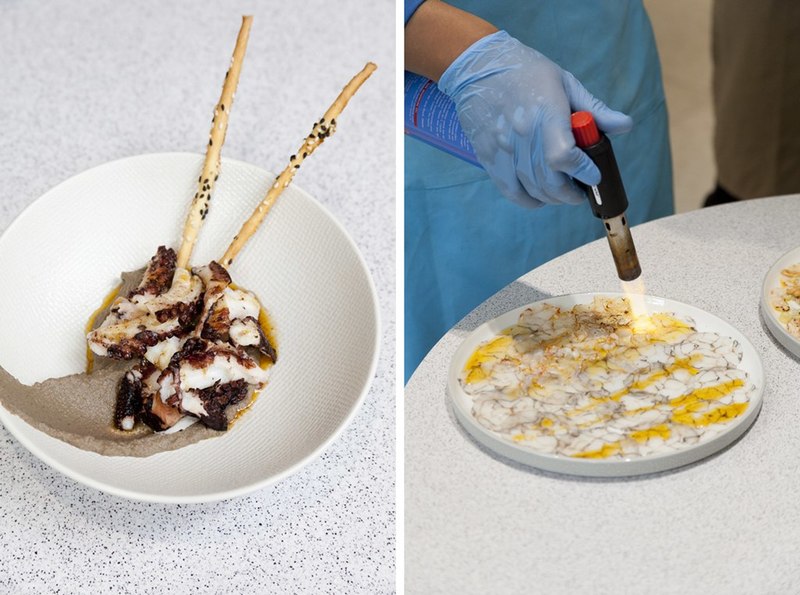 Lasao (Spanish omelette), Eggplants & Feta cheese croquetas, and Escargots (Idiazabal sauce in puff pastry) are a good combination of Tapas and pintxos for lunch and dinner. Meditteranean creation of Garlic Prawns pret-a-porter and Grilled octopus with Boletus cream are worth a try. Those wanting more carbs, Potatoes with Aioli and spicy tomato sauce, and Seaweed with Squid Mellow Rice are among the available entrees. End the meal with Passion of Chocolate or Euskadi Tropical, a dessert made of coconut, pineapple and yoghurt.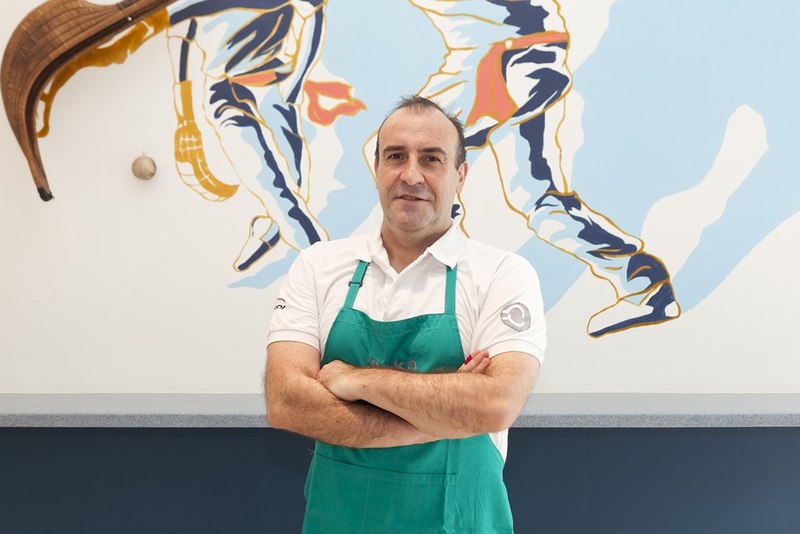 Thanks to Txoko, food travellers don't have to fly thousands of kilometres to savour the honest offering of Basque country. Txoko is open from Monday to Saturday from 8am to 12am, and from 11am to 5pm on Sundays.
Txoko
Jalan Suryo No.6, Kebayoran Baru, South Jakarta
T: +62 21 27082215 / +62 815 11068587 (Whatsapp)
IG: @txokojakarta
FB: @txokojakarta