This used to refer to the wide-open spaces where we loved to walk and feel nature all around us. Now it refers to places where we feel safer dining! Here we have assembled some of the great Al Fresco dining venues you can find in Jakarta. Most cafes and restaurants are sticking to the social distancing rules so are relatively safe places to eat, but if you feel more comfortable outside, here are some options.
Hutan Kota by Plataran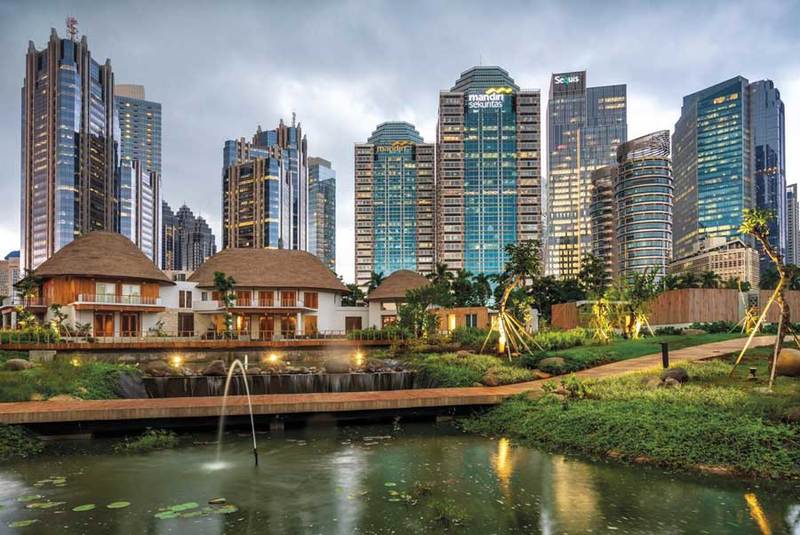 As the second wave of pandemic in mid-year forced public places to close temporarily once again, during this downtime, Plataran management took action to do improvements on certain areas, heightened safety protocols and kept maintenance going at Hutan Kota by Plataran. Now they are finally reopened again and ready to welcome guests back with their upgraded outdoor area which many of our guest prefer nowadays especially in a dense city like Jakarta.
Not only does it generate good air circulation in the outdoors, you can also reconnect with nature while also indulge in a unique dining experience and five-star service as if you were in an exclusive resort! Introducing the new additional outdoor dining area called Plataran Mango Corner, located in the heart of Hutan Kota by Plataran. Its strategic location being next to the fish pond, provides great access to feeding the fish for families with children also in closer proximity with our bird sanctuary that allows guests to hear their melodious chirps and make peace with nature. It all fits perfectly for your day out with family and friends during the pandemic without worry in mind.
Located in GBK Sport Complex in Senayan, Hutan Kota by Plataran is dedicated to celebrate the glory of Indonesia and known as the Light of Nusantara. Comprising three separate areas - each representing Indonesia in the past, present and future, respectively - PlataranSenayan is the ideal place to recapture the innocence of yesterday, live for the moment and find optimism for whatever tomorrow may bring.
The people behind this great venue are Plataran Indonesia an Indonesian hospitality company founded in 2009 which is engaged in tourism and its supporting activities and has received world and national awards such as the Sustainable City and Human Settlement Awards from the Global Forum on Human Settlements, Runner Up Best Asian Sustainable Destination and Top Sustainable Destinations 100 from Green Destinations and IndonesianLeading Hotel Chain from the Indonesian Leading Hotel Chain. Plataran is also a company that hasreceived public recognition as The True Indonesian Icon and The True Indonesian Ecotourism Icon in itsactivities that promote "Nature-Culture-Indonesian Community" on the national and world stage.
Pidari Lounge, Hutan Kota by Plataran
Jl. Jend. Sudirman Kav. 54-55 Jakarta Pusat 12190, Indonesia.
General Enquiry: [email protected]
Reservation: +62 812 9440 9007
Email Reservation:
[email protected]
The Sultan Hotel & Residence Jakarta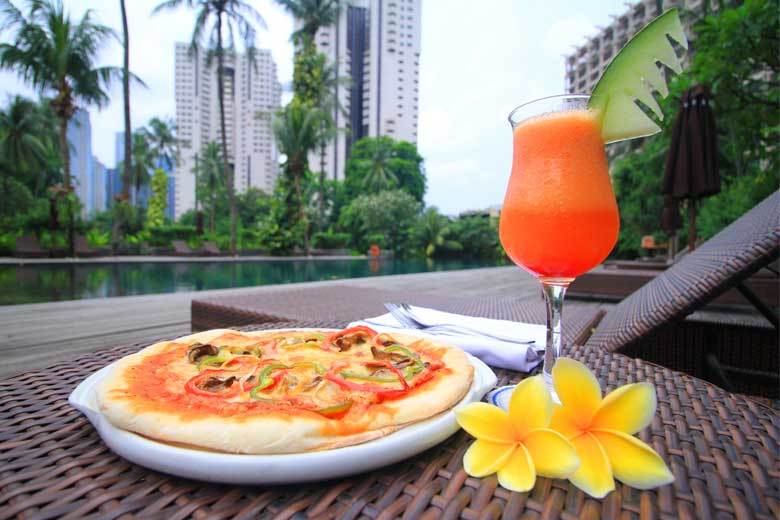 It's time to relive the phenomenon at Sultan Pizzeria, an outlet with a green open space concept,which is what so many people are looking for these days. Sultan Pizzeria was one of the icons of The Sultan Hotel & Residence in the 90's era and is now a favorite place to gather and enjoy pizza as a mainstay menu.
"In August last year, we all entered a new phase in the "new normal" era. That's why we want our loyal guests to keep coming to enjoy the new restaurant called Sultan Pizzeria where they can enjoy the fresh air, order Italian food and socialize. But we want to do it safely and responsibly. We run the outlet carefully to ensure that unintended consequences are avoided," said Indira Puliraja, Marketing Communications Manager
"At this early stage, we only open Sultan Pizzeria on weekends Thursday to Sunday, that's why we call it a "Flash Restaurant." We also use this place for breakfast or even for private events for those who want to have a wedding in warm and welcoming outdoors. This is also part of the hotel's opening strategy to bring guests back to our property during pandemic."
Sultan Pizzeria serves classic Italian style pizza that includes everyone's favorites like The Carnivore with bacon sausage, beef pepperoni and mozzarella cheese, delicious vegetarian options like the Vegetariano pizza which includes eggplant, zucchini, sweetcorn, capsicum and mozzarella cheese, as well as options the other is Seafood Marinara with a mixture of various seafood, tomato sauce and mozzarella as well. Don't forget to enjoy it with the freshly tasty Greek Salad or Fusilli Carbonara Truffle if you still want more. There's no excuse not to eat sweet and what better way to do it than classic Apple Pi
There are some special promos in the form of meal packages for two to five people. Excellent value packages for two are priced from IDR 150,000 nett including 2 salads or soups, 1 pizza carnivore and 1 glass of beer or soft drink. While the package for three people is priced at IDR 225,000 nett including 3 Caesar salads, 3 pizzas or 2 pastas and 3 glasses of soft drinks. For a five person package the price given is IDR 350,000 nett which includes 5 salads or soups, 3 pizzas or 2 pastas as well as 1 pitcher of beer or soft drinks.
As a new outdoor restaurant, Sultan Pizzeria has caught the attention of the public for their wood-fired pizzas cooked in an open kitchen. Families can also enjoy pizza or pasta by the pool or on the terrace of Kudus Hall. And it is very accessible. Guests can get to the location on foot from the hotel lobby or directly enter through the Gatot Subroto gate. Sultan Pizzeria can accommodate 50 people with seating arrangements following physical distancing recommendations.
"We are lucky to have 34 hectares of spacious and lush gardens that can be used for MICE events in open spaces. I am very happy to see this simple and easy application at Sultan Pizzeria. We hope that in the future more guests will come to take advantage of the green open space," said Indira again.
The Sultan Hotel & Residence Jakarta
Phone: 021 570 3600 ext. 1091
Fax: 021 573 3055
E-mail: [email protected]
Hotel Indonesia Kempinski Jakarta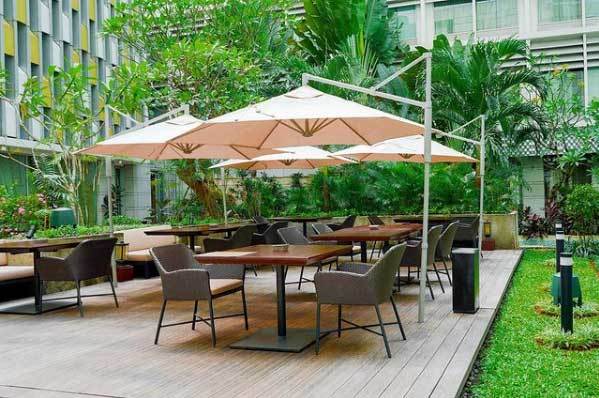 is now opening up its outdoor area. Choose your favourite place to dine, from the majestic Ramayana Terrace to our Sky Pool Bar.
Ramayana Terrace
Enjoy the tranquil ambiance of the tropical garden located right in the heart of the city, complete with Bavarian beer from Paulaner Jakarta and delicious food not only from PaulanerBrauhaus but also from all F&B outlets at Kempinski Jakarta. During this PPKM period, guests can enjoy a variety of food from all F&B outlets including OKU, PaulanerBrauhaus, Signatures, Kempi Deli and NirwanaLounge.You can enjoy all the popular dishes from each restaurant starting from OKU Truffle Gyudon, Nasi Goreng Kampung from Signatures to a sweet dessert from Kempi Deli.
The Ramayana Terrace is open from
15:00 to 20:00.
Signatures' Garden Terrace
Indulge in the open-air dining space amidst the greenery at Signatures Restaurant's Garden Terrace. Enjoy delightful western and local menus as well as Japanese cuisine from OKU Jakarta. Signatures' Garden Terrace is open every day from 11:00 to 20:00, serving your favourite dishes from Signatures, such as Nasi Goreng Kampung, Variant of Steak and our best-selling item Nasi Gandul.
Sky Pool Dining
We are thrilled to announce the reopening of the open-air Sky Pool Bar. Enjoy the beautiful scenery of our Sky Pool with lush greenery while enjoying a selection of mouthwatering food, including Indonesian and international menus, such as Rib Eye Steak, Norwegian Salmon Steak or Nasi Goreng, and many more. Sky Pool opens every day from 11:00 to 20:00 with the strictest hygiene standards.

For more information on booking, please call 021 2358 3800 or WhatsApp on +62 877-7503-7505.

Mandarin Oriental Jakarta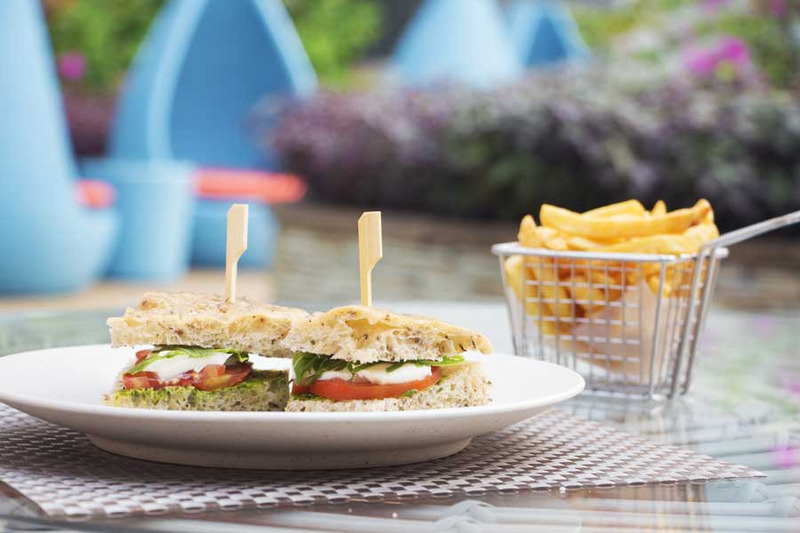 MO's poolside bar and restaurant on the fifth floor overlooking HI roundabout is offering "Two for One in the Sun". So if you want toenjoy the outdoors at Azure Restaurant and Bar with family and friends and receive 50% off your total bill, including beer and non-alcoholic beverages, now is the time to do it. There are also 'weekly' special offers on wine and champagne, so this is a great chance to sit back in the sun and open air and enjoy some very special offers.
Space is limited in line with regulations and full safety COVID protocols will be applied.
(Offer applicable up to 30 September 2021)
Breezy Warung Solo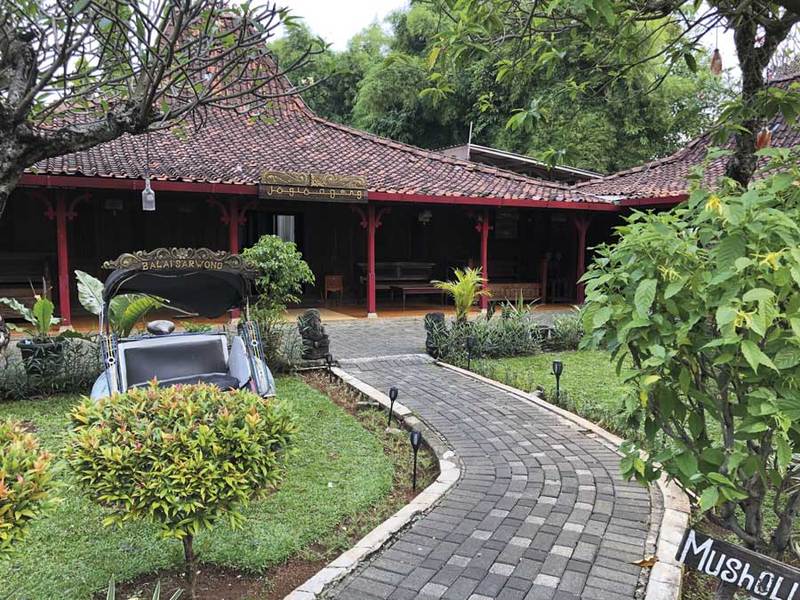 Deep in South Kemang on Jl. Madrasah, there's a charming little eatery ready to prove you wrong about warungs. Warung Solo is set back a little from the road and has plenty of space to park (actually in Kemang this is as good a reason to eat there as any!) and is a genuine Javanese Joglo (or traditional house).In fact it is several joglos over three terraces with the lowest dedicated to food, the middle one to coffee and the top one to …. beer! A great combination.
The restaurantis open to the elements which appeals to Covid sensitive souls and smokers alike with open terraces on two sides, but the central area is open to the prevailing breezes as well. Seating and fables are rudimentary retro, with sewing machine tables called into use as well as other repurposed furnishings. The place is adorned with sixties radios and old posters alongside Javanese 'mom & pop' statues. The whole effect is charming.
The food of course is traditional Javanese village fare and is well cooked and well presented in good sized portions. The menu is a bit limited at the moment due to Covid restrictions, but includes such perennial favorites as Nasi Liwet, Selat Solo, Serabi Solo, and Nasi Goreng.
The drinks are similarly presented with the old favourites of Es Jeruk, Es Teh Lemon, WedangJahe, Es Kopyor, Es Degan, Gula Jawaleading by the way. For your entertainment almost every day there is a 'keroncong' trio playing and singing which gives a great atmosphere.
Service by sarung clad ladies is swift and charming and prices are very reasonable, not at regular warung levels but very good value.It really is a little oasis in the heart of every commercialisingKemang. Give it a try!
Address at Jl.Madrasah No. 14
Cilandak.
Telp. 021 78849898.