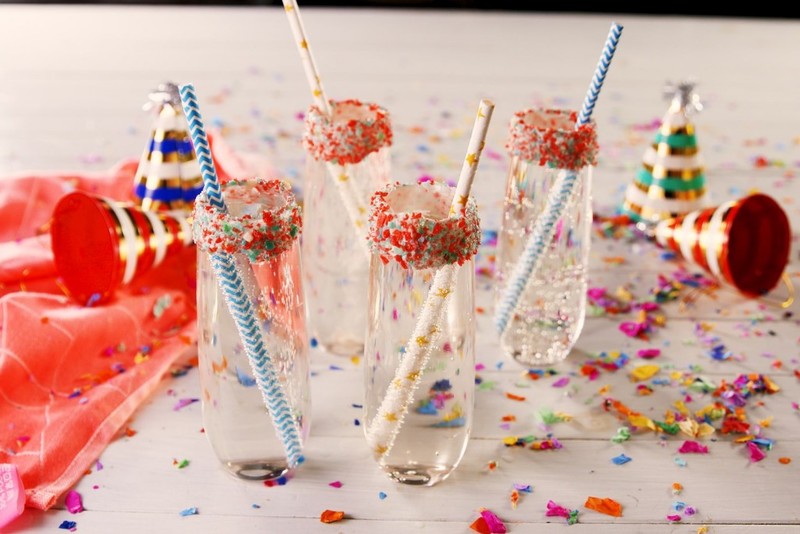 Champagne, as you know, is the sparkling wine which has become synonymous to the celebratory drink which even the most diverse cultures around the world turn to for their New Year's Eve Party. For those celebrating at home, it may be the perfect time to get creative with this particular drink by making fresh concoctions of champagne mixed with other ingredients to add more cheer for the countdown.
We asked mixologists and cocktail experts to offer their classic and cheerful champagne cocktail recommendations for the last moments of 2020 as many people may be staying at home for New Year 2021. For those wanting to add flavour to their sparkling wine, these curated recipes can be your inspiration for your NYE.
Don't worry whether you know how to mix cocktail combinations or not, let's try something new at home and welcome New Year with good spirit! It only requires a few minutes to make them and it's 'easy-breezy' to do at home. But first, don't forget to pick up your favourite champagne from the opulent Moët & Chandon and Bollinger to local sparkling brands like Bali's Hatten Wines and Shababay.
Confetti Champagne
You can taste something salty in a margarita but this confetti champagne will surprise your tastebuds with a crazy combination of flavours from assorted Pop Rocks on top of your drinks! First things first, prepare the colourful Pop Rocks by smashing the popping candy from the local label or Pop Rocks specifically. If all of those aren't available, multi-colourful M&Ms, the button-shaped chocolates can be an alternative. After mixing the colourful candy, wet the rim of each glass with a lime wedge and dip in the Pop Rocks all around of the glass's rim. Inside the glass, all you need is your champagne, vodka, and classic lime sprite to pop up the sparkle. Boom! It only takes 10 minutes to make and it's ready to serve.
This recipe is available on Delish.
Classic French 75 Cocktails with Pomegranate
A combination of sparkling wine and gin added with simple syrup, lemon juice and lemon peel might be familiar to you but how about making it even more tasteful with the addition of acidity and sweetness coming from the pomegranate. This fruity combination will be easy if you only add the pomegranate syrup but if you want the natural texture on your drink, blend the pomegranate and add the reddish seed on top to give a sense of seasonal tweak for your classic French 75. If you want other elegant options, replace the pomegranate with cherry and turn it into a Cherry Bomb Fizz for your romantic NYE dinner party at home.
This recipe is available on The Good Housekeeping.
Champagne Jelly Flutes
Wanting to make your sparkling wine even more bubbly? Yes, this Champagne Jelly Flutes recipe is the perfect creation for it. Originally found by mixologists in 2017, this recipe can make a comeback this year. Even though it requires more time on prep to make it but it's worth for those willing to create fancy dazzling drinks at home. All you need is water, sugar, champagne, lime soda, strawberry or any kind of berries and as well as unflavoured gelatin.
This recipe is available on BBC Food.
Champagne Punch with Berries
If you have a big family, a pitcher or a bowl full of berries on your cocktails is the great choice to be served on the table. It may be more identified with summer but it's always summer in Indonesia! This cocktail becomes timeless for any celebratory occasion especially in 2020 when you have drunk too much caffeine during your work-from-home routine. This champagne cocktail is a perfect combination of sweetness, fizz, and fruit. You can choose your berries such as cranberries, blueberries, strawberries, and raspberries. If you want more acidity on your champagne, add a slice of lime, tangerine, or pineapple. Pick your favourite syrup to be mixed with your cocktail that will create balance to the drinks.
This recipe is available on Dinner at the Zoo.
Ginger Tea Champagne Cocktail
Wanting more exotic taste for your sparkling wine cocktails, you can try Ginger-Tea Champagne. All you need 4 ingredients including ginger, tea, sugar, water and of course your champagne. Make the syrup first from ginger, tea, sugar, or any other spice such as cinnamon and nutmeg as an optional touch to make this heartwarming syrup before mixing it with your sparkling wine. Don't forget the citrus as an addition to the drink. It is also suitable for those who want a small celebration during NYE while watching movies at home. If the NYE is going to be rainy, this boldly flavoured drink will be great to indulge in at midnight.
The recipe is available on The Seasoned Mom
One can also try some experimentation to make a wide array of champagne-inspired recipes such as Champagne Jell-O shots, Frozen Prosecco or Prosecco popsicle, Champagne Jell-O Flutes, Champagne cupcakes, to white chocolate champagne fondue.
Let's Cheers Up for 2021!