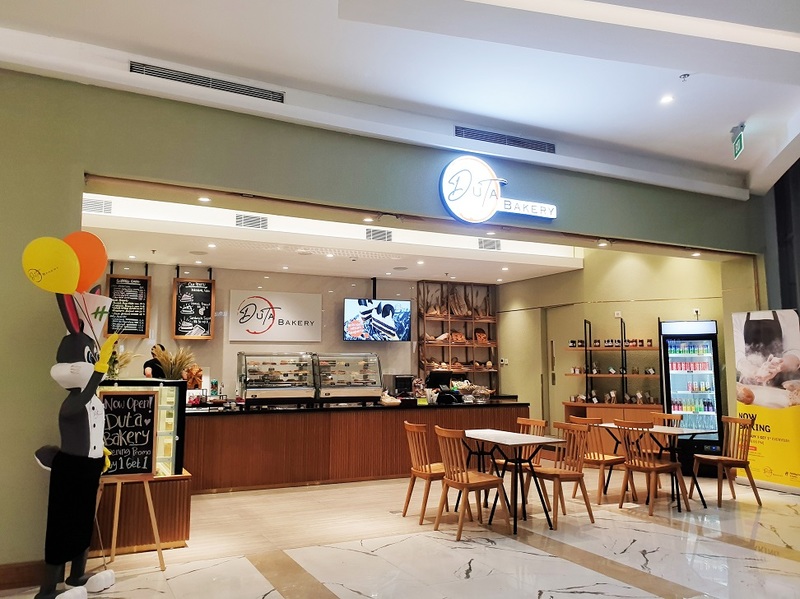 Occupying the ground floor of Citywalk Gajah Mada's South Lobby, Duta Bakery is a culinary destination for anyone who looks for sweet and savoury delicacies on a creative creation of bakery and pastry products.
Operated under the brand of Holiday Inn & Suites Jakarta Gajah Mada, Duta provides a wide arrange of fresh bakeries and pastry, available for a takeaway and to enjoy on the spot. Opened its door in early November, Duta Bakery caters pastry enthusiasts and guests of the hotel with homemade creation of bread, croissants or cakes.
In the bakery section, one may find classic Danish Cinnamon Roll, Sweet Chocolate Bread Crunchy, Berliner Raspberry Jam, Sweet Bread Nastar, Almond Croissant and many more. Savoury taste of bakeries, including Chicken Curry Puff and Margarita Mini Pizza, are worth a try.
Extensive fine quality cakes can be found here, including Strawberry Cheesecake, Red Velvet, Tiramisu, Opera Cake, Black Forest and Chocolate Lover. The local inspiration of Pandan Coconut Cream Cake and Dutch Klapertart Bolu Ketan Hitam, as well as other cakes, square or round, available in three sizes: 30x30cm, 20x20cm and 16x16cm. Whether looking for a simple gift or celebratory delicacies, Duta Bakery provides a variant on their cake size. The choice is yours.
Other than bakery and pastry, Duta Bakery also offers other complementary products, such as macarons, cookies, sandwiches, paper bread and coffee which are always suitable for a quick breakfast or meal during the lunch rush. Open daily from 10 am to 10 pm, Duta Bakery offers a Buy One Get One weekend promotion, which is also available for every purchase after 8 pm every day.
Duta Bakery
Ground Floor, Citywalk Gajah Mada
Glodok, Taman Sari, West Jakarta
T: +62 21 2977 6800
IG: @holidayinnsuites.jakarta
FB: @holidayinnsuitesjakarta
www.holidayinn.com