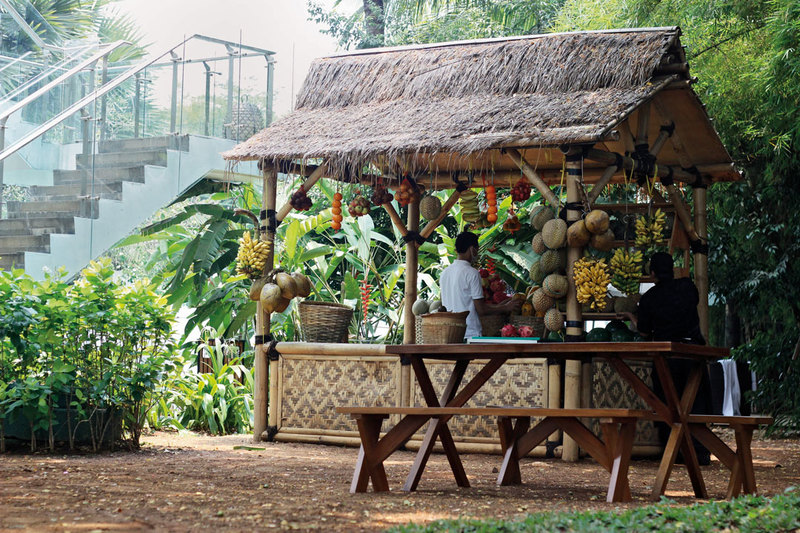 A truly indulgent brunch experience brought to you by OPEN} Restaurant, DoubleTree by Hilton Jakarta-Diponegoro.
There is brunch, and then there is All-New Sunday Brunch at OPEN} Restaurant, DoubleTree by Hilton Jakarta-Diponegoro. If you think you have seen everything at Sunday brunch, think again! DoubleTree by Hilton Jakarta-Diponegoro's OPEN} Restaurant, culminates with an all-you-can-eat brunch prepared to perfection that keeps your tummy happy.
Dine poolside or in the vibrant restaurant and enjoy a buffet-style dining with fabulous display of scrumptious menu selection of all-time favourite dishes. Carrying out Feastastic as the main theme, this epic feast is accompanied by a varied range of local favourites and international delicacies.
The live grill station offers an assortment of fresh salmon and tuna and a mouth-watering menu including a 120-day grain-fed striploin, beef rib eye, Australian lamb chop served with mixed satay. For Asian food lovers, be sure to enjoy a selection of Japanese sushi, tempura, ramen and udon. A well-stocked seafood at the Seafood Bar section is also available!
On setting up love for local foods, the restaurant also serves long-time local favourites such as Lontong Cap Gomeh (a mixed-up of Indonesian cuisine from Chinese traditional dish), Pindang Salmon (salmon in spicy and sour soup) and delicious Tongseng Kambing (lamb stew with vegetables).
Don't miss trying the ultimate durian experience at the Durian corner available at 2 to 3pm, perfect to enjoy on the weekend with families and friends. For only IDR 400,000++, guests can savour sommelier's selections, including the exquisite white wines, red wines and cocktails. An extensive range of sweet treats can also be enjoyed outdoor with gelato, cotton candy, cake, mousse and popcorn.
To enhance the atmosphere, live DJ and band performance keep the ambiance lively and cheerful. Kids can have their privilege access to kids' pool and club, as well as fun kids' activities to ensure their Sunday fun and enjoyable, while their parents indulge in the delectable Sunday Brunch at the restaurant.
OPEN} Restaurant is now accepting reservations for Sunday Brunch. Book now to get the ultimate Sunday brunch experience and exclusive promotions from selected banking accounts. To reserve a table, please call +62 21 3190 4433 or email to [email protected].
DoubleTree by Hilton Jakarta-Diponegoro
Jalan Pegangsaan Timur No. 17 Central Jakarta
T: +62 21 3190 4433
IG: @doubletreejkt
FB: @DoubleTreebyHiltonJakarta
E: [email protected]
www.jakartadiponegoro.doubletree.com