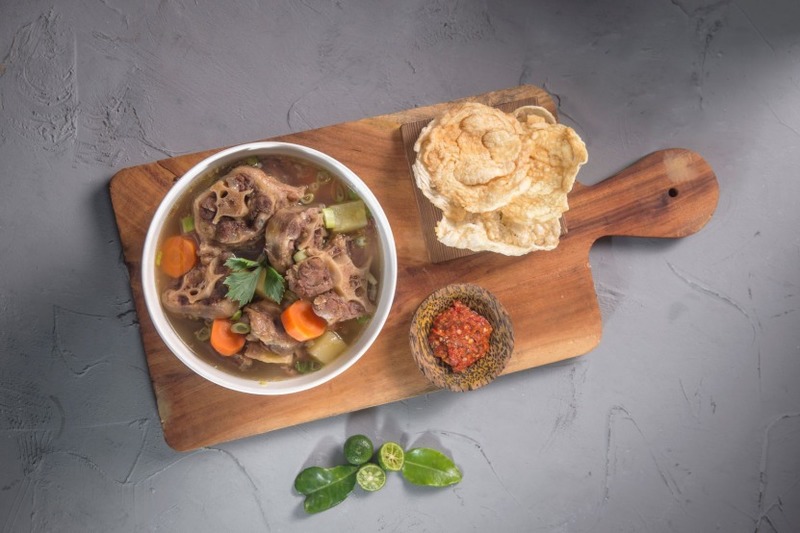 Known as an international buffet restaurant with a unique concept of 24-hour gastronomic dining experience showcasing palatable fine artisan specialties from Japanese, Western, Indian, Korean and Chinese, The Café at Hotel Mulia Senayan is also master for Indonesian culinary heritage as hotel's professional chef will prepare the top restaurant-quality dishes for anyone who look for attrative local dining experience in the surrounding of lavish atmosphere.
Patrons may indulge local favourite, The Café's Oxtail Soup which has been popular among local and international diners. Inspired by national culinary tradition, the Oxtail soup at The Café is presented in meticulous cooking method. Following a strict step by step methodology where the meat is cooked for a combined 12-18 hours to render it juicy and tender leaving the broth flavoured like a consommé.
The secret recipe to the oxtail soup makes it stand apart from the others in the city along with the fact that the oxtail is carefully chosen and imported for The Café diners. For first-timer to The Café, the guest may order the oxtail soup or best known as Sop Buntut a la Carte. Patrons could not deny if one will come back for the same dishes after tasting the soup for the first time. Sop Bunut is also available in-room service for in-house guests.
Another reflection of Indonesian cuisine featured in Hotel Mulia Senayan is Gado-Gado, a set of given vegetables tossed into a peanut sauce. The sauce holds the magic to the dish and its secrets are guarded closely by the hotel's chefs. Many people could find Gado-Gado at the street restaurants but the restaurant version of Gado-Gado at The Café is prepared with fresh ingredients and a high standard of hygiene.
Seasoned diners can detect the creaminess, flavour, texture of the sauce which is prepared on the stone mortar and pestle called Ulekan. Each individual Gado-Gado salad sauce in Hotel Mulia Senayan is lovingly presented to the diners with an authentic experience that comes along with the dish itself. It's an artisan creation of Gado-Gado where the freshest ingredients are chosen and cut for each individual portion. The correct ripeness of each element is essential for the sauce to enhance its flavour. Popularly known as the top 5 National dishes of Indonesia, it's the best and healthy reccomendation for foreign business travellers who look for a local culinary experience.
Hotel Mulia Senayan
Jalan Asia Afrika Senayan Gelora, Central Jakarta
T: +62 21 574 7777
E: [email protected]
IG: @hotelmulia
FB: @hotelmuliajkt
www.themulia.com