The Dutch colonial period in Indonesia—from 1596 to 1942— certainly made an impact on Indonesia's cuisine. When the Dutch arrived, they brought with them their cooking and baking methods. Many Indonesian heritage cakes trace their roots to the Dutch colonial era, and one of them is klappertaart (coconut tart).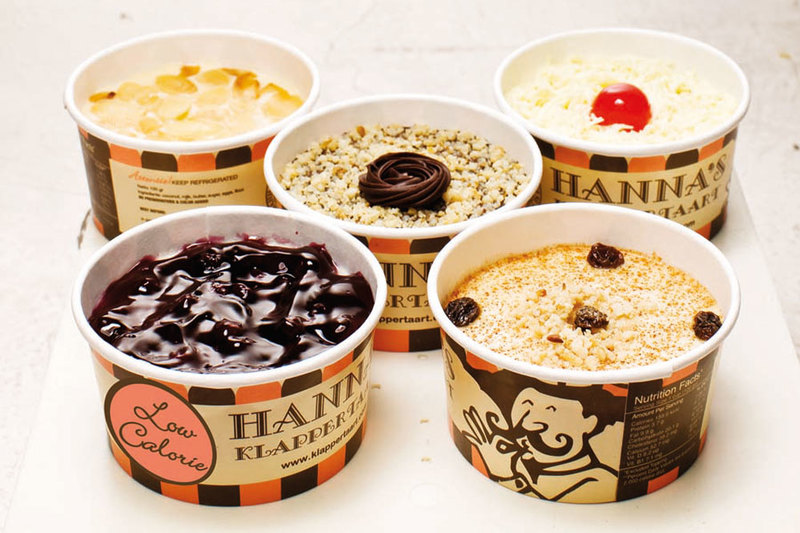 Klappertaart is widely popular in Manado. While the cake-making technique of klappertaart is greatly influenced by European style, the main ingredient, coconut, is locally sourced, as coconuts are abundant in Manado (the capital city of the province of North Sulawesi). There are two versions of this Manadonese delicacy, the baked one and the no-baked.
Hanna's Klappertaart, which is based in Jakarta, focuses on no-bake klappertaart (also known as klappertaart dingin, or cold klappertaart in English). Hanna's unbaked klappertaart, which contains no preservatives whatsoever, must be kept in the refrigerator temperature at all times.
Hanna's Klappertaart, which was founded by Hanna Kasino in 2005, is the first cake brand in Jakarta, which focuses on making klappertaart only. And since the inception of her brand, Hanna has always wanted her company to focus on unbaked klappertaart; she has no plan to offer the baked ones.
Klappertaart is not prominently known among Indonesians, unlike the widely popular Dutch-influenced classic Indonesian cakes, such as spekkoek (lapis legit, or thousand-layer cake) and ananas taartjes (nastar, or pineapple tart), which are familiar to Indonesians in general.
When she started her business, Hanna had to explain what klappertaart was when she sold it at various bazaars in Jakarta. In 2005, Hanna said, klappertaart was available at Manadonese restaurants only and there was no brand which specialised in making klappertaart. Jakartans were not familiar with this coconut-based dish. Her business took off after two leading newspapers, Kompas and Suara Pembaruan, published articles about Hanna's Klappertaart.
The founding of Hanna's Klappertaart stemmed from Hanna's desire to create a business that focused on one product. The well-known Macaroni Panggang (baked macaroni) in Bogor, a brand that started out selling only baked macaroni, inspired her.
Initially, Hanna offered only the Rum & Raisin klappertaart. Over the years, she gradually introduced new variants. Today Hanna's Klappertart comes in six varieties: original rum & raisin, chocolate rum, blueberry rum (low calorie), cheese (without rum), almond (without rum), and tutti frutti (without rum; low calorie). Her original rum & raisin klappertaart, is the best seller (if requested, she can omit the rum for your custom-made Original klappertaart).
All klappertaart recipes from Manado have the same ingredients, such as coconut, milk, butter, sugar, eggs, and flour. But there are details which determine the taste of the cake, such as the method to beat the batter and the brand of the rum used. After trial and error with different rum brands, Hanna finally nailed the perfect rum that truly complements the taste of her klappertaart.
Hanna slightly tweaked an old recipe that she received from her Manadonese relative to make her klappertaart got to its current taste, which is loved by her clientele. She shares the recipe of her klappertaart happily, however, naturally she does not disclose the rum's label.
Her delicious wobbly klappertaart, which should be eaten with a spoon, is silky smooth. Actually, among the six variants, which I have tasted, my favourite is the Original Rum & Raisin. The rum, indeed, compliments the taste of the coconut perfectly, and I love the softness of Hanna's klappertaart.
As a person who dislikes marzipan, my least favourite variety is the almond klappertaart that reminds me of marzipan. Those who love the distinctively nutty flavour of almond paste would probably love this variant though.
The coconut cakes are available in four sizes at a premium price but it is worth it for the high quality of the taste: small (IDR 125,000 – 500 ml), medium (IDR 250,000 – 1,000 ml), large (IDR 375,000 – 1,500 ml) and cup (100 ml) which costs IDR 25,000 each.
Hanna, who was determined to succeed, goes the extra mile in business. Even though it is not mandatory, each klappertaart's cup comes with Nutrition Facts label, which was issued by the Department of Nutrition of the University of Indonesia. She puts the date of production as well the ' best before' date of her products on their containers, too.
Other than that, if requested, rather than using aluminium foil, Hanna can put the unbaked klappertaart inside a baked pie crust to make the cake look more visually appealing—or more Instagenic.
And to ensure the consistency of quality and taste of her products, Hanna does not outsource her goods, despite the increasing demand. Every cake is still made in-house from scratch by Hanna and her team so she can control the quality of her products at every stage.
Hanna quit her corporate job and started her own business in 2005. Hanna's Klappertaart started as a bootstrap business, run only by Hanna and her mother and she grew the company based on retail sales rather than funding. She used the money from her sales to invest in kitchenware and a brand new stove as well as hired several staff members.
From its humble beginnings when the products sold at bazaars only, Hanna's Klappertaart has grown steadily over the years, mainly thanks to word-of-mouth from Hanna's satisfied customers. Today Hanna's Klappertaart has its own lovely eponymous counter at Mall Kelapa Gading 3 in Jakarta.
"I want people to think of Hanna's Klappertaart when they think of klappertaart," Hanna says. After tasting her homemade delicious coconut treats, this is, indeed, true.
Cake trends may come and go, but delectable classic delicacies, such as klappertaart, never go out of style. And, there is nothing like a refreshing treat, such as the irresistible, cool (or cold) Hanna's coconut cake to beat the heat on a sizzling day!
HANNA'S KLAPPERTAART
Kelapa Gading 3 Mall
3rd floor, inside Food Court
Restoran Dapoer Ciragil
Ciragil I # 21, Jakarta Selatan
T: +62-21 723 0009
Website: www.klappertaart.com
Instagram: @hanna_klappertaart
Delivery service & customer service:
WhatsApp: 0818 83 8255