There were a lot of very positive aspects to the 2018 Gala Dinner in Jakarta, with 100 per cent Indonesian sourced ingredients being a major part, but that wasn't all: the culinary talent was Indonesian and the menu items they created were all based on Indonesian traditional dishes! So it was a truly Indonesian meal that was conceived, prepared and presented to a very sophisticated and knowledgeable guest list who perhaps surprised themselves by giving it exceptional marks for all aspects of the meal.
This was the second year that La Chaine des Rotisseurs Jakarta held their annual Gala in the DoubleTree Jakarta by Hilton, and for a very good reason: youth! The Hilton Group in South East Asia organises an annual competition for its own young chefs, sommeliers, baristas and other culinary skill groups and the Chaine, as part of it's raisone d'etre, loves to support. Members of Jakarta's bailliage assisted as judges in the competition on the day before the Gala and of course the youngsters then became part of culinary and service teams for the Gala itself.
A challenging and adventurous menu was created, based on 100 per cent Indonesian ingredients, as below, then matched with wines including, for the first time, wines made in Bali to complete the Indonesian heritage.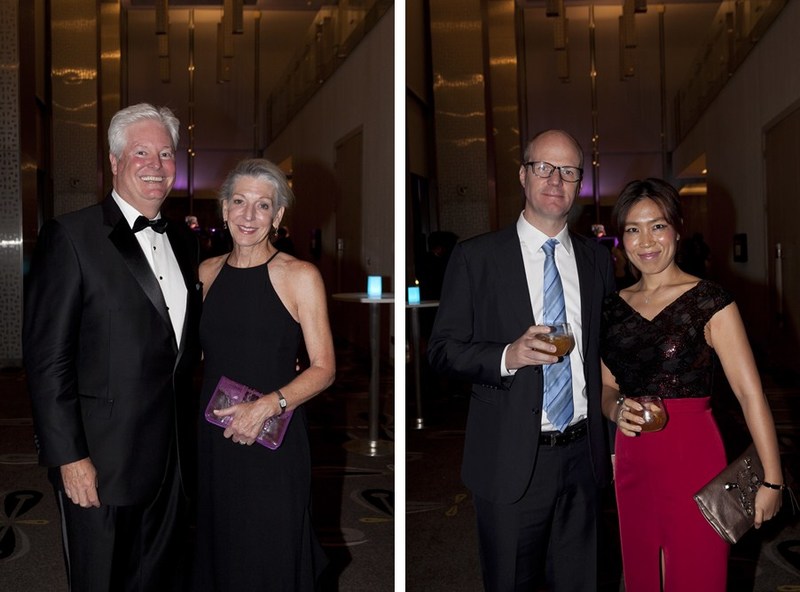 One special touch was that each dish and each wine was introduced by the young chefs and sommeliers one by one in a charming and very knowledgeable way, to the obvious delight of the guests.
Bailli Provincial de Jakarta, Alistair Speirs and Hilton Group regional manager Nils-Arne Schroeder introduced the evening and welcomed the guests into a beautifully prepared ballroom. Several guests ventured that the table décor was the best they had ever seen at a Chaine function. The meal was accompanied by light jazz and an elegant and sophisticated mood prevailed all evening.

The Chaine council presented the certificates of achievement to the young chefs and sommeliers at the end of the evening recognizing the great result they had achieved for their efforts.
Many thanks go to the Hilton Group and DoubleTree Jakarta and all the regional GM's, Executive Chefs who came to support the event and the young people for their splendid efforts. We could be back for a third year next year!
Menu: NUSANTARA CHAÎNE DINNER
Siomay au four, fruits de mer sur lit de salsa de fruits sauce arachides
Baked siomay, seafood on fruit salsa bed
TWO ISLANDS RESERVE SPARKLING PINOT NOIR CHARDONNAY 2014
Thon mi cuit pajeri, effiloché de rujak
Seared pajeri tuna, selada pengantin
GUSTAVE LORENTZ RESERVE GEWURZTRAMINER 2017
Soupe de papaye, nuage de coco, safran des indes, et quenelle de haricots rouges
Young papaya soup turmeric coconut foam, red beans quenelle
WOLFBLASS RED LABEL SEMILLION SAUVIGNON BLANC 2016
Raviole de langouste pochée façon pucung et sa purée de jaquier
Poached pastel lobster raviole pucung style white jackfruit puree
CHABLIS LOUIS LATOUR 2016
Joue de boeuf braisée "kalio" rendang de pomme de terre et genjer rôti
Braised beef cheek "kalio" potato rendang cake, roasted genjer
VIDAL FLEURY CROZES HERMITAGE 2014
Décomposition du kolak pommes douces, caviars de fruits et sorbet coco
Deconstructed kolak sweet potato cake kinca mousseline, fruit caviar, coconut sorbet
BRACHETTO D'ACQUI DOCG