In line with the global rise in plant-based eating, vegetarian and vegan trends have taken hold in Jakarta, too. However, despite a growing number of vegan-friendly menus at eateries here, vegan ice cream, especially the homemade ones, are very rare. Icekim has tapped into the market for dairy-free and gluten-free frozen treats with its homemade products made with real flavours, such as fresh strawberries, almonds and brewed espresso.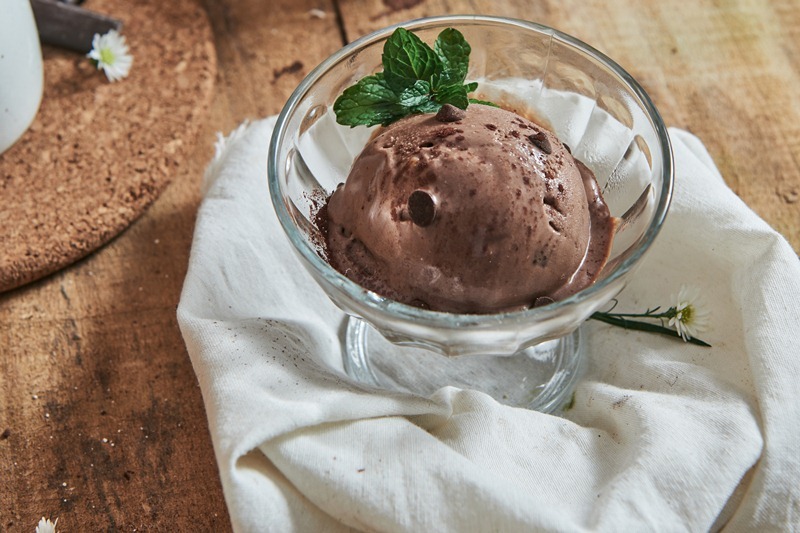 Gone are the days when going vegetarian and vegan were seen as an extreme choice to give up delicious food. As a vegan diet is more restrictive than a vegetarian diet, for a long time, food choices were very limited for vegans in Jakarta. Today, however, their choices are wider as there are a growing number of vegan-friendly menus at various eateries, offering everything from vegan pizza to cakes.
Vegan ice cream is available at several plant-based eateries here, namely iVegan Pizza, LN Fortunate Coffee, Dharma Kitchen, Rumah Juliet, Fortunate Bistro, Tree of Life, Bite n Chat and Burgreens.
Their frozen desserts are produced by an Indonesian brand called Icekim. The founding of Icekim stemmed from Leo Narwin's desire to create delicious vegan frozen treats - 'Icekim' is derived from Kimberly, Leo's daughter's name.
As a vegan himself, Leo has met vegetarians who expressed their concern of not being able to indulge in ice cream anymore once they become vegans as ice cream generally contains egg and cow's milk that are off limits to vegans.
After listening to their concerns, Leo joined hands with his friend (a homemade vegan ice cream maker) to start a vegan ice cream business, which uses both coconut milk and soybean milk as substitutes for cow's milk. Icekim is a purpose-driven company, since Leo, as a general contractor, has another source of income to rely on.
"We are not motivated by profit, but by a desire to help people, especially ice cream lovers, to indulge in healthy ice cream, as we encourage a healthy lifestyle. Our dairy-free, gluten-free ice creams are made with real flavours and have no artificial colours or preservatives and they have less sugar than regular ice cream," says Santi Gustina, Icekim's marketing manager. Santi herself became vegetarian in 2010 and plans to be a vegan in the future.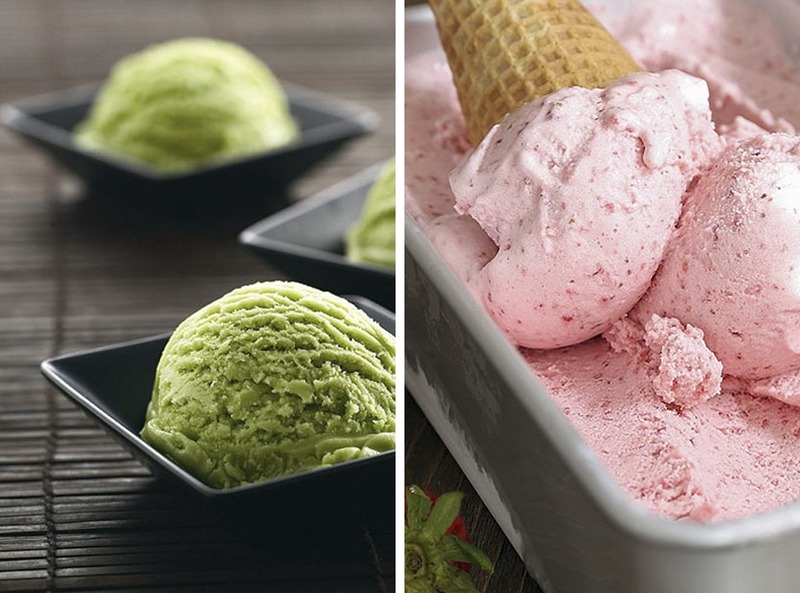 Besides vegans, Icekim's frozen treats are also suitable for those who follow a gluten-free and dairy-free diet as well as for those who are lactose intolerant. Moreover, if requested, rather than using granulated sugar, the ice cream can be sweetened with sweet sorghum.
The ice cream is made in-house from scratch in Icekim's kitchen. They make their own soymilk rather than using store-bought to ensure that it is fresh as well as free from preservatives, and they brew their own espresso. However, their fresh coconut milk is supplied daily by a homemade coconut milk seller who upholds a checklist of requirements to meet Icekim's standards.
The fresh strawberries, green tea, coconuts, soybeans, almonds, dark chocolate compounds and coffee beans are sourced from Indonesia. Icekim uses fresh-brewed espresso to make its coffee ice cream; to guarantee their quality, the coffee beans currently are supplied by Tanamera Coffee Indonesia, which is famed for its Indonesian premium coffee beans.
It took approximately one year of trial-and-error before the ice cream project came to fruition; in 2017, five flavours: Coffee, Almond, Strawberry, Green Tea and Chocolate were launched at once (Vanilla ice cream is in the pipeline). Strawberry and Chocolate are this brand's best selling products.
Today the ice cream is creamy and smooth and to me, they look no different from their regular counterparts. Icekim achieved this perfect texture in April 2018; before that, its ice cream was icy, hard to be scooped out and melted quickly. The taste and texture of those little treats, indeed, have been improved.
As for prices, Icekim's products are on the expensive side for Indonesia-made ice creams, but you can taste the quality of their ingredients. A small cup (4 oz) of ice cream is IDR 35,000, while boxes of ice creams are available in two sizes, 500 ml that costs IDR 150,000 and 1 litre, which is priced at IDR 250,000. Among the five variants that I bought recently, my favourite is Strawberry, as I love the balance of sweetness and acidity in that frozen treat.
However, as Santi says, the taste of strawberry ice cream can vary from batch to batch, because the fruit ranges in taste from sweet to tart. As Icekim does not use artificial flavours, it is impossible to maintain flavour consistency between different product batches.
Santi notes that, Icekim's almond frozen treat is gaining popularity. Indeed, those who love the distinctively nutty flavour of almond would probably love this variant.
To me, Icekim's dairy-free frozen treats have a similar taste and consistency to regular ice cream and they have improved to the point where I can definitely recommend them.
There is nothing like a refreshing cold treat like this irresistible natural ice cream to beat the heat on a sizzling day!
In Jakarta, Icekim ice cream is available at: Rumah Juliet, Fortunate Bistro, Tree of Life, iVegan Pizza, Bite n Chat, and selected Burgreens eateries (at Street Gallery building, next to Pondok Indah Mall 1 & Neo Soho mall), selected Dharma Kitchen eateries (Muara Karang & Central Park mall), selected LN Fortunate Coffee (Greenlake, Tanjung Duren, Duta Mas & Pantai Indah Kapuk).
_______________
Note: if you plan to carry the ice cream with you on a trip, Icekim can provide a special packaging; minimum packing cost starts at IDR 80,000 depending on the size of the box and orders must be placed at least two days ahead.
Note: Icekim will participate in "Earth Festival", from November 17 to November 20 2018, at Living World Alam Sutera.
_______________
Icekim
Ruko Crown Blok I # 27, Jl. Green Lake City Boulevard Cipondoh, Tangerang.
T: +62-21 225 24 021
Delivery service nad CS: +62 813 8600 5589
Instagram: @icekim_indonesia
www.icekimindonesia.com