Calling it fusion would be an understatement. Despite its mélange of Japanese and Peruvian ingredients and cooking techniques, Nikkei cuisine is a genre of its own, having been born out of necessity – among Japanese settlers in Peru back in the 19th century – and eventually evolving into its own identity. Think Peruvian meat dishes, but cooked with seafood. Think Japanese rice balls, but made with Peruvian potatoes.
For more on the latest global food fad that has recently touched down in Jakarta, head to Fat Shogun, the first modern fine dining establishment to offer Nikkei cuisine. Strategically situated in the prime area of Mega Kuningan, South Jakarta, this is the one destination for satisfying any unanswered question about this unique cuisine.
The history of Nikkei cuisine began around 1889, as waves of Japanese people migrated to Peru for better living, given the flourishing job opportunities in mining, railways, plantation and many other sectors.
"Back then, Peru was deemed as the 'land of gold' given its plentiful job opportunities. There were many Japanese people there, but Japanese food was scarce and quite hard to find. Since Peruvians don't eat octopuses, Japanese people [living in Peru] then cooked and ate them, resulting in the birth of Nikkei cuisine that has taken the world by storm ever since," said Fitrah Bya, Managing Director of Fat Shogun.
"Fat Shogun is based on good understanding of history. We had to understand the history [of Nikkei] first before we created this outlet. If we know and master the history behind it, it will be more long-lasting."
Despite its very young age – Fat Shogun was established in early 2017 – the restaurant has managed to attract on average 100 to 150 customers on a daily basis, ranging from those who are already familiar with Nikkei cuisine and have passion for it, as well as curious foodies wanting to try out its Crab Salad, Tiradito, Ceviche, Nagoya Bowl, Gyutan Truffle Donburi and Black Cod Misoyaki. On weekends, it's almost expected to be put on the waiting list.
Pair the dishes with the many different beverage options available at Fat Shogun, from refreshing non-alcoholic options, such as Red Shogun and Datelines, to alcoholic ones such as Sake Dap De'I, Shogun Sake, El Burro or Tila Potala Wa'u. End your dining experience on a sweet note by sampling signature desserts such as Milk Chocolate Pannacotta and Mango Mousse with Coconut Sorbet.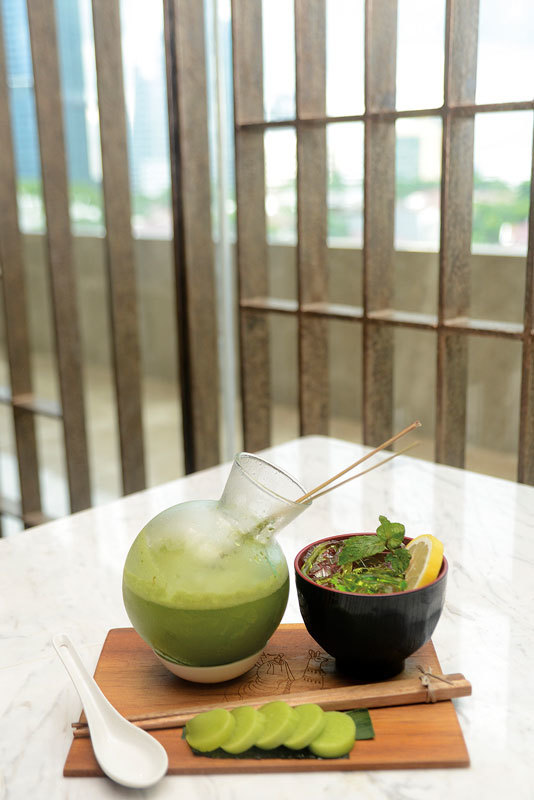 Fat Shogun kitchen runs under the tutelage of 58-year-old Chef Dicky Riady, who hails from Sumedang and has 28 years of experience, having worked at many top restaurants in Paris, Geneva, Cyprus, the Bahamas, the US East Coast (for over 20 years), to name some. He has also worked as private chef for American rock star Lenny Kravitz and honed his skills at the world-famous Nobu Restaurant.
"It took us about eight months to build this restaurant from scratch and the hardest part was to find the chef, as we need someone who can create Japanese-Peruvian cuisine, has the experience and has been involved first-hand in the day-to-day operation of a Nikkei restaurant. Plus, he has to pay keen attention to the quality of the ingredients. So, yes, he [Chef Dicky] is our man," said Fitrah.
Fat Shogun opens from 11 AM to 12 AM on weekdays and from 11 AM to 1 AM on weekends. The price ranges from IDR 20,000 to IDR 700,000.
Fat Shogun
Menara BTPN, Retail Tower,
Rooftop Level
Jl. Dr. Ide Anak Agung Gde Agung Kav 5.5 – 5.6, Mega Kuningan CBD, South Jakarta
+62-21 22958196
Facebook: fatshogunjkt