Lyon at Mandarin Oriental, Jakarta hosted an exclusive collaboration with Chef Nic Vanderbeeken from Bali's award-winning fine-dining restaurant, Apéritif, presenting exquisite lunch and dinner set menus on 28 and 29 February 2019.
Apéritif is Bali's most unique fine-dining destination, located at a lush jungle valley in Ubud. The menu explores global cuisine by way of the Indonesian archipelago through a plethora of flavours that reflect the borderless nature of today's world. The culinary team, led by Chef Nic, expertly infuses hints of Indonesia's rich gastronomic culture with contemporary global cuisine.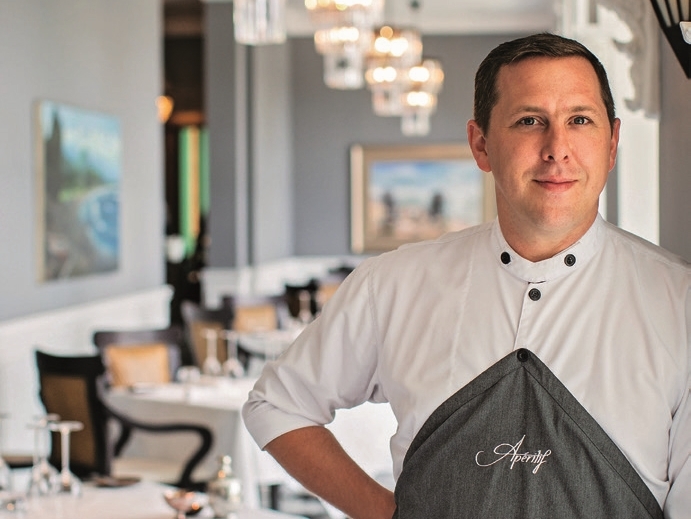 With over 20 years of experience working in established restaurants in France, Netherlands, Belgium, Vietnam and Indonesia, Chef Nic Vanderbeeken uses his inspiring presence in the kitchen to fuse lesser-known Indonesian flavours and ingredients with distinctive modern European cuisine. His progressive and eclectic cooking style lends itself to the restaurant's cuisine. It melds the best of modern European techniques and cuisine with various ingredients and touches from the Old Spice islands to create dishes that appeal to the modern global diner.
The dining experience at Aperitif has become the hallmark of its reputation, encompassing the quality of the ingredients, the perfect execution, and the sheer multitude of flavours. Being able to tell stories through food, using the best seasonal produce from the property's own greenhouse, as well as in Bali and around the world, is an important aspect of Chef Nic's culinary thinking.
Some of the evening's highlights from Chef Nic included Smoked Mackerel and Caviar, Betel Leaf Tempura Fish, Canadian Lobster, Duck Magret, Kagoshima Wagyu
Lyon
Mandarin Oriental, Jakarta
Jalan M.H. Thamrin
Central Jakarta, 10310
T: +62 21 2993 8825
IG: @lifengjakarta
FB: @lifengjakarta
mandarinoriental.com/jakarta