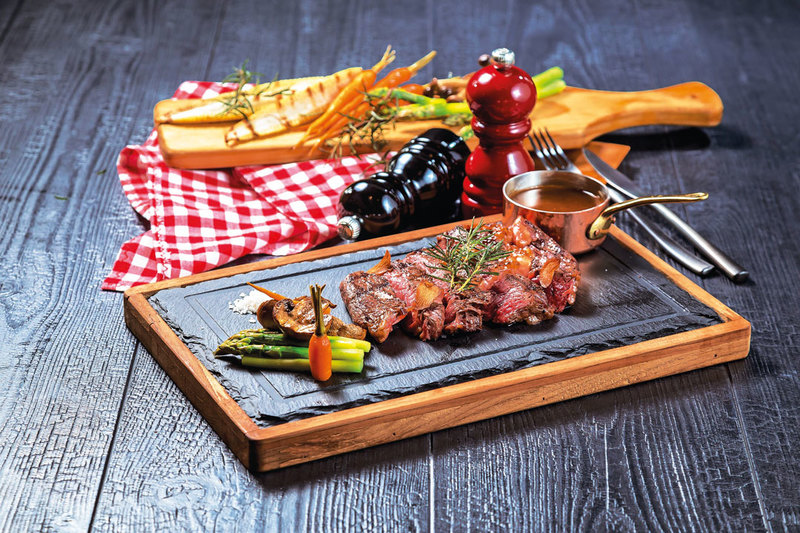 Bringing together delicious meat cooked to perfection with signature comfy and welcoming ambience, Mad Cow Vimala Hills is any carnivore's dream destination.
Located within the heavenly setting of Pullman Ciawi Vimala Hills Resort Spa & Convention, Mad Cow Vimala Hills is the latest addition to the five-star hotel's F&B options. Mad Cow is built to amplify its serene surrounding while exuding a fresh and energetic ambience at the same time, resulting in an unparalleled dining experience.
In terms of its interior design, Mad Cow Vimala Hills complements its approachable dishes with a combination of comfortable indoor and welcoming outdoor spaces. The dining room, with a chic yet comfortable setting, is perfect for any occasion. The colourful interior is featuring bold and contemporary modern touch. Blended with subtle and casual traditional ornaments, Mad Cow Vimala Hills offers the finest ambience the resort has to offer. The sophistication does not stop at the at the décor.
As for its culinary concept, the menu at Mad Cow Vimala Hills features an array of ingenious techniques and premium ingredients. The MAD GRILL steak selections feature meticulously curated beef resulting in unmatched flavour and texture. At MAD GRILL selections, perfected grilling method and seasoning techniques ensure every meat served are cooked to perfection and sizzling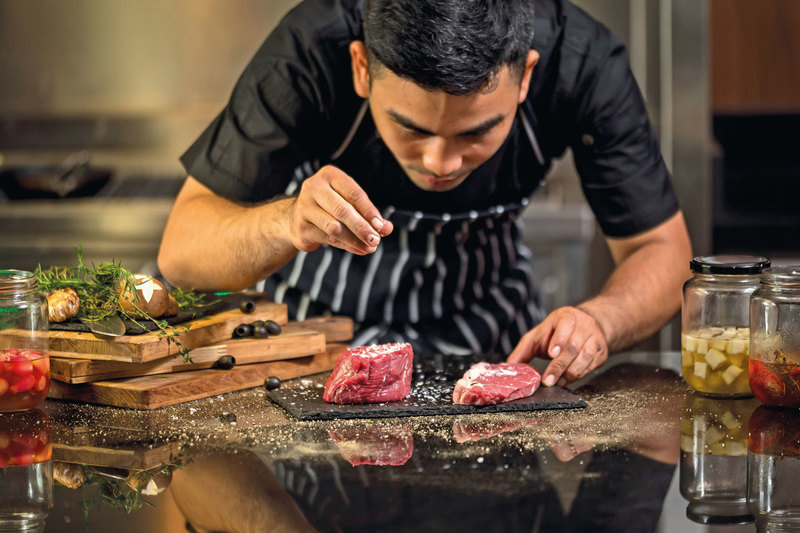 In addition, diners can complete their meal with freshly made salads and starters, delectable soup selections, rolls up, homemade pasta and handcrafted burgers, and the enticing Premium and Asian Favourites. To complement the main courses, Mad Cow Vimala Hills's team of seasoned and skilled chefs craft a range of seasonal sides that will intrigue your appetite and exceptional desserts as the perfect indulgent to finish any meal.
Mad Cow Vimala Hills emphasised its commitment to culinary excellence by featuring dishes that incorporate regional taste, farm fresh produce, as well as local and sustainably sourced ingredients to enrich the natural, flavour, aromatics and distinct textures of every dish. Diners are enticed with unique presentations of desserts that ends the dining experience to become a memorable moment.
As part of its opening promotion, Mad Cow Vimala Hills is offering an exclusive Sirloin Combo promo in which you can enjoy two Australian Prime Sirloin Steaks with French fries and salad for IDR 160,000. Add another IDR 20,000 and you can enjoy two drinks of choice: Iced Tea or Chilled Orange Juice.
Mad Cow Vimala Hills opens every Wednesday to Saturday from 6pm to 10pm for dinner, and available for lunch every Saturday to Sunday from 12 to 4pm.
Mad Cow Vimala Hills
Jalan Raya Puncak, Gadog, Megamendung, Bogor 16770
T: +62 251 830 6888
IG: @madcowvimalahills
WA: +62 812 8283 4348
www.madcow-vimalahills.com