Nestled in a premium location at Senayan National Golf Club, South Jakarta, Takumi Robata & Sushi could well be the perfect place for a business lunch where a range of healthy and fresh dishes are available.
Designed by the Japanese architect Araki Sasaki, Takumi features a warm and elegant setting with dim lighting and soft effects on its wood-dominated interior design, depicting a modern Japanese tapestry. Surrounding it is the golf course for as far as the eye can see.
At the restaurant, diners can see the chefs prepare their meal in the open kitchen where the seafood is cooked Robatayaki style, a cooking technique using hot charcoal on sand originating from Hokkaido. Diners can choose from a selection of fish on the Robata menu including kinki fish which only lives in the cold waters of Hokkaido as well as ayu fish and saba mackerel.
Takumi is derived from the word Taku which means craftsmen, and mi which means sea. Helmed by Chef Kudo Masakazu, the culinary team is trained to ensure quality and authenticity. In keeping with northern Japanese culinary tradition many ingredients are shipped from Tsukiji, the largest traditional fish market in Japan. Guests can choose either local fish or imported ones.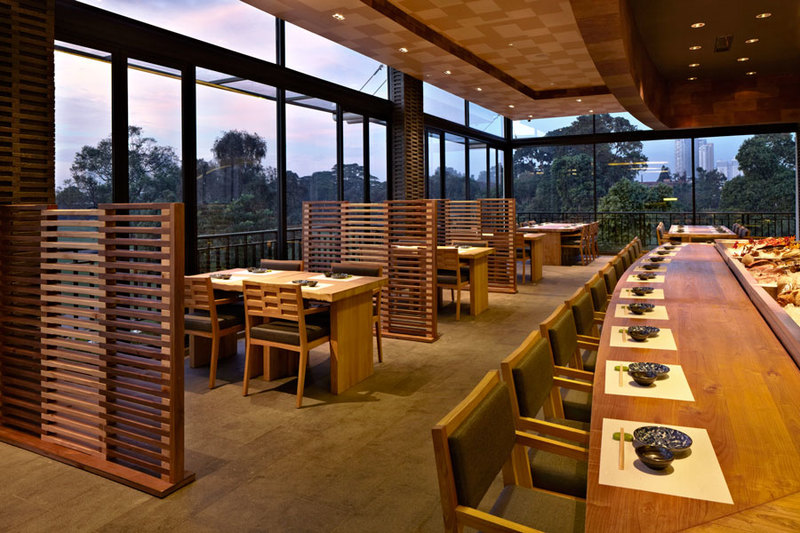 The culinary team at Takumi constantly refreshes its menu with more sushi selections such as the sushi platter. Diners may savour the brand new tokujyo nigirisushi, tempura, as well as the exotic Japanese-style foie gras steak. For dessert, shiratama cream anmitsu is refreshing, a mouth-watering delicacy to finish off the meal, served in the Kabuki face bowl. At the bar, diners can also enjoy traditional Japanese liquor such sake and a selection of alcohol-based drinks.
There is also Omakase, known as the Emperor and Empress dish platter derived from the ancient Japanese tradition. The exclusive Omakase cuisine contains a minimum of nine items where diners will be treated like royalty. Prices range from IDR 1,250,000 to IDR 1,6000,000.
Takumi Robata & Sushi
JL. Asia Afrika Pintu IX,
Senayan National Golf Club
Gelora, Kota Jakarta Pusat
T: +62-21 5710181
Instagram: Takumi Robata Sushi