Ambrosia Private Club recently launched Casa de Carne, a world-class steakhouse experience open for Jakarta's culinary enthusiasts.
At the behest of an invitation, I found myself at Jalan Daksa, within a seemingly ordinary residential block, except my destination was anything but ordinary. Even upon alighting at a particularly grand house built with a modern architecture, I still couldn't imagine that such an opulent dining venue was waiting for me inside.
And so there I was at the doorstep of Ambrosia Private Members Club, guarded by two solid pillars and a hefty, wooden double door. One of the staff opened the door for me, revealing a lobby area that splits to a sophisticated waiting lounge that could easily have been a whisky and cigar lounge in itself if the luxurious décor is any indication to the left, while the door on the right leads to the bar and main dining room area.
A sturdy, four-door meat ageing cabinet, fully and neatly filled, is built right into the right-hand side of the main dining area I would soon discover that this was where the meaty goodness of my main course comes from. On the other end is a well-designed wine cellar housing hundreds of mostly Old World wine labels. Next to the cellar is yet another door, this one leading out to a semi-roofless patio with loungers, tables and, best of all, a fountain pool. This provides a pleasantly surprising shift from the opulent ambience inside to a playful and relaxed ambience.
Ambrosia Private Club is an exclusive, members-only venue where you can experience a contemporary menu that is always current and up-to-date in a completely private atmosphere far away from the city's hustle-and-bustle.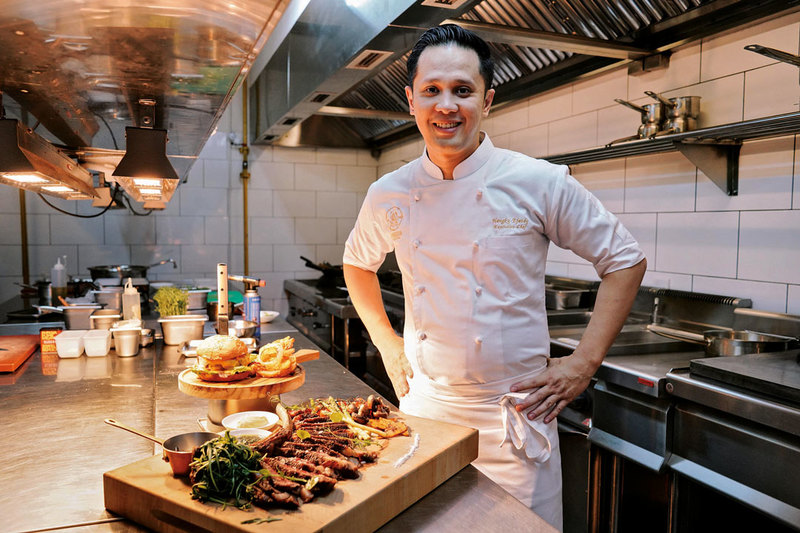 However, the club recently launched the Casa de Carne program, which allows non-member diners to experience Chef Hengky Efendy's finest meat-heavy gourmet dishes traditionally prepared and cooked over wood fire. We are talking about a selection of prime Australian beef from 45 days dry-aged Tomahawk Australian Wagyu, Australian Sher Wagyu to Australian Stockyard Kiwami Wagyu Prime Cuts or 400 Days Grain-fed Wagyu.
The Tomahawk—my personal favourite—had a tempting buttery flavour that is consistently subtle at every bite. Another main dish that impressed me was the Beef Bone Marrow, which is perfectly cooked and served with crusty rye bread and just the right amount of salt and pepper. Each mouthful of the marrow soup scooped with bread gave me a delicate explosion of rich flavours that I end up, unsurprisingly, scraping each bone clean.
Starting from 6 July, Casa de Carne is available for reservation from 6.30 to 11pm divided into two dining times: 6.30 to 8.30pm and 9 to 11pm. For reservations, email [email protected] or call +62 822 9999 8860.
Ambrosia Private Club
Jalan Daksa I No. 20, Kebayoran Baru
T: +62 878 8880 0766
IG: @ambrosiaprivateclub
E: [email protected]
www.ambrosiaprivateclub.com