Cold brew coffee has seen a surge in popularity among coffee lovers in Indonesia and around the world since it was first introduced by Starbucks Coffee a decade ago. With the establishment of the brand's Reserve store, coffee enthusiasts have opportunity to understand more about Cold Brew beverages by sitting down with Starbucks Coffee Masters.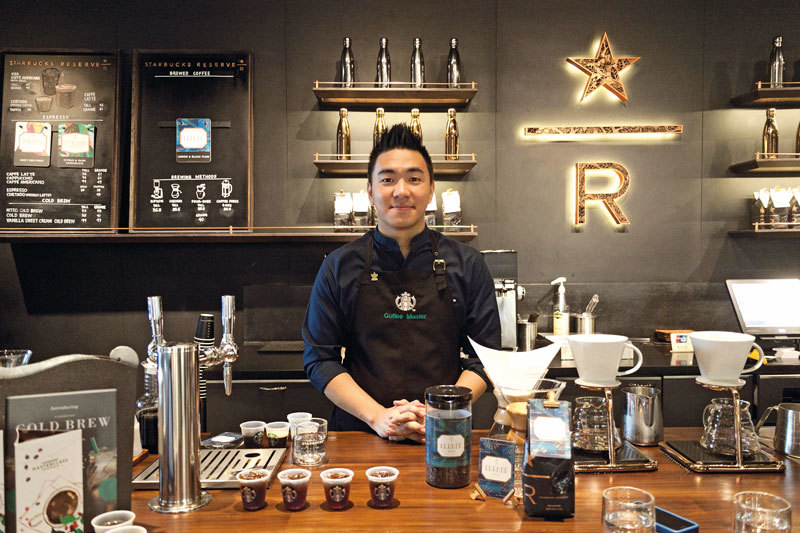 Contrary to its name, a cold brew is not iced coffee. The latest edition of Starbucks Masterclass "Cold Brew Connection" in August helped explain the different, along with the step-by-step method of making cold brew beverages. This type of coffee has become a trend in the United States and Starbucks has been promoting this brew across the Asian markets recently.
Brewing expert, Emmanuel Andrew, 28, who is also Starbucks Coffee Master and regional coffee leadership team (RCLT) describes cold brew as a new way to enjoy espresso-based drinks without the intense coffee flavor. Processed with room temperature water, the cold brewing technique is able to lower the acidity level, thus increasing the the natural sweetness and smooth texture.
Ground coffee is steeped in cool water for a long period— approximately 14-20 hours in the cooler—to extract the coffee essence."Cold Brew never touches the heat. Longer steeping will create bold coffee taste. Iced coffee is just hot coffee with ice cubes," Andrew explained.
Andrew uses his favourite, ground Rwanda Musasa coffee beans, in the coffee maker, Toddy Cold Brew System, which is sold at Starbucks Reserve. The immersion process involves a two-step water and coffee powder pouring in order to ensure the grounds are all wet without stirring. After the immersion period, the coffee concentrate is ready to drip into the carafe.
"It's easy and it's practical, but there is an art to it. People could also experiment with many specialty beans, and add ice or milk. If people order at Starbucks Reserve, the cold brew coffee will be ready within 10 seconds from nitro machine," said Andrew who has been a Starbucks partner for five years.
At select Starbucks cafes, people could taste variants like Vanilla Sweet Cream Cold Brew and Cold Brew Iced Coffee in all Starbucks stores in Indonesia. But for Nitro Cold Brew, which has been a trend in the United States is only available at Starbucks Reserve at Plaza Indonesia, Plaza Senayan, and Pakubuwono.
One could make cold brew coffee using Colombia Nariño Coffee Bag, French Press, and a gallon sized Mason Jar with a cheesecloth filter. The method can be seen on Starbucks' official Youtube channel. Starbucks Coffee also introduced Cold Brew technique through its tea brand, Teavana.
Vasilis John Vasiliou, VP Operations Starbucks Indonesia stated that the process of cold brew is simple and through this process the taste of coffee becomes bolder and reveals its true flavour. "The process of making cold brew requires a lot more patience; it's not like serving hot coffee with ice. It depends on time rather than heat to get the coffee extract to allow the flavour to be sweet with low acidity, and creates a different experience of drinking coffee," Vasiliou said.
Visit www.starbucksindonesia.com and follow Starbucks Indonesia on Twitter and Instagram for more information. Register for the upcoming masterclass at [email protected]