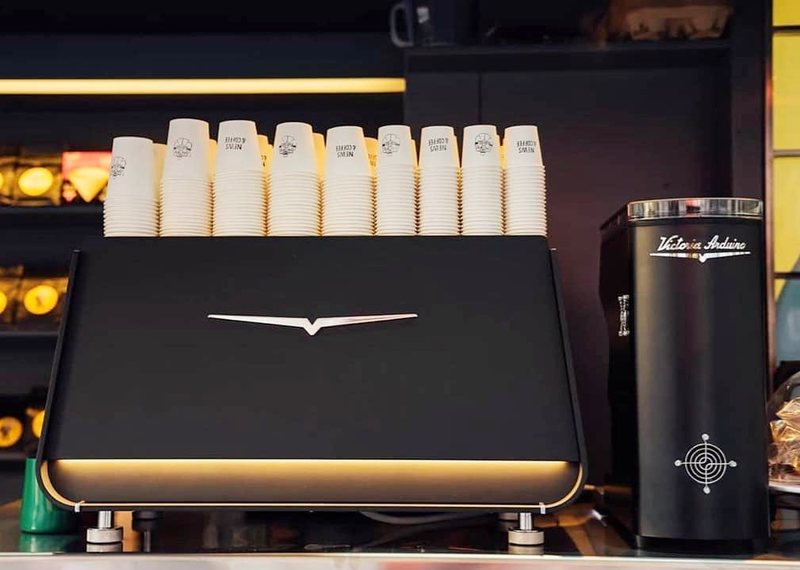 Coffee Opinion Leader and Author, James Hoffmann once said, "Specialty coffee will continue to grow and spread around the world, becoming more integrated to people's everyday life." You may totally agree with that statement, especially since we can see around us that the specialty coffee shop world is quickly advancing and expanding at an international level. The trend has expanded to include a global community of passionate professionals.
Responding to this dynamic business, the world's leading coffee machine company Victoria Arduino presents Eagle One, a professional espresso coffee machine aiming to become the centre of expression and personality of the coffee shop and the barista. Designed by Giulio Cappellini, the International Ambassador of Excellence and Italian Design, this luxury coffee machine is available in limited quantity.
Eagle One is more compact compared to previous machines of its category. For Victoria Arduino, design performance and sustainability are determining factors to create a pleasant and memorable experience. The design is a combination of history and innovation: recycled-wood, ecological resin, stainless steel and aluminium.
"Eagle One is a reflection of team collaboration consisting of designers, architects, technical experts and baristas. This machine represents a new wave of trend in the coffee industry and current coffee shop business movement, to the coffee shop consumers with broader coffee shop designs." Fabio Ceccarani, CEO of Simonelli Group, brand holder of Victoria Arduino, gave his statement at the launching ceremony in Jakarta on 15 February.
He also said that on top of the Eagle One research and innovation efforts, balancing between quality aesthetic and function so that the machine can fulfil the user needs and consumers. The result is Eagle One's easy-to-use and eco-friendly design, making it save energy and cost.
In constructing the model of Eagle One, the architect Carlo Viglino was inspired by Victoria Arduino's history. While James Hoffman joined in to give inputs from the side of what current coffee shop needs, which is a machine that is compact, efficient and eco-friendly. "Barista needs compact coffee machine with ergonomic design so that easy to use and capable of making coffee in large amount with consistent taste," Hoffman explained.
The new NEO engine (New Engine Optimization) and the innovative technology T.E.R.S. (Temperature Energy Recovery System) are the main components to drastically reduce energy consumption and CO2 emissions. The LCA (Life Cycle Assessment) study on the machine revealed positive data regarding the environmental impact compared to the other coffee machines of the same category. The Eagle One had a 23% less environmental impact, while T.E.R.S. uses discharged water to pre-heat incoming water. The result is an eight percent saving on total machine consumption.
Also, Eagle One's application easily connected through bluetooth and allow the users to make and share information, such as milk and coffee recipes with coffee shop branches or other fellow Eagle One users. In addition to personal users, this can also be used by coffee shops to monitor and control the setting of the machine without interrupting the barista's work.
The launching ceremony of Eagle One was attended by HE Vittorio Sandali (Italian Ambassador), Michele Mastrocola (Senior Sales Area Manager Simonelli Group), James Hoffman (World Barista Champion 2007) and Tony Arifin (CEO Toffin Indonesia -the distributor of Victoria Arduino and Nuova Simonelli) and Federico Ippodimonte (South East Asia Manager Simonelli Group Asia Pacific PTE).
PT Toffin Indonesia
Jalan Pluit Permai No. 4
T: +62 6669 2940
IG: @toffin.id
toffin.id