The year-end holiday season is here and for most people in Indonesia, it cannot be soon enough, after a very difficult year for everyone. Many people love to welcome the holidays by having a festive dinner with relatives and friends creating precious memories in the warm atmosphere of togetherness - not forgetting this year's social distancing rules of course!
If you are planning an intimate dinner together, we'd like to suggest some fun ideas that can add to the excitement of your event. But first let us introduce you to the guest of honour whom you may or may not have met - Hendrick's Gin. Not your ordinary off-the-shelf, run-of–the-mill gin, Hendrick's Gin, is infused with the curious, yet marvellous combination of rose and cucumber, delectably supported by no less than 11 botanicals from the four corners of the world. This whimsical concoction produces a wonderfully refreshing gin with a delightfully floral aroma.
So on with the ideas! First let's create a cheerful spirit
Get your best selection of spirits and soft drinks. Complete the scene with a wide variety of cocktail garnish options, such as cinnamon sticks, lemon slices, olives and cherries and, of course lots of ice cubes. Invite your guests to experiment and mix their own drinks. But to keep them on the right (and most delicious) track, let them take a peek into Hendrick's Gin's collection of cocktail videos to encourage the creation of some signature Hendrick's serves, with cucumber as the garnish of course. You could even amp up the fun and make it a competition for the Cocktail of the Night!

When guests arrive, welcome them by serving refreshing options such as Hendrick's French 75, a fun blend of gin and bubbly. Or it could be the wonderful Hendrick's Hot Spiced Apple, which can quickly warm up the atmosphere as you crank up the music.

Or, and this is probably the best option, make them a Cranberry Gin Fizz. Where Hendrick's Gin, coupled with cranberry juice and sparkling wine, creates a unique, colourful and fresh flavor. Anyway you do it self-service or fully hosted, you've got things off to a good start !
What's Next? The Perfect Meal of course!
Allow guests to get to know each other and start a conversation by putting your most delicious snacks in the middle of the room and see how quickly they will lure people to interact with each other, or at least to enjoy the nibbles…
A large and interesting ornament can also be the center of attention and make everyone want to talk about it. Do you have one? No? Time to invest!
Don't rush the meal or the preparation. Cooking with a slow cooker can produce more flavourful food and you can also spend more time with your guests (and you also have time to clean the kitchen too )
You could, of course, suggest to your friends that they bring their favorite foods with them to enjoy together, so you don't spend too long in the kitchen.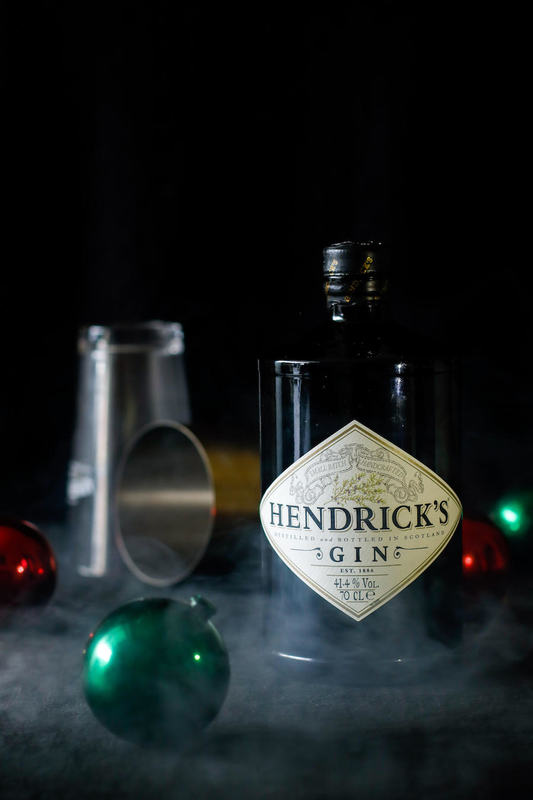 Then , creating the Magic Moment…
Well, any memorable event is not complete if there is no gift exchange, and honestly don't go overboard, whatever the gift and whatever the value is not a problem, because sharing and fun are the main thing. Often the silliest presents are the most popular! Just get that atmosphere at the right temperature with tunes from Hendrick's Gin's Spotify playlist as you open your gifts together.
But the evening is not yet over, it's time for the joyful moment of the year-end celebration. And what better than an amazing Hendrick's Hot Spiced Apple cocktail to toast and welcome the festive holiday season?
Finally, for those who have recovered their appetites after the fun and games (and a few cocktails!) bring out some desserts that can be enjoyed in the mellowing moments of a great party.
Now before we wrap up, we want to tell you where this marvelous gin is from! The HENDRICK'S GIN Palace hails from the tiny seaside village of Girvan, which lies in Ayrshire, south-west Scotland. The distillery lies just a mile inland and overlooks the mysterious volcanic island of Ailsa Craig. This alluring outcrop lies uninhabited, save for a few gannets and puffins, but features in many local legends. As will Hendrick's Gin in the years to come.
Recipes, descriptions and pictures of each cocktail can be seen in the appendix. For more information, as well as a selection of various beverage recipes, please visit www.hendricksgin.com
You can also get Hendrick's Gin at Red and White outlets in your city as well as other outlets. For more information about Hendrick's Gin, please visit HendricksGin.com