Catalyst Arts, a visual art platform that focuses on Indonesian alternative art scene holds pop up market, The 8th ART MARKET JAKARTA on 8-10 December 2017 at Kuningan City Mall Jakarta. ART JAKARTA's objective is to bring Indonesian emerging artists/illustrators/creative brands and their artworks to mass market through various programs, including our signature event pop-up Art Market where makers can sell their artworks and art merchandises directly to art enthusiasts.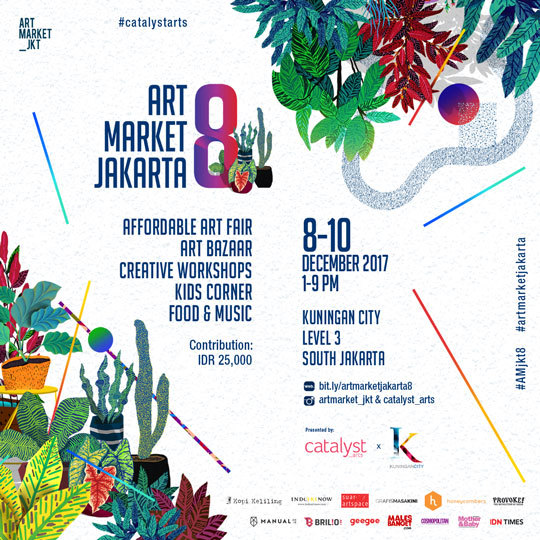 The Art Market will take place on 3rd floor of the mall, starting from 1 pm onwards. The event consists of Afrdbl. Art Fair, Art Bazaar, and Creative Workshops. There are also Live Collage & Exhibition, Kids Corner, food, and music
Afrdbl. Art Fair features original artworks and limited prints from 30+ visual artists/illustrators that you can collect without breaking the wallet. Art Bazaar will be showcasing more than 40 artists, illustrators, designers, and makers in creative industry to raise awareness, sell, and share the stories behind their art merchandise and brands.
On Disarrangement: Live Collage & Exhibition, Seven local collage artists gather up to make collages in one table together. It will be interesting to see the way they response to each other's materials then making collages that will be display later on this one wall.
Audience can take part by responding to those collages by writing, drawing, or anything that related with the art. The best response will get a cool prize from the artists.
Details
Ticket : IDR 25.000
Date : 8 - 10 December 2017
Location : Kuningan City Mall Jakarta.