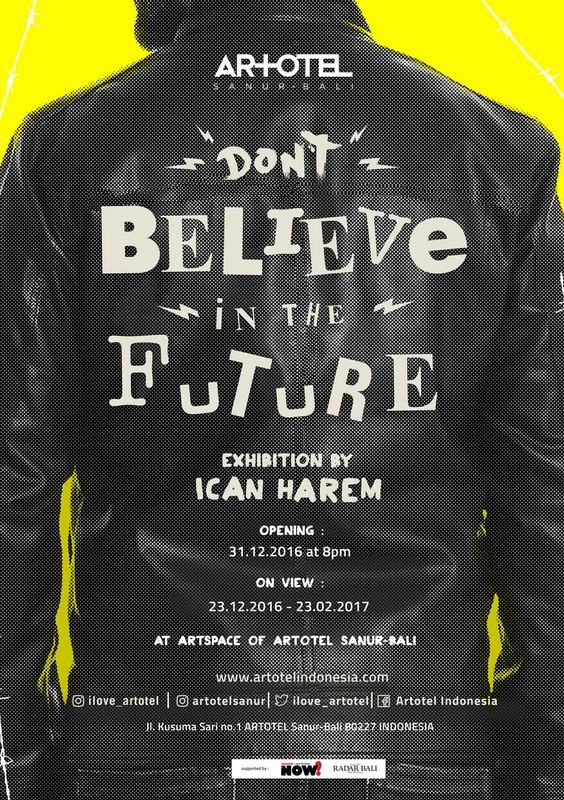 As an Art showcase that focuses on art and its originality, ARTOTEL Sanur – Bali have a vision to raise the awareness and the appreciation of our local society towards the art world. We would love to support emerging artist, both local and international artist. Here Artotel Sanur Bali's main vision is to gain recognition by becoming a platform for them to express their creative talents. On this opportunity we would love to showcase the art and creativity by Ican Harem this December 2016.

Ican harem is a full time artist and living in Bali. His art is specializing in fashion, street art, music, skateboard and other pop cultures which all sums up all together that he covers most all of the edgy lifestyle matter. Ican was born in top Sumatera, then moved to Yogyakarta to study art. Ican has been exploring multi disciplines in art and also has been exhibiting in varies galleries in Yogya such as Cemeti art house, Ace House, House of Natural Fiber.

These days he lives in Bali and locally that Ican has been quite often to take part in group exhibition, got a ,commission artwork offer, performing, designing band T-shirt for locals and international brands wear and other merchandises. Don't Believe In Future is a step to be a grown up and independent, picking up the garbage and leftover trend, culture and issue which have been thrown and we use them again with the rebellious spirit and rebel without cost to the conventional norms, politics, and culture that is stiff.
---
"Don't Believe in The Future" Exhibition by Ican Harem.
Venue: Artotel Sanur Bali
Start on 31st December 2016
For more information please visit www.artotelindonesia.com