While industrial cheeses are increasingly pervading supermarkets and food preparation, individual cheese makers try to preserve a long tradition of hand-made cheese, a know-how enabling France to boast more than 2000 varieties of cheeses.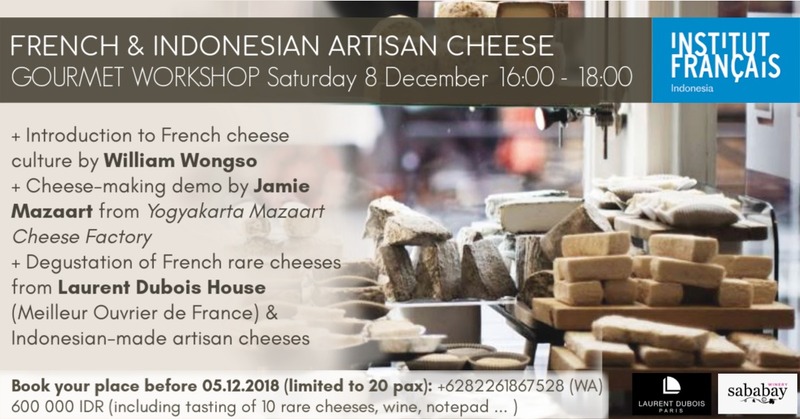 With the curation of the Parisian cheese maker Laurent Dubois, Meilleur Ouvrier de France (MOF), and the exceptional participation of William Wongso, culinary expert decorated both in France and Indonesia, the French Institute Indonesia organizes a special workshop about artisanal cheese-making and cheese tasting experience. For the occasion, Jamie Najmi from the Yogyakarta-based Mazaraat Artisan Cheese Factory will do a demonstration of Indonesian-made artisan cheese using French techniques, while you will be able to taste and discover a unique selection of rare cheeses from France, even unknown to most French gourmets.
Registration: by Whatsapp at +6282261867528 or by mail: [email protected] (before 06.12.2018, place limited).
Location: Institut Français Indonesia (IFI), Jl. M.H Thamrin 20, Jakarta Pusat 10350
Participation cost: 600 000 IDR/pax (including degustation of 10 rare cheeses, wine or soft beverage, notepad and detailed informative document).