November 27th 2018, Jakarta – Visual Industry Promotion Organization (as known as "VIPO") co-organized with The Agency of Cultural Affairs & Japan Foundation (JF) will manage Japanese Movies Screening Week (known as JAPAN CINEMA WEEK 2018) from December 7th – 16th 2018 at CGV Grand Indonesia, Jakarta.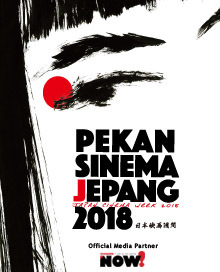 Unlike the previous years, Japan Cinema Week 2018 is a part of 60 years Japan-Indonesia national diplomatic relation celebration activities. We hope the celebration of Japan Cinema Week 2018 will enhance the interest of Indonesian people about Japanese culture and contribute to the development of cultural tourism in Japan and also increase opportunity for Japanese movies screening in Indonesia.
In total there are 36 movies ready to be screened at Japan Cinema Week 2018, the movies are divided into six categories: New J-Director, New J-Film, "Samurai" Historical, "Kira-Kira" Teen, "Tokusatsu" Special Effect, and Documentary. Some of movie titles which will be shown: One Cut of the Dead, Pieta in the Toilet, Miss Hokusai, Let Me Eat Your Pancreas, GAMERA: The Guardian of the Universe & GODZILLA (1954). The movies that will presented had been curated by the program selection committee, the Agency of Cultural Affairs, VIPO & Japan Foundation (JF)
Besides the movies screening, the organizer also prepared interesting activities for public and filmmakers during Japan Cinema Week 2018. Including Workshop on special effect movies (Tokusatsu), discussions with producers and actors from Japan, and symposiums by filmmakers from both countries. We expect, the activities can improve quality of film industry in Indonesia and Japan.
Further information regarding Japan Cinema Week 2018 will be announced at the press conference, which will be held at CGV Grand Indonesia on November 27th 2018. We will also announce: A complete line-up of Japan Cinema Week 2018, guest stars list from Japan, and the chosen ambassador for the event.
Information about event #PSJ2018 can be accessed on the link website of "Pekan Sinema Jepang 2018" : https://www.jcinema2018.id/
Or contact: [email protected] (SOZO Pte. Ltd)