The Embassy of Italy, Jakarta and the Italian Cultural Institute, Jakarta proudly present a Jazz concert entitled Piano Solo by Stefano Bollani on the 13th of November 2017 at 19.000 at the Usmar Ismail Hall. This event is organized in the framework of the "Vivere all'Italiana" Festival.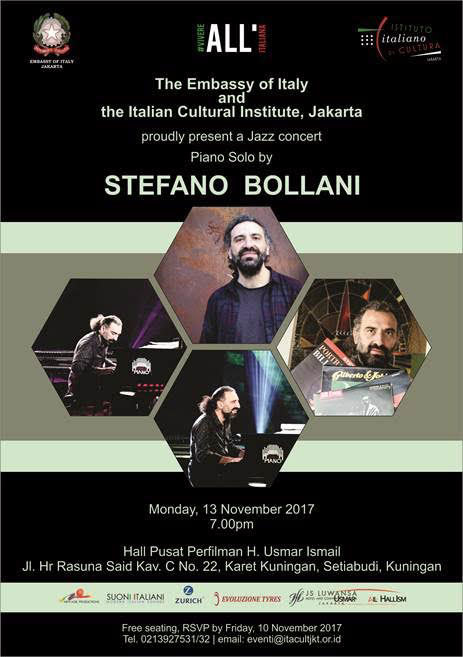 Bollani is well known from his brilliant musical talent and extraordinary artistic personality that allow him to range from situations such as intimate solo piano, to the symphonies of the great orchestras, to contemporary jazz up to contemporary interpretations of Zappa's rock.
Bollani is constantly searching stimulations everywhere, in all the music of the past but most of all he's exploring the present, the moment being, improvising alongside great artists like his noble mentor Enrico Rava, Richard Galliano, Bill Frisell, Paul Motian, Chick Corea, and Hamilton de Holanda.
As the part of Asian Tour 2017, Balloni will perform in Jakarta as the one of the destination. It's free seating. RSVP by Friday, 10 November 2017, by calling 0213927531/32 or sending the email to [email protected]