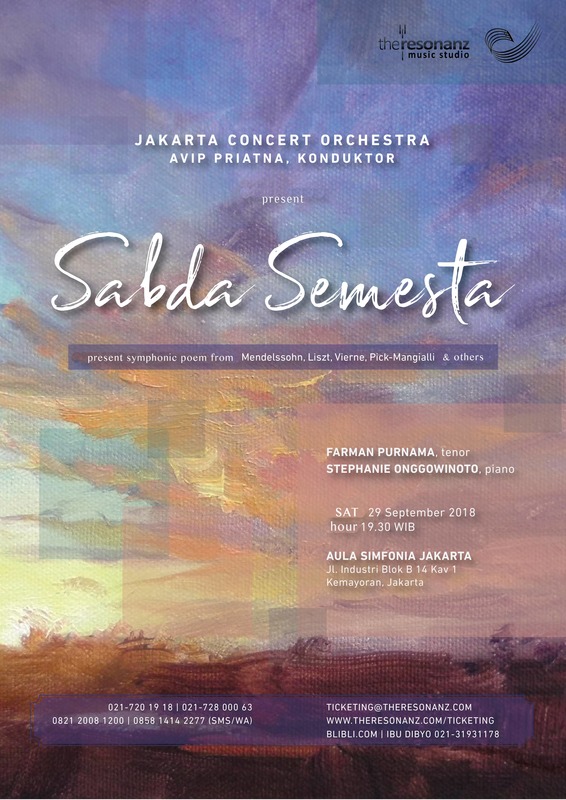 The Resonanz Music Studio presenting. A classic concert series featuring the Jakarta Concert Orchestra with conductor Avip Priatna Mag.Art, with guest stars Farman Purnama, tenor and Stephanie Onggowinoto, piano.
Jakarta Concert Orchestra will be performing Mendelssohn, Liszt, Vierne, Pick-Mangialli etc. which songs' theme is about the universe.
Symphonic poetry (Symphonic poem or tone poem) itself is a form of orchestral music, which usually consists of one single continuous movement, which illustrates or reflects the contents of a poem, short story, novel, painting, scenery or other non-musical sources. This type of music began to be created in the 19th century. The German term Tondichtung (tone poem) was first used by composer Carl Loewe in 1828. Hungarian composer Franz Liszt also applied this term to his 13 works at that time.
Although there are many Symphonic Rhymes which are almost the same as standard symphonic music, but in this music, listeners are invited to imagine more about certain sights, ideas and moods or feelings, which do not have to be fixated on traditional music forms or patterns such as sonata.
According to Hugh Macdonald, a 19th century British musicologist and music expert, this Symphonic Rhyme fulfilled three aesthetic goals of 19th century music, namely: linking music with external / natural sources; often incorporating many movements into one principle; and lifting instrumental music to a higher aesthetic level so that it can be considered equal or even higher than opera. The Symphonic Rhyme music remained a popular composition from the 1840s to the 1920s, and after that musicians began to leave the genre.