This is a show that is regularly held by The Resonanz Music Studio since 2010. Concert aimed to give appreciation to the work of Indonesian composers & musicians and by the same time raise the love of homeland, brotherhood, nationalism especially for young generation of Indonesia. This time the concert will have " Love of Pancasila & Bhinneka Tunggal Ika " theme through orchestral music and choir that is punctuated by dance, which is a tremendous Indonesian fortune that should be appreciated by all of us.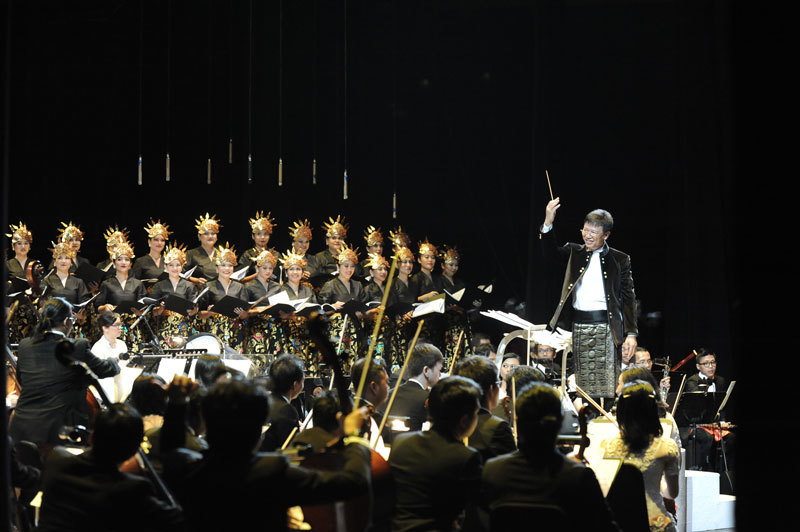 The concert will present some new works and fresh arrangements of the work of young Indonesian composers, specially created for this concert. From national songs such as Dari Sabang sampai Merauke, Keroncong Tanah Air, to Indonesian folksongs such as Anak Kambing Saya, Ayo Mama and others, which are packaged in an interesting way.
Singer Farman Purnama, tenor; Birgitta Sisca, soprano; Alicia Hartono, soprano; Bimashakti N. Ksatriya, soprano; Bertolens Pah, sasando and Caitlin A. Wiranata, the piano, will be the guest stars on this performance. In addition, UI Krida Budaya Student Dance League this year represents Indonesia at cultural festivals in France, Italy and Serbia, will add the Indonesian color to this performance.
The show will be accompanied by professional music incorporated in the Jakarta Concert Orchestra (JCO), and will be led by the conductor and director of music, Avip Priatna. Not to be missed, Batavia Madrigal Singers (BMS) and The Resonanz Children's Choir (TRCC), two well-known choirs who have performed at the and brought Indonesia's name to the International Choir competition.
TRCC won the first place with a value of 26.94 (Gold Diploma - Level VII) Children's Choir category and the first winner of Gospel and Spirituals category with a score of 27.7 (Gold Diploma - Level VII) and became the overall champion " Grand Prize "in the international choir competition Musica Eterna Roma International Festival & Competition 2017, in Rome - Italy from July 5-9, 2017.
As the Champion of the 48th Tolosa Choral Contest competition in Tolosa, Spain in 2016, Batavia Madrigal Singers is entitled to advance to the SUPER FINAL round of the world's most prestigious European Grand Prix in Choral Singing (EGP) competition in Tolosa, Spain, in November 2017. BMS competes with the 2016 general champions of the competition in Arezzo, Italy; Hajdú-Bihar, Hungary; Maribor, Slovenia; Tours, France and Varna, Bulgaria.
TICKET PRICE
Platinum = Rp. 1.500.000, -
VVIP = Rp 1,000,000, -
VIP = Rp 500.000, -
Class I = Rp 300.000, -
Class 2 = Rp 200,000, -
Student = Rp 100.000, -
Ticketing Program
Buy 10 free 1 ticket*
(Promo valid for same class & not valid for student ticket)
INFORMATION
Q: (021) 720 19 18 | (021) 728 000 63
M: 0821 200 81 200
WA / SMS: 0858 1414 2277
Mrs. Dibjo: (021) 319 311 78
Email: [email protected]
Web: theresonanz.com/ticketing
Www.blibli.com