The craic will be mighty on March 10th, as the Irish society in Jakarta will hold its annual charity ball.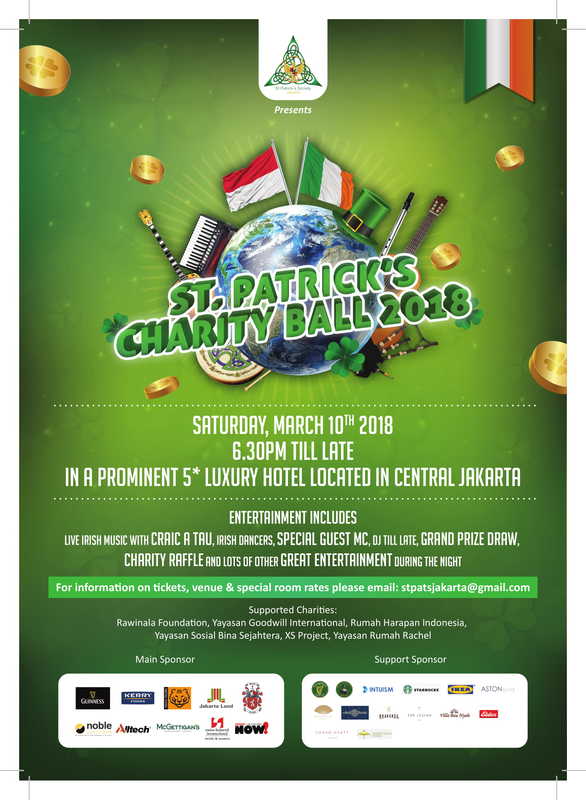 The St Patrick's Society has been active in Jakarta for almost forty years, and its charity ball has grown into one of Jakarta's largest and most popular. This year, the ball will be held on Saturday, March 10th, at a major hotel in central Jakarta. The seating capacity on the night is 600 – having been extended twice to meet additional demand, which has far exceeded initial seating capacity.
There are still a handful of tickets left, which are priced at Rp 1.6 Juta each. This includes a three-course meal and free flow drinks (including wine, beer, whiskey and soft drinks) for the night. Entertainment on the night will include traditional Irish music and dancers, as well as a DJ who will be playing a mix of Irish and international songs into the wee hours of the morning.
Proceeds from the event will go to support a number of charities in Jakarta and across Indonesia: The Rawinala Foundation, Yayasan Goodwill International, Rumah Harapan / House of Hope, Yayasan Sosial Bina Sejahtera, XS Project and Yayasan Rumah Rachel
There are around 150 Irish-born people in Jakarta, but many more people here in Jakarta have Irish heritage – particularly Americans, Australians and British. There are also plenty of Indonesians (including our society's President) who have studied or have family/business connections with Ireland. The ball is being timed to coincide with St Patrick's Day – the national day of Ireland, celebrating the country's patron saint. Over recent decades St Patrick's Day has grown into an international celebration, with parades and celebrations on every continent.