After successful tours across Europe since 2011, a concert featuring the best four musical performers from West End London will perform at Ciputra Artpreneur Theater in Jakarta for the first time.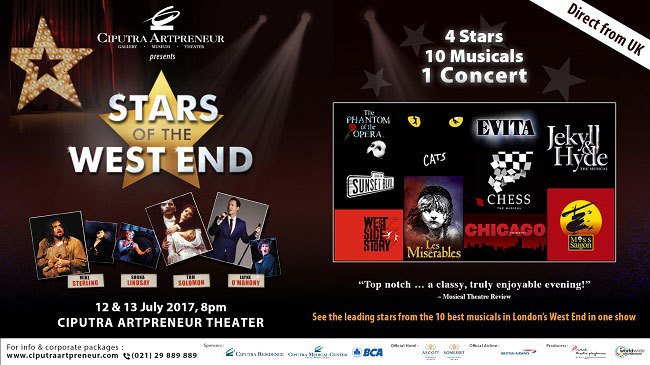 Be serenaded by the beautiful voices of charismatic stars Mike Sterling, Shona Lindsay, Tom Solomon and Jayne O'Mahony who will sing iconic songs from the most popular musicals, such as The Phantom of the Opera, Les Miserables, Cats, Chicago, Wicked and Grease.
MIKE STERLING
Mike Sterling has more than 30 years of experience in West End theater, television and radio. She has collaborated with top singers on several television shows and tours in the UK, such as Dame Shirley Bassey, Barry Manilow, Michael Ball and Engelbert Humperdinck. Mike Sterling plays The Phantom in The Phantom of the Opera musical more than 1,000 times performances, and has also served as Jean Baljean in Les Miserables. He also took part in the 10th and 25th anniversary concerts of Les Miserables at the Royal Albert Hall and O2 Arena, London.
SHONA LINDSAY
Shona Lindsay started her professional career at the age of 12 as Annie and several other children's dramas, both in theater and on television. In 1990, he played Christine in The Phantom of the Opera and became the youngest player for the role. He became one of the most sought after in the West End including Sandy's role in Grease, Milly in Seven Brides For Seven Brothers, Gilmer in Godspell, as well as Marjorie in Dirty Dancing and many others. He has also performed with world renowned orchestras such as the Royal Philharmonic and Hong Kong Symphony.
TOM SOLOMON
Tom Solomon has been instrumental in West End's musical production, such as The Phantom of the Opera, Les Miserables, Chicago, West Side Story, Chess, and others. He appeared regularly on several radio and television shows to date. In education at the Birmingham Conservatoire and Royal Academy of Music in London, Tom Solomon has won the BBC's international competition, The Voice of Musical Theater. He has just released his debut solo album titled Beautiful Day which became number 1 on the iTunes Classical Charts.
MAYA BARREDO-DUFFY
The majority of actresses who plays as Kim in Miss Saigon are Filipinos and Maya Barredo is one of the talented Filipino actresses selected to play the role. Maya also plays the leading role of Eponine in Les Miserables at her inaugural show in Asia. Other roles include being Dorothy in The Wiz, Ti Muone on Once on This Island, and playing a part in The Lion King musical in London.
Ticket price:
Titanium IDR 1,500,000
Platinum IDR 1,200,000
Gold IDR 950,000
Silver IDR 750,000
Bronze IDR 600,000
Get your tickets and more information at www.ciputraartpreneur.com/stars-of-the-west-end or call (021) 29 889 889.