The Amazing Big Durian Race is back! One of AmCham Indonesia's most popular events will be crossing the finish line on Saturday, April 21, 2018 for the seventh time. We expect a full cast of participants, fabulous prizes and loads of fun.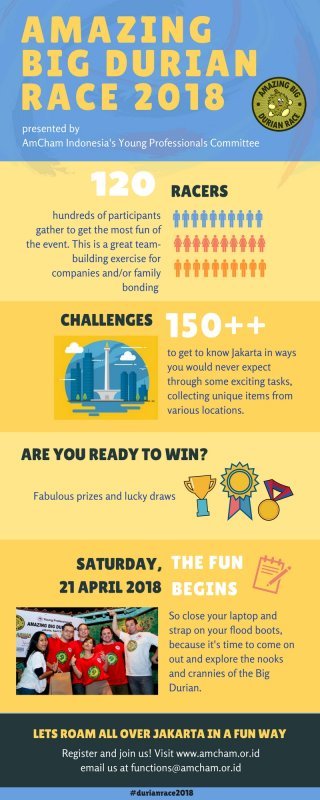 The teams will explore Jakarta's key attractions, restaurants, retail outlets and out-of-the-way places, turning the city's hidden gems into a big playground for this giant scavenger hunt. More than 30 teams consisting of three to four persons will race around the city to finish the challenges and collect unique items from various locations. The team that gets the most points from the items on their list, wins!
Participation includes food and drink from one of our fabulous sponsors at the start and end of the race, which runs from 10 am until late afternoon.
Last time, many of our member companies joined the event and used it as a team building exercise because it involves having to create strategies to win the game, but at the same time the challenges are set to be as fun as possible.
So what are you waiting for? Grab your team and fill in the registration form. There is limited space available. Registration closes when all spaces are filled … and we are filling up fast.
Download the registration form here http://bit.ly/DurianRaceRegistration .
Feel free to contact Julia Lonan at [email protected] or call 021 5262860 should you have any questions.