Aromatic Rice with Griddled Chicken Strips
This is a great recipe for introducing spices and new flavours to kids. Living in Jakarta provides an opportunity to learn about different fresh root spices. These are available in all supermarkets. This recipe is very easy to make and is not spicy at all.
---
Ingredients:
200g local white rice (pandan wangi) or basmati rice – Rinse the rice, drain and set aside.
1 tablespoon vegetable oil
2 cloves of garlic, peeled, crushed and finally choped
2 whole cloves
1 cinnamon stick
5cm fresh ginger, roughly choped
8cm of fresh turmeric, peeled and grated or 1 teaspoon turmeric powder
50g frozen peas
1 fresh ear of corn, seperated from the cob
1 medium carrot, peeled, chopped into small cubes
400ml water
Salt to season (optional)
For the griddled chicken:
2 medium butterfly chicken or 4 chicken breasts
11/2 teaspoon salt
11/2 teaspoon black pepper (optional)
Juice of 2 limes
2 tablespoon vegetable oil
Equipment:
For the rice:
A sharp knife (please always be careful when chopping), chopping board, mixing bowl, grater, vegetable peeler, sieve, tablespoon, measuring jug, teaspoon, measuring scales, saucepan, wooden spoon.
For the chicken:
Griddle pan, sharp knife, chopping board, large plate, teaspoon.
Method:
Mix the grated turmeric with 5 tablespoons of water. Mix well and strain. Press the turmeric using the back of a spoon until it releases all juices. Set aside.
Heat a medium saucepan. Add the oil, then the onion. Cook the onion on low heat until soft (around 3-4 minutes) then add garlic and ginger. Cook for another 3 minutes.
Add the cloves, cinnamon and cook further on low heat.
Add the rice. Stir, making sure the rice is coated in the spice mixture. Pour water in and stir. Cook the rice uncovered over medium heat, until the water evaporates, stirring occasionally. The rice should still be very moist.
Add the corn, carrots and peas. Stir and cover the pan. Cook for five minutes on low heat then stir. Turn the burner off.
Cover the pan and let the rice sit for 10 – 15 minutes. Discard the cinnamon, cloves and roughly chopped ginger before serving.
In the meantime, prepare the chicken. Slice each of the chicken breasts into 2 or 3 strips (depending on the size of the chicken breast).
Season with salt and black pepper to taste
Add the lime and oil, set aside.
Heat the griddle pan on high heat. Put the chicken on the griddle and cook for 4-5 minutes each side. Serve immediately with the aromatic rice.
---
Famous Indonesian Canapés
Corn Cake with Tomato Salsa - Manado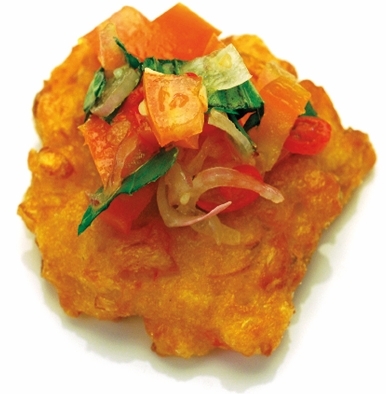 Remove the corn from 2 cooked corn cobs and briefly pulse in the food processor 3 or 4 times just to soften and release some of the juice and flavour.
Add 2 tablespoons of flour, 1 egg, 3 chopped lime leaves, 2 shallots, 1 clove of garlic and 1 spring onion. Mix well. Take single tablespoons of the mixture, flatten and then put into a pan of hot oil. Fry until golden brown. This amount should allow you to make 20 cakes. To make the salsa, simply mix 3 chopped tomatoes, 2 sliced chilies and 2 sliced shallots, 1 tablespoon of lime juice, 1 tablespoon of soya oil and a bunch of chopped mint or basil leaves. Season with salt and black pepper to taste. Serve warm.
---
Seafood Satay - Bali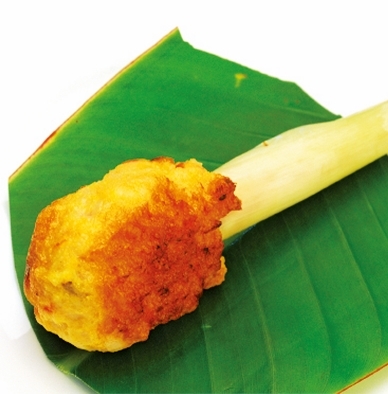 Place 150gr red or white snapper or tenggiri fillet and 50gr prawn into a food processor.
Now take the minced seafood and add chili paste (made using 2 chilies, 2cm ginger, 3cm turmeric, 2cm galangal, 3 shallots, 2 cloves of garlic, 1 tablespoon palm sugar, 2 tablespoons grated coconut).
Mix together and season with salt and black pepper. Take a half tablespoon of the mixture and fully coat 20 lemongrass stalks, then barbeque or griddle. Serve warm. Makes 20 portions.
---
Roasted Sweet Potatoes with Rosemary - West Papua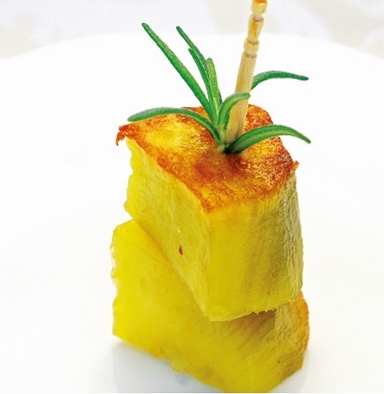 Traditionally, Papuans barbeque sweet potatoes whole, but I prefer to roast them in chunky pieces. Peel ½ kg of potatoes, cut into squares, steam for 15 minutes, move to a hot oven tray and season with salt, black pepper, fresh rosemary and olive oil (or your preferred oil) and cook in the oven for 30 minutes at 1800C. Rosemary is not a part of the original Papuan dish, but it is grown locally and gives this dish a special twist. To serve, put two pieces of roasted sweet potatoes on a cocktail stick and garnish with rosemary. Makes 40 sticks.